For kids, life is one big adventure and when you take them for a ride on Grand Rapid's new Silver Line, Michigan's first Bus Rapid Transit (BRT) line, you'll give a big boost to your I'm-a-fun-parent street cred.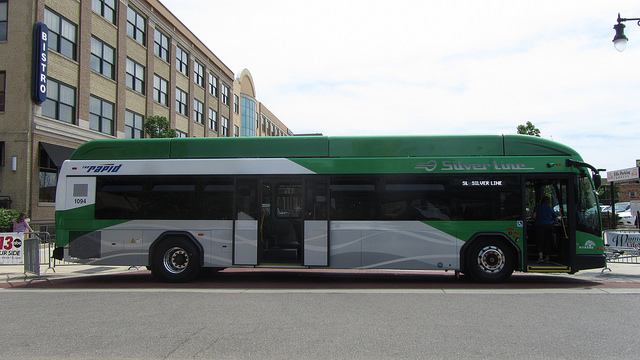 Silver Line service begins on August 25, 2014 and they're making it easy to climb aboard. Start by parking your car at the free park-and-ride lot located at the southern-most end of the Silver Line (60th and S. Division). If you don't already own a 31-day pass for The Rapid, show your kids how to purchase a ticket from the ticket vending machine (TVM). Children less than 42" ride free; for $9 you can also buy a 10-ride student pass for kids through college-age (they'll need student ID.) Then hop on and head to one of your favorite kid-friendly locations downtown. Just be sure to check the bus schedule before you head out to see what time the route ends that day! (Click here for a Silver Line route map.)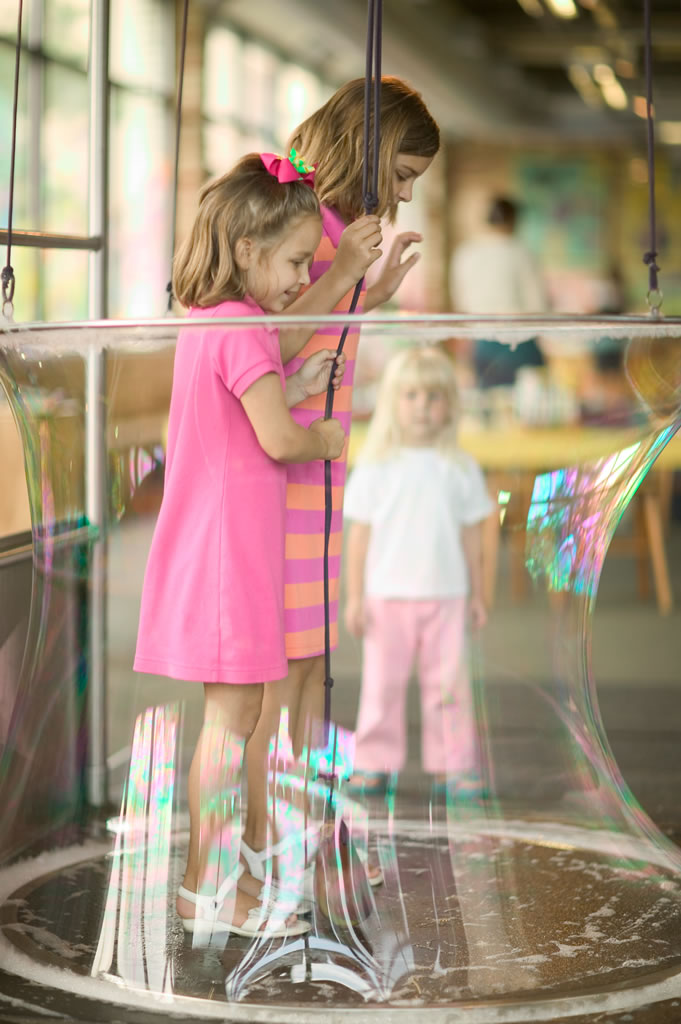 Take the Silver Line to the Grand Rapids Children's Museum
Not sure where to start? Here are a few fun ideas:
Disembark at the Monroe & Louis station and walk over to the Grand Rapids Art Museum. Browse current exhibits and, if you're there on a Saturday between 1:00 - 4:00, be sure to check out the family activities in the Education Studio. Then, walk across the street to the Dog Pit and treat yourselves to your favorite hot dog and toppings (I recommend the Colby Dog!). Big win for everyone.
Do you have tickets to an event at Van Andel, like maybe Disney on Ice? If your kids are old enough to walk a few blocks from the Monroe & Louis station to Van Andel Arena, its a no-brainer. No traffic, no parking fees, no hassle - just enjoy the show!
Take the Silver Line to the Fulton & Ransom station, then take the short walk to the Grand Rapids Children's Museum. Blow giant bubbles, play with the oversized Lite Brite, and watch your kids' creativity thrive in the Amigo Amphitheater or (for this summer) building in the Just Fort Fun exhibit. But save a little energy so you can walk around the corner to the Grand Rapids Public Library. If you've never been there, you're in for a treat. After you climb the beautiful stairs in the entrance head for the children's section - it's a great place to relax after expending so much energy at the Children's Museum. Afterwards, its just a short walk to grab yourselves a snack at One Trick Pony.
The Fulton & Ransom station is also near St. Cecilia's Music Center, which offers fantastic kids programming through their Lollipop series. Check out the schedule this winter and save yourself the hassle of finding a parking spot in the snow downtown. Take the Silver Line and make it a whole day of fun instead!
Want to find out more about how the Silver Line works? Check out this video!