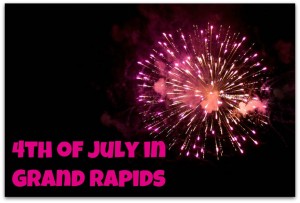 The nice thing about seeing fireworks in Grand Rapids is that you can choose how to enjoy them. There are many events, in many communities, spanning many nights, and in all different sizes. There truly is something for everyone.
But the granddaddy of them all is saved for the actual fourth and takes place in downtown Grand Rapids. Here is everything you need to know to have a successful night at the fireworks:
Things start with a parade at 5pm at the corner of Monroe and Lyon. The parade moves down Monroe Center and cuts over to Fulton and ends at Veterans Park where men and women who have served our country will be honored. I would suggest getting to the parade route by 4 pm to snag a seat and find parking. There are many paid lots downtown or if you are really lucky you may find something on the street.
After the parade head over to the main event at Ah Nab Awen Park located at Front and Pearl St. Starting at 6 pm there will be live music, food vendors and childrens activities. You can see a schedule of the bands performing on the Grand Rapids 4th of July site. Nearly every time of music is represented with some hula hooping thrown in. And of course, all the entertainment is free.
The best thing about Michigan in the summer is how late it stays light. On 4th of July this is either a blessing or a curse depending on how late your kids can make it. Fireworks start around 10:30. If you are hanging out in the park for the music you can watch them from there. Otherwise grab a spot one any of the bridges downtown and watch them go off over the Grand River. Beautiful. (The fireworks use the Gillette Pedestrian Bridge and Bridge Street Bridge so you wont be able to use those)
Want to watch the whole thing inside the AC? This year you might. So head over to the Grand Rapids Public Museum and enjoy all the museum has to offer. View all their exhibits, the planetarium and the carousel and then view the fireworks from there. They even have enclosed lawn seating if you want a little closer to the action. Tickets are $15 for adults and $7.50 for kids and begins at 7pm. You can find out all the details at the Grand Rapids Public Museum Site.
Enjoy and Happy Birthday America!