Summer is in full swing in Grand Rapids and you're probably wondering what you can do with the family. While some businesses and attractions are still closed due to the COVID-19 pandemic, there are quite a few open to enjoy. Read on to learn what's open, what you need to know before going, and safety protocols in place to protect you and your family. 
Note that every attraction listed below has increased their cleaning and sanitation protocols and requires all employees to wear masks. And per the recent executive order, it is also required that guests who are medically able and over the age of 5 wear masks in indoor spaces and crowded outdoor spaces, so be sure to bring yours to all of these family-friendly locations!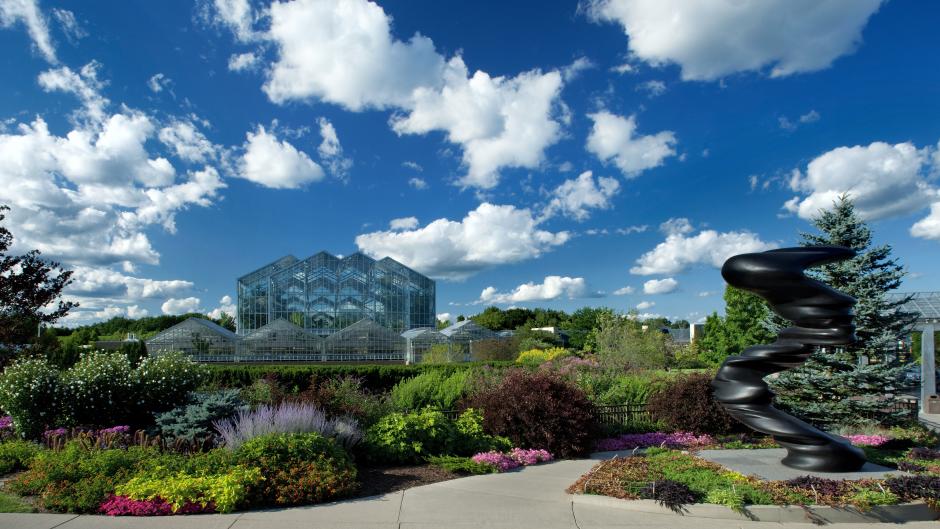 There's plenty of room for social distancing at Meijer Gardens' expansive outdoor space.
Photo Credit: Experience Grand Rapids
---
Frederik Meijer Gardens & Sculpture Park
The Frederik Meijer Gardens & Sculpture Park is now open, but things are a little different now due to new measures in place that can help slow the spread of COVID-19. While most of the park is open, there are a few places that are temporarily closed to the public, such as the Log Cabin, Hoffman Auditorium, and the Snell Gallery. 
The good news is that since most of the park's highlights are outside, fan favorites such as the Richard and Helen DeVos Japanese Garden, Michigan's Farm Garden, and Lena Meijer Children's Garden are all open.
With the health and safety of all guests in mind, Meijer Gardens has put in place a few guidelines such as new entrance procedures, increased cleaning and sanitation by staff, installation of plexiglass barriers, grab and go cafe food options, and more. 
As a guest you'll be asked to follow a few new requirements as well, the most important being that people two and up must wear a mask in enclosed public spaces. Meijer Gardens is also asking that all guests maintain proper physical distancing of six feet from others that are not in their own party. If social distancing isn't possible, be sure to put your mask back on. 
Advance reservations are not required for visiting Meijer Gardens. To learn more about all of the safety measures Meijer Gardens has put in place, please see its online preparedness plan.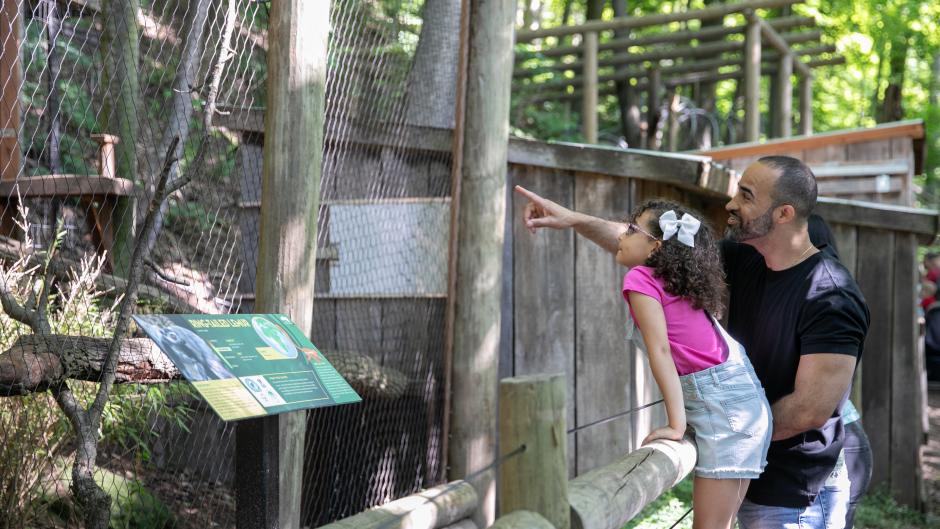 Tickets to the zoo do sell out on busy days like weekends, so be sure to grab yours in advance.
Photo Credit: Experience Grand Rapids
---
John Ball Zoo
In addition to the newly born baby Red Pandas* and BRICKLIVE Animal Paradise Sculptures, the John Ball Zoo has a few other changes you'll see when you visit this summer. The first of which is signage throughout the park, reminding visitors to maintain appropriate physical distancing. There are also handwashing stations all around to encourage frequent handwashing throughout your visit. A few indoor exhibits and outdoor play areas are also closed to the public. 
Not all indoor exhibits are closed though. The penguin house, for example, is open. Zoo staff members do limit the number of guests allowed inside so that proper physical distancing is possible, and masks are required as well. The gift shop is also open, but again, the number of people allowed inside is limited, and everyone inside must wear a mask. The zoo is now requiring that guests don their masks outside when social distancing is not possible.
The zoo also has a few suggestions for people interested in visiting. While it is not required, they are asking all guests to purchase their tickets online before arriving. This reduces the amount of contact between people and the gathering of groups at the zoo's entrance. The John Ball Zoo is also recommending guests come to the zoo during the weekdays or afternoons since that is typically when they have the lowest traffic. 
*Mother panda, Wasabi, and her newborn triplets are currently spending time in the maternity den, so they may not be visible to the public depending on when you visit.
Visitors of the Grand Rapids Public Museum are asked to purchase their tickets in advance online.
Photo Credit: Grand Rapids Public Museum
---
Grand Rapids Public Museum
While the Grand Rapids Public Museum is primarily an indoor attraction, it is back open to the public. Just like at John Ball Zoo, visitors of the Grand Rapids Public Museum are asked to purchase their tickets in advance online. Upon arrival, you will get your ticket scanned by a GRPM team member wearing a mask. This allows for six feet of physical distance between you and the team members. 
To help reduce the spread of the virus, the museum has temporarily removed all virtual reality and touchscreen experiences. The Chaffee Planetarium and Spillman Carousel are also closed for the time being. For all the exhibits that are open, including Bodies Revealed, TOYS!, and more, the museum has increased its cleaning and sanitation practices. There are also hand sanitizing stations and signage with friendly reminders about physical distancing throughout the building. 
In addition to all of these safety measures, GRPM has also installed germ-killing ionization filters to their air handling units. The units not only help reduce airborne particles, but kill pathogens such as viruses, mold, and more.
General COVID guidelines are available on GRPM's website.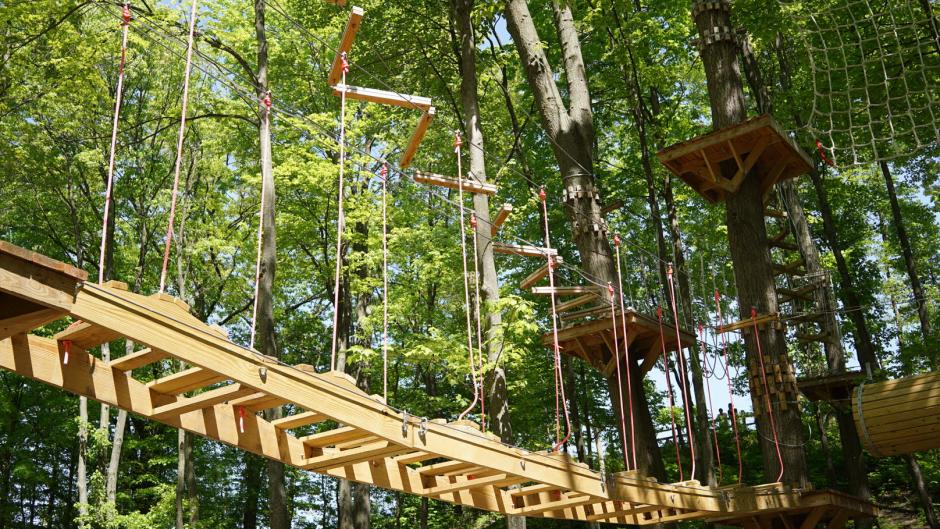 TreeRunner Adventure Park is asking that guests wear masks only while on the ground.
Photo Credit: Experience Grand Rapids
---
TreeRunner Grand Rapids Adventure Park
The TreeRunner Grand Rapids Adventure Park, which features climbing areas and ropes courses, has a number of measures in place to keep visitors safe and help slow the spread of COVID-19. Before heading to the park, everyone must purchase a ticket for entry online. This not only reduces contact between people, but helps the park monitor the number of climbers in the park since they are currently limiting the capacity.
TreeRunner is adhering to strict physical distancing recommendations and has marked six-foot distances in all areas people typically congregate in. The physical distancing doesn't stop there though and extends to the trees as well, with a minimum of six feet between all climbers. The park is also only allowing one person at a time on all platforms, and all checkpoints will be done visually with no physical contact from staff.
Other safety protocols include daily disinfecting of the course, disinfecting of the climbing equipment between every climb, and hand sanitizing units throughout the park. TreeRunner is also handing out disposable gloves for people to wear while they climb.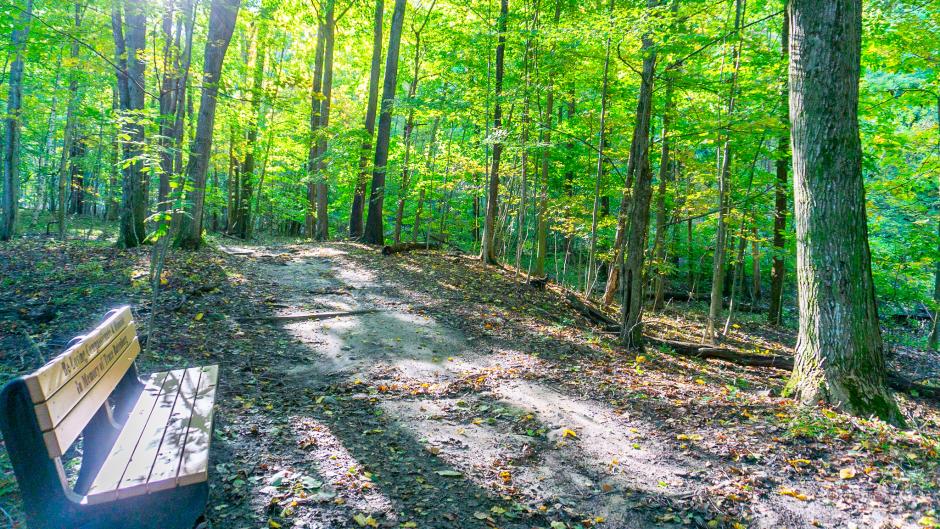 Blandford offers more than 260 acres of natural land and eight miles of trails to hike.
Photo Credit: Brian Craig for Experience Grand Rapids
---
Blandford Nature Center
The Blandford Nature Center is another wonderful outdoor attraction you and the family can enjoy with little worry of crowded spaces or high-touch areas. Blandford offers more than 260 acres of natural land and eight miles of trails to hike. When visiting Blandford, guests are only asked to wear a mask when inside the Visitor and Wildlife Center. Masks are optional when outdoors as long as social distancing is possible.
The indoor Visitor and Wildlife Center will adhere to strict physical distancing and capacity limits. For the time being, no more than 10 guests will be allowed inside. If there are more than 10 guests, you will be asked to wait outside in an area that is six feet away from other visitors. Staff will then let you know when you are allowed inside when capacity allows.
General visiting policies are posted on Blandford's website. 
Please check our travel updates for visitor tips and safety guidelines. Together, we can ensure that you can travel confidently.
Never miss a post!
Sign-up for the Insider Experience blog.