On June 25, 2016, beginner and advanced cyclists will take to their bikes to help raise funds for skin cancer awareness, prevention and research in Grand Rapids' fourth annual MSU College of Human Medicine Gran Fondo. Last year more than 1,800 cyclists joined the fun and organizers are expecting this year's participation to top 2,000 riders. The race has raised over $470,000 for the cause to date.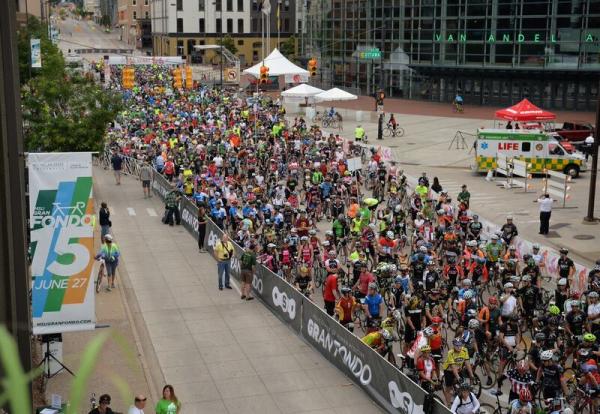 photo courtesy MSU Gran Fondo
Riders choose from four different routes, ranging in length from 12 – 80 miles. "There are serious riders, who have an opportunity to time themselves because of the timing chip," says Lou Candiotti, MSU Gran Fondo Director, "but the majority of riders are casual riders who want to challenge themselves on any one of those four courses.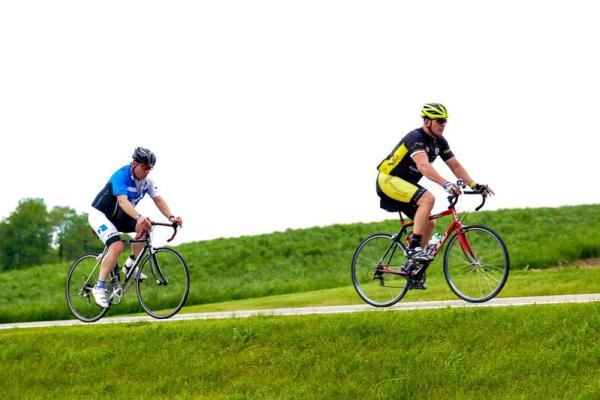 photo courtesy MSU Gran Fondo
Naturally, the longer 40- and 80- mile rides attract more advanced riders (the scenic 80-mile ride goes from downtown all the way to Lake Michigan). The 12- and 25- mile rides include lots of families and newer riders who simply want to participate and help raise funds and awareness for skin cancer prevention and enjoy a day on their bikes. "The rolling West Michigan geography adds to the greatness of the Gran Fondo," says Candiotti. "Not only do you get to see the city, and the way it's evolved over the last 10-15 years, but you get to see the countryside and the lakeshore. That's what makes the Gran Fondo unique."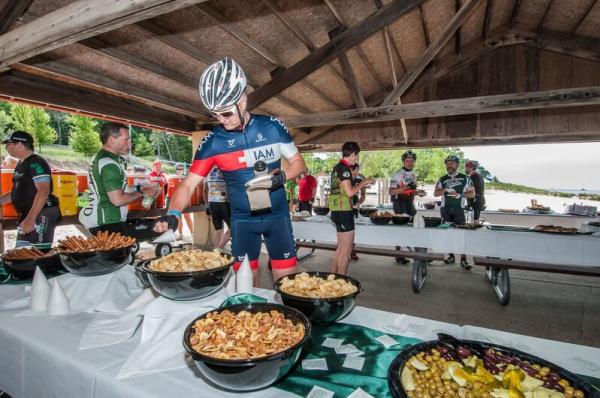 Another thing that makes the MSU Gran Fondo unique are the rest stops. "We have gourmet food at every stop," says Candiotti. "Riders are able to enjoy the nutritional benefits but also enjoy the taste. We continually hear about how much they enjoy the food and beverages along the course. We've gotten requests to have both the pulled pork and fish tacos again this year."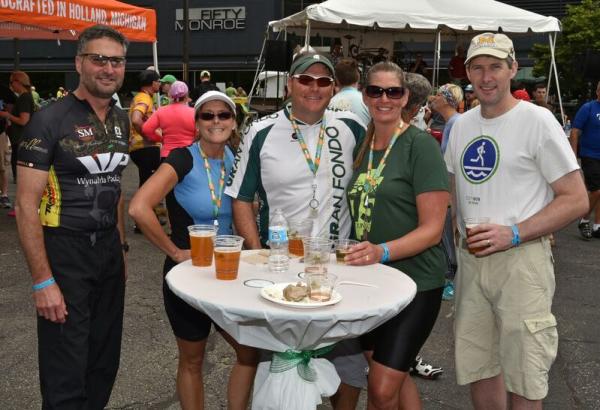 photo courtesy MSU Gran Fondo
Afterwards, everyone is invited to enjoy gourmet food, craft beer, and live music by the Three's a Crowd band at the Finish Line Festival outside of the BOB. Riders, their friends, and their families can spend the day mingling, talking to other participants and their supporters, and reveling in the accomplishment of a job well done: both completing the physical challenge and fundraising for a cause. "It really is a celebration!" says Candiotti.
If you're interested in riding in the MSU Gran Fondo, you can register here. Click here for the MSU Gran Fondo website and here to read our initial post with more information about this year's Gran Fondo.
Or…become a volunteer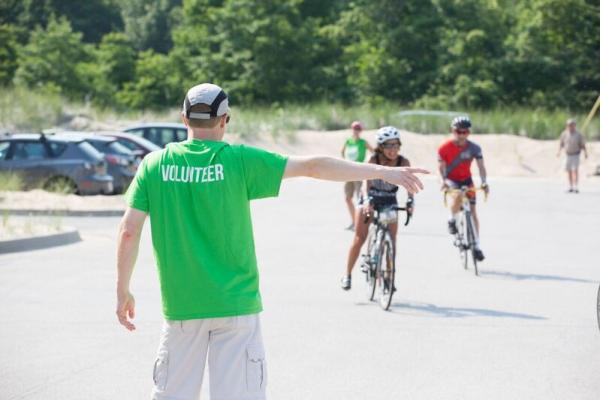 photo courtesy MSU Gran Fondo
"A significant amount of volunteers are needed to execute this event flawlessly and seamlessly," says Candiotti. Volunteer opportunities run the gamut, and you can sign up to help with set-up (chairs, tables, hanging banners, placing parking signs, etc), checking in riders, serving as course crew, providing medical support (naturally, you need a medical license for this role), and more.
They even have volunteers who are in charge of food at the rest stops. "They make sure that the food is placed at the right time, in the right place, and refilled in a timely manner, so the rider doesn't see an empty dish in front of him."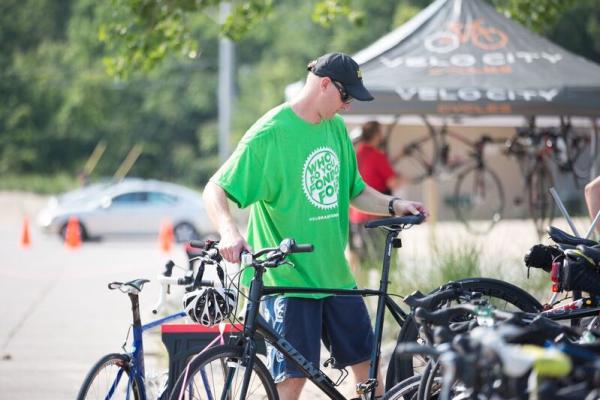 photo courtesy MSU Gran Fondo
If this is your first time volunteering for the MSU Gran Fondo, don't worry: there's an orientation just for volunteers on Wednesday, June 22, 5:30 pm at The B.O.B. "People volunteer because it's exciting to be involved in something bigger than they are," explains Candiotti. He says that almost all of the riders and volunteers have been touched by skin cancer, whether they've survived it themselves, or they have a family member or friend who's had it. "There's a feeling in the room of camaraderie when you talk to people who participate in the Gran Fondo. It's palpable."
Supporting the MSU Gran Fondo financially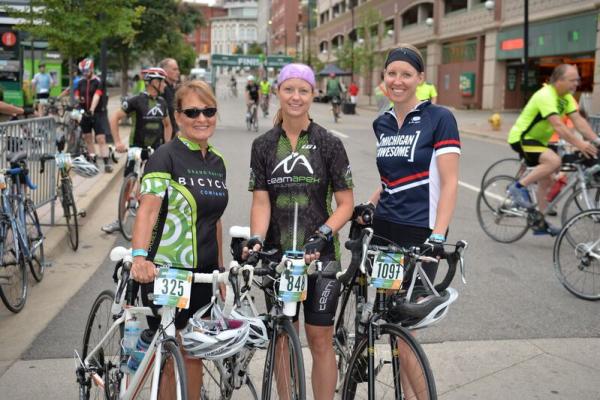 photo courtesy MSU Gran Fondo
The MSU Gran Fondo is a fantastic, fun West Michigan event that encourages people to get outside, get active, and allows them to experience our beautiful terrain on their bikes. But those benefits are simply the icing on the cake: the real purpose is the fundraising and there are several ways you can get involved.
There are five different incentive levels for fundraising, with prizes ranging from an invite for you and a guest to the night-before spaghetti dinner featuring speaker Bob Roll (a well-known ex-professional cyclist who rode on both the Motorola and 7-Eleven team in the 1980s), to scoring the coveted annual commemorative biking jersey, to being an exclusive member of Bob Roll's cycling team during the 80-mile MSU Gran Fondo ride.
"I like to say that each year we've gotten bigger, faster, and stronger," says Candiotti. "Bigger, in the sense that we have more riders. Faster, in the sense that the amount of donations has gone up. And stronger, because we have the right factors in place to make this an exciting event in West Michigan."