Scott Brosier was 13 years into his career as a Midland County sheriff's deputy when he decided to call it quits. Law enforcement work had become a grind. He longed to spend his days working outdoors, training hunting dogs and guiding others.  Brosier pulled the trigger in 2011 hoping to realize his dream. Then with the backing of his wife Ada, his business partner, he purchased Pine Hill Kennels and Sportsman's Club, a private Rockford-based pheasant hunting preserve.  
"Law enforcement wasn't much fun anymore. I left and have never looked back," notes Brosier, who now spends his days training client's dogs or organizing pheasant and chukar partridge hunts for those with busy schedules. His preserve encompasses 600 scattered acres of prime farmland habitat. It is open to members and non-members who call and schedule hunting times.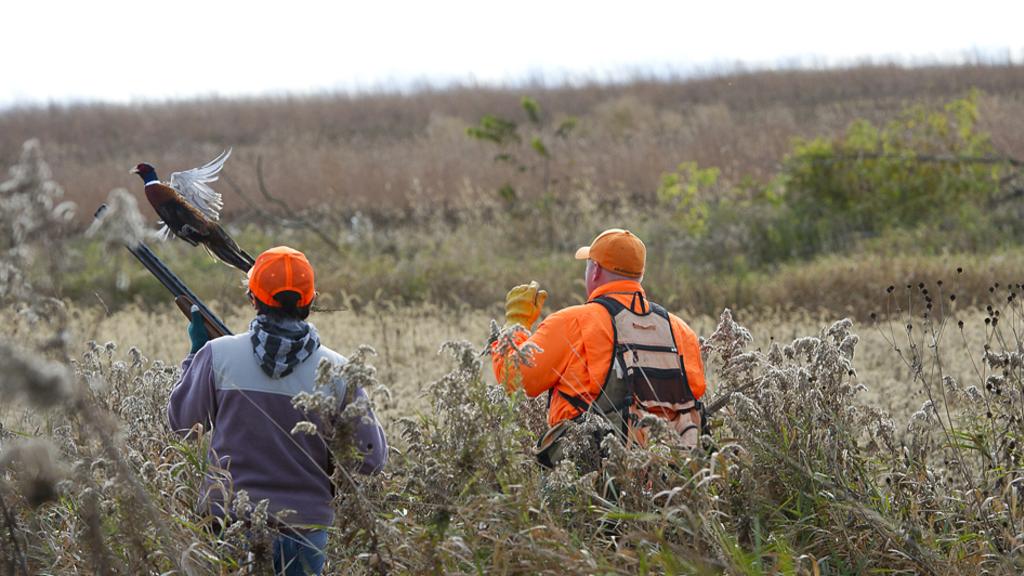 Alyssa Wethington gets some coaching from Scott Brosier during a Ladies Pheasant Hunt at Pine Hill Kennel and Sportsman's Club.
Photo Credit: Photo by Dave Kenyon, Michigan DNR
---
Pine Hill is one of four private pheasant hunting preserves within 30-minutes of downtown Grand Rapids. Each caters to seasoned bird hunters and beginners who want to experience a pheasant flush while working behind a capable gun dog.
Business travelers are always welcome. Each preserve can provide a dog and/or guide and a shotgun too, if necessary.  Advance reservations are a good idea. Weekends are often busy, but it's worth a call on short notice, notes Jeff Coffee, co-owner of Fruit Ridge Pheasant Farm in Walker, a 312-acre preserve just 15 minutes from the Amway Grand Plaza, Curio Collection by Hilton.
"We're set up to handle both members and non-members," Coffee explains. "We get a lot of non-member hunts the week before and after Christmas when a lot of folks are in for the holiday. People often want to come out and shoot birds."
Arvin Boersma says many customers at Olive Acres, his 220-acre pheasant and chukar preserve in Zeeland, come out because they miss "the good old days." They retain fond memories of hunting pheasants when they were plentiful in Michigan.
 "Most of the time it's someone who remembers the hey-days of pheasant hunting and would like a grandson or nephew to experience it as close as we can reproduce it today," Boersma explains. "Most come out twice a year - in the fall and if the winter allows - when cabin-fever kicks in. We're set up for smaller groups of two, three or four hunters. If we get a large group we usually suggest a European Hunt, or tower shoot. The most fun we have with these hunts is bachelor parties where the guys heckle each other after the misses."
Olive Acres was established in 2004. Native grasses have been planted in its fields which resemble prairies. That's where most hunt in the fall, according to Boersma. Come winter, the hunting shifts to sorghum fields which have been knocked down by seasonal snows making the fields easier to walk.
Glen Berens, owner of Wings and Rings Pheasant Hunting LLC in Zeeland offers 4-hour hunts on 123 acres. Most hunts, he said, need to be scheduled two to four weeks in advance. He provides guides, dogs and guns for adults and youth.
Berens, like the others, charges fees for each bird put out in the field. The preserves also offer field-dressing and bird cleaning services. Details about package prices, ammunition restrictions and other services like catering are found on the preserve's website.
Hunters who prefer working with particular hunting dog breeds may want to discuss that with preserve owners. Flushing breeds like Boykin Spaniels are on the move constantly where pointing breeds like Brittany Spaniels work closer to hunters. They will point a bird and wait for the hunter's command to flush.
 "A lot of guys come out with their kids," Berens said. "With pointers, there is time for the kids to get ready to shoot before the bird is flushed. With flushing breeds you need to be a younger guy to keep up with the dogs." 
Never miss a post!
Subscribe to the Insider Experience blog.