Great collaborations aren't born, they are developed. And there are few places where that is more evident than through the collaborations occurring right now between Grand Rapids and the art community.
One big opportunity available to artists with ties to Grand Rapids is the Art Outdoor campaign sponsored by Experience Grand Rapids.
Janet Korn, senior vice president of Experience Grand Rapids, said the idea for Art Outdoor came after reading an article in the New York Times Style Magazine where artists used billboards as a medium to share their art.
"We are always looking for new and distinctive ways to tell others about Grand Rapids," said Korn. "Art Outdoor is the perfect way to celebrate local artists while also promoting Grand Rapids as a destination for art enthusiasts."
A selection committee will choose five entries to display on billboards in and around Grand Rapids as well as on I-75 in Oakland County. Any artist over the age of 18 with ties to Grand Rapids is welcome to enter this free campaign with their My Grand Rapids work. The deadline for entries is March 15, 2015.
"The Art Outdoor campaign featuring local artists is a great way to showcase Grand Rapids' artistic talent," said Korn. "This project provides an opportunity for artists to be directly involved in inviting art fans to visit Grand Rapids."
Another form of creative art collaboration in Grand Rapids happens at the Grand Rapids Brewing Company on Monday nights from 6:00-11:00 p.m. If you happen to visit GRBC at this time, you might run into some creative folks taking part in Studio Night.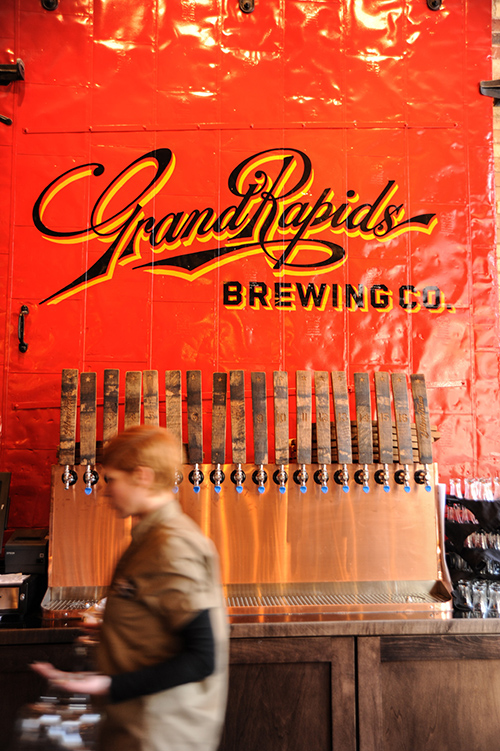 GRBC
Photo courtesy of Steph Harding
While serving at GRBC, Andrew Castagne realized they had not been utilizing one of the main strengths of the community- local art.
"I spoke with Mark Sellers, the founder of BarFly Ventures, and was able to make a deal with them curating local art on the walls," said Castagne. "They also allowed me to use a back room in the bar for Studio Night, which has grown from a small group of five of us to some nights upwards of 40 people."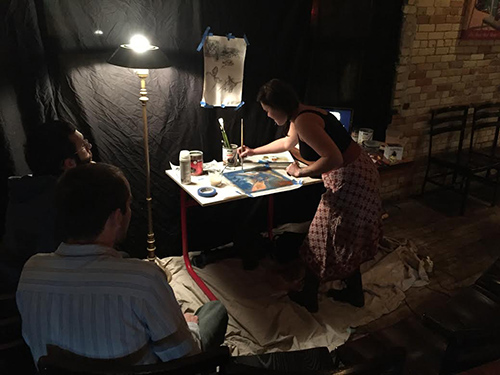 Studio Night at GRBC
Photo courtesy of Andrew Castagne
Wide varieties of people come to Studio Night, from street musicians to play music to groups of seniors who draw and craft. Parents even come in with their children early in the night to enjoy doing something together in an environment that feels like going out.
"Studio Night is oriented around good discussion and meeting and learning from those who are similarly minded," Castagne said. "The sense of community here helps people stay motivated to work while they are here and throughout the rest of their week."
Be sure to check out a couple of the scheduled events in March including figure drawing March 9 and a coil pottery workshop with Michael Kelly March 16. Studio Night patrons receive 25% off their bill and don't forget to try The Fishladder, the unofficial Studio Night beer.
Whether you are interested in making a living as an artist, looking to try something new or someone who simply enjoys the local art scene, Grand Rapids has something for you.