Known for its innovative farm-to-table menu, local restaurant Grove delights diners with delectable treats like Beef Carpaccio with Kung pao broccoli, mustard seed, sesame, almond, and jalapeño. Grove relies heavily on local farms for protein and produce and updates their menu frequently to reflect what's in season in West Michigan. The popular restaurant is part of the Essence Group, which also operates Green Well Gastro Pub and Bistro Bella Vita.
We talked to Chef de Cuisine Mike Borraccio and new Head Chef Jeremy Paquin (formerly the owner and chef of renowned Grace & Mia in Muskegon) about the type of experience guests can expect at Grove during Restaurant Week.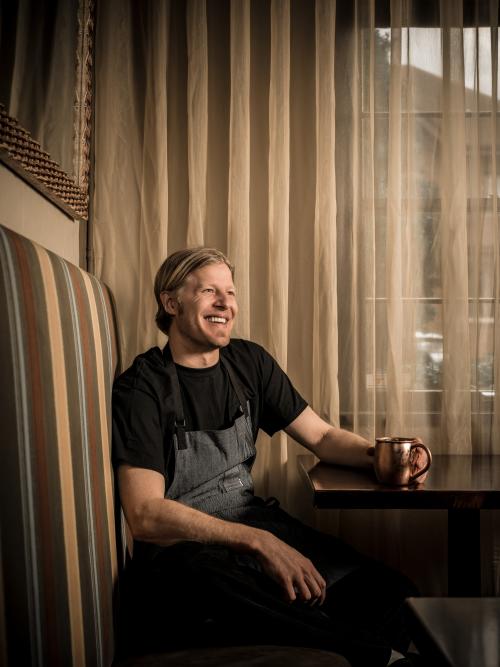 What do you love most about being a chef?
Jeremy: I love the organized chaos and the freedom to create. I like being part of the team — I think it takes a whole group of people to put out a good plate. I also love the learning aspect. I believe you can learn from your youngest chef as well as someone who's been around a long time. Everyone has a trick he's picked up along the way and that's fascinating to me.
Mike: I grew up working at my dad's restaurant on the east side of the state. When I was living in Chicago for a few years I did some staging, which is like an internship, at higher-end restaurants and fell in love with the fast-pace and the lifestyle. It keeps me on my toes! I like menu writing, dish development, managing people, and seeing my ideas come to fruition. Plus, I get to work with some really great farmers at Grove, which I love.
Was there a moment when you knew you wanted to be a chef instead of something else?
Jeremy: My grandmother had a restaurant and I worked there in the summers, so I've worked in kitchens since I was 11-years old. When you're young and in this environment, you either flourish and thrive or you realize, "This isn't for me." For me, it was easy: it was this is exactly what I wanted to be doing. It's a skilled trade, a craftsman trade, and it's something I take very personally as far as displaying my craft. I've never done anything else.
Mike: I went to college for a year and half and dropped out. I was living in Chicago and spending the majority of my college fund eating at restaurants. My dad was a chef and I'd always liked going into a restaurant, even as a diner. I came to Grove fairly green and self-taught. Now I had a place where I could apply what I'd learned from cookbooks, food blogs, and documentaries – it was the perfect place for me to put my roots down and start cooking. First time I felt at home and knew this is what I wanted to do.
How dinner is made at your home? Who shops for the ingredients? Who cooks? Do you plan the meals ahead of time? 
Jeremy: My wife, Jamie, usually cooks the meals at home. She plans and does the shopping, too – I have it pretty easy! If I do cook, it's something simple like soup, tacos, or pasta – something quick because we have a 10-year old daughter, Mia, so we're always on the go.
Mike: I pretty much eat out 7 nights a week. I haven't gone grocery shopping in about a month and a half. I have other chef friends and we'll do cookouts or bbqs once a month. People will bring over some wine and we'll cook whatever we're feeling like. I only live a couple of blocks from the Fulton Street farmers market, so I go there a couple of times a week to pick up snacks.
What do you think sets Grove apart and makes it special as a restaurant?
Jeremy: I think it's our attention to detail and the quality of products we're getting. We buy as much locally as we can. Most of the dishes are seasonal in nature, so what you find here today, you won't find here in 6 weeks, because the availability of produce and what we get from local farms will change.
Mike: We have a team of really dedicated cooks that aren't afraid to give it their all. And we have a lot of different voices that come across on the menu. One of the big things that attracted me to Grove was that there are lots of handcrafted ideas, so the menu changes a little bit every day. We use global cookbooks for inspiration and tweak recipes based on what's available from the local farmers who supply us.
Having a creative edge and execution is our big thing. We're a neighborhood joint that serves really good food for everybody's palate – we'll serve or two things that are a little bit out there but are easily explained by our servers. We're trying to bring a big city type of restaurant to Grand Rapids and help the food scene here evolve.
I'm 100% proud of everything on the menu.  I know most of the farmers personally, we don't cut any corners, and everything is hand made. We stand behind everything we do.
What kind of ambiance can diners expect at Grove?
Jeremy: It's very welcoming and it's a hipper environment with a minimalist approach. You see that with the food we serve as well. We like to highlight what's good, why it's good, and why we're using it.
Mike: I'd describe it as kind of hip and artsy. We've got dimly lit lights and pay high attention to details: our glasses and silverware are polished before they get to the table, the food runners and assistants make sure gusts have everything they need, seamlessly – they're not in the way but only enhance the guests' experience. It's like casual fine dining, with all of the pretension stripped away. We don't have fancy table cloths and we're not just a place for birthdays or anniversaries. At Grove you can have a nice dinner, a nice bottle of wine, and a knowledgeable server who's excited about the food they're serving.
When you decide what you're going to serve at Grove, what are one or two factors you always take into consideration?
Jeremy: We start the plan for a dish based on what's fresh and what's in season. We get lists from farmers of the fresh fish, meats, and produce we'll have each week. In the summer, we want to go lighter. You'll see more fresh seafood and grilling preparations, not heavy meals – we save those types of dishes for the winter. After ingredients, we think about what's fun and what's been on our minds! Chefs are notorious for having a dish on our mind all the time that we're not sure how to use. Then, we see the ingredients and it all comes together. It's definitely a collaborative effort.
Mike: I've been Grove's Sous Chef for a year and a half and when I first started we all wrote menu dishes for our stations. Some of the factors I consider are balance which covers a broad collection of things: saltiness vs. sweet and savory-ness; I try to balance acidity and add crunch to make dishes more interesting; I also think about how the dish makes sense as far as guests' palates go.
At Grove we like to see what kinds of fresh produce we're getting in and write a dish based on that. For example, we just got some very nice beets and now I'm thinking about what we want to do with those and what guests will like. Overall, I want to make sure the whole dish is balanced, maybe use one or two different sauces, a crunchy element, and a little bit of spice.
What type of food can diners expect during Restaurant Week?
Jeremy: We're going to play with different dishes like a Spanish-style Paella with Arborio rice, house-made chorizo, fresh seafood, and maybe clams and shrimp. We want to have fun during Restaurant Week, so we're going to do a play on a southern dishes – we'll probably also have an intense rib and pork plate and, if we have peaches in, we'll grill them and make it fun for the guests.
Mike: Our Restaurant Week guests will have 4-5 appetizer and entrée choices and about 3 dessert choices. I think we'll have an abundance of tomatoes, so we'll probably do a tomato dish that showcases all the different varieties. We'll also have an interesting soup – maybe a cold gazpacho – and most likely do a dish to highlight S&S lamb, a local farm who provides us with protein. For entrées, guests will have several options, maybe we'll make pork two ways with braised pork belly and some pork ribs, as well as offering a brisket or flat iron steak option, some kind of chicken, and a dish that showcases some lake fish, maybe Whitefish, Walleye, or a cool trout preparation. For dessert, one of the options we're working on is a Campfire Cheesecake. It's a caramel cheesecake with house-made graham crackers and marshmallows. We put the entire cheesecake inside of a bag, light woodchips on fire, and it cold-smokes the cheesecake so that it gets a woodsy, fired flavor to it.
Are you doing beer or wine pairings during Restaurant Week?
Jeremy: Yes. We'll definitely have wine pairing suggestions and maybe some beer suggestions with ribs or other straightforward fun dishes.
What else should people know about Restaurant Week at Grove or just in general?
Jeremy: I think Restaurant Week is a fun time for people to come in because it's a great value and it gives them a chance to try different dishes. People can check out restaurants they haven't visited before or revisit a restaurant and see what's changed, like at Grove, where we're constantly evolving. Restaurant Week isn't pretentious – it's a good time for people to try a lot of different types of food for a very reasonable price.
Mike: I think that Restaurant Week at Grove is a great time to get to know us and see the kind of food we serve. With Jeremy and I at the helm, we're really focusing on the handcrafted aspect. We make everything in-house: we make our own pasta, our own sausages, and our own bread. Restaurant Week is a really great deal and I'd love for everyone to come in and try our food.
How would you describe the Grand Rapids' food scene and how does Grove fit into it?
Jeremy: It's emerging. I think the skill set and quality of restaurants is definitely on the rise. We have a number of new restaurants opening and the majority are trying to do scratch-made products, taking a humble ingredient and making it their own. That's the same kind of attitude we have at Grove. We don't have to be French or Mediterranean – we're just a great midwestern restaurant.
Mike: It's seeing growth and we're getting some really good talent as more restaurants are opening up, especially with the culinary school here. My hope is that even more people move here, we have chef dinners together, build alliances, bring in chefs from other areas, like Detroit and Chicago, and work on the scene together so we have a Grand Rapids food hub. It's a good place to be right now.
Save