When the 7th annual ArtPrize kicks off on September 23 this year, downtown Grand Rapids will swell with visitors—more than 400,000 people are expected to take part in the conversation about art that surrounds this annual event.
For local business and associations, ArtPrize provides an opportunity to host unique networking or celebratory events for their employees, clients, and or vendors.
The Michigan Chapter of the International Interior Design Association (IIDA) is doing just that. For the third year in a row, they'll bring members together for an ArtPrize scavenger hunt, complete with clues, matching t-shirts, goodie bags and prizes. "It's a pretty involved event. We have a committee that meets every other week starting in May to organize everything," explains Mary Bamborough, IIDA, NCIDQ who is a Sr. Client Relations Consultant at Haworth as well as an IIDA Michigan Chapter Past President.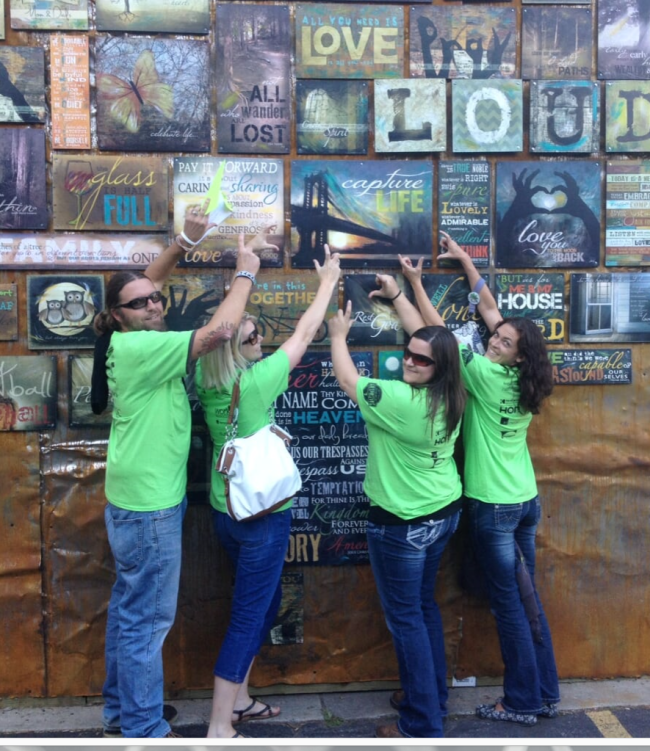 photo courtesy of Michigan Chapter, IIDA
The ArtPrize Scavenger Hunt is both a networking and fundraising event that includes IIDA members as well as friends and family members. Each team of 5 must have at least one IIDA member. "We'll get sales reps from carpet or fabric companies that call on us, who could sponsor a team, and they might invite designers that they call on," explains Bamborough. "We're trying to bring the design community together. It's a great way to establish relationships with other like-minded professionals."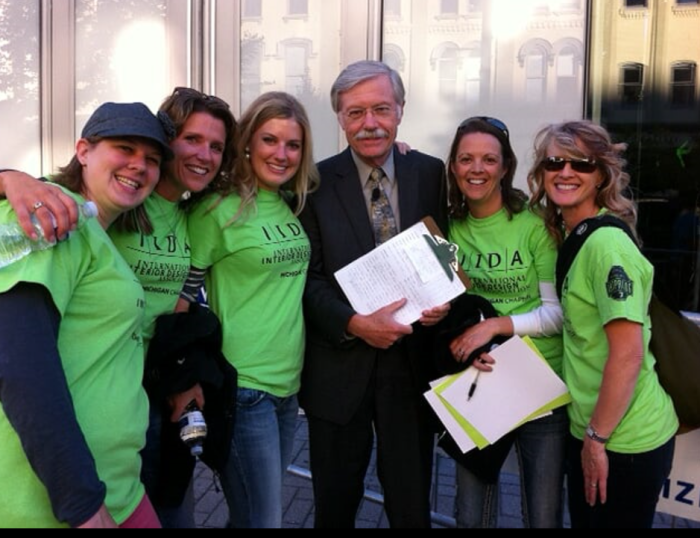 photo courtesy of Michigan Chapter, IIDA
Superior Foods has also hosted two ArtPrize events for employees and their families, one at the BOB and, more recently, at the Bissell Tree House at John Ball Zoo.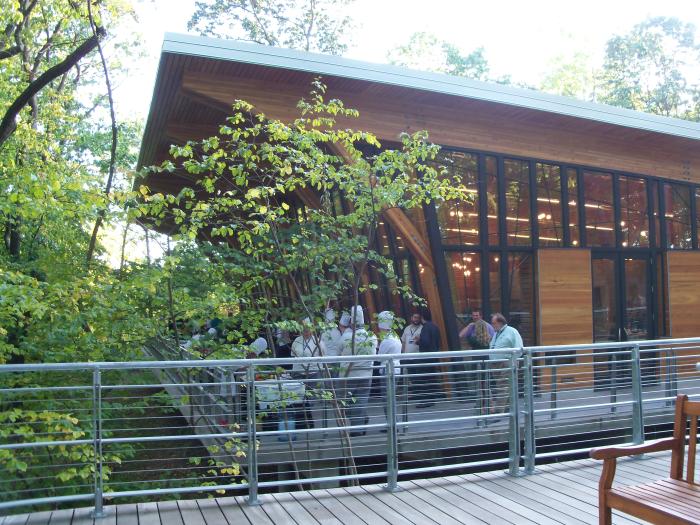 photo courtesy of Superior Foods, Co.
"At the Bissell Tree House event, River City Jazz Ensemble provided live music, Randy Finch and his team at Ice Gurus did live ice sculpting, and we had student carving competitions for students at the Culinary Institute of Michigan," says Kathie Rademacher, Marketing Manager/Events for Superior Foods Co.
In addition, for several hours Superior Foods ran a trolley back and forth between the Tree House and various downtown locations so employees and their families could see ArtPrize during the open house-style event.  Rademacher says it was a good way for some employees, who may not have ventured downtown otherwise, to experience the popular event. "We made it easy. They didn't have to navigate the streets and busyness of ArtPrize all on their own."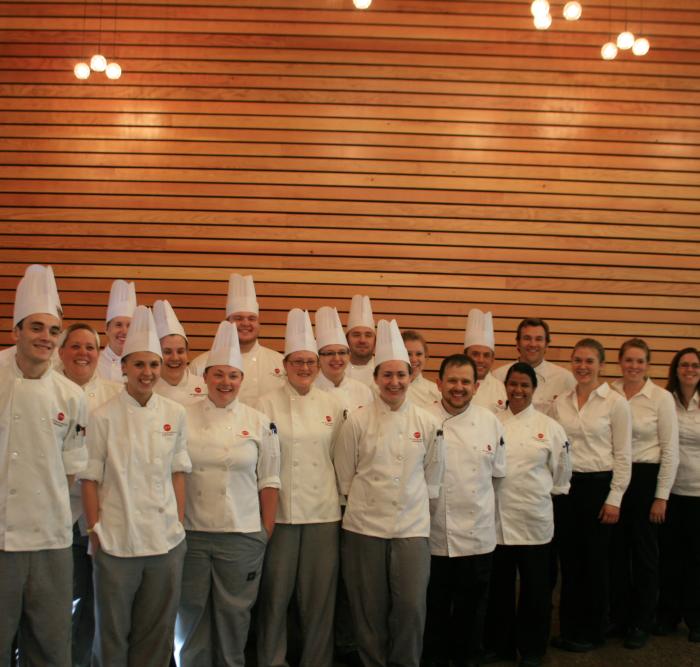 photo courtesy of Superior Foods, Co.
Employees provided a lot of positive feedback after the event, says Jim Osterhaven, President, Superior Foods, Inc., who believes that as a "work family" it's important to occasionally do things together. "We want to make sure that everybody involved with Superior Foods feels like they're part of something that's more like a family, not just a business," says Osterhaven.
If you like the idea of providing an event for your employees, customers, or vendors but don't have the time to dedicate to planning something on that scale, a local tour and event company, Live Eventfully, provides customized one-hour guided ArtPrize tours for groups of all sizes.
Corporate clients will often tie networking events or cocktail parties to an ArtPrize tour, says Live Eventfully owner Carol Distel. "It's the perfect venue to invite vendors from around the Midwest or Grand Rapids to see."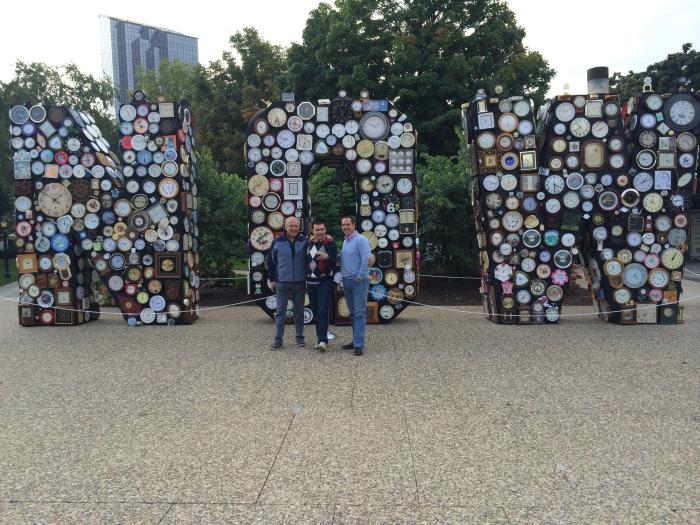 photo courtesy of Live Eventfully
Companies often tie the tour to a networking event or cocktail party. If a larger group is having a 3-hour event, for example, Live Eventfully might take a portion of the group out for an ArtPrize tour every hour, giving everyone a chance to see the art during the event.
"We provide the tour and they focus on their client. It's a nice partnership," says Distel.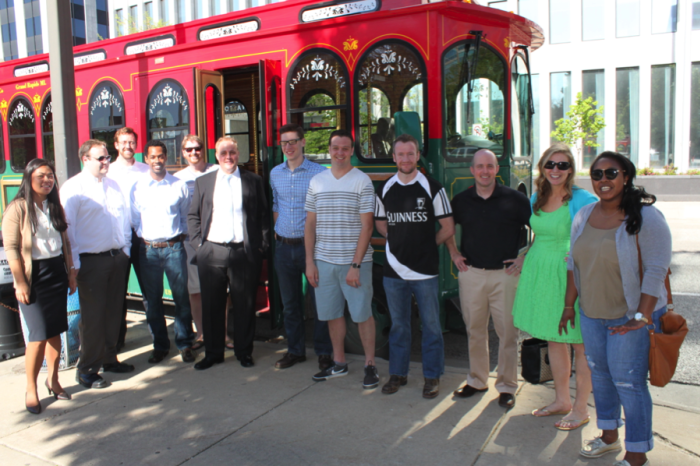 photo courtesy of Live Eventfully
Distel works with clients, like Consumer's Energy, Morgan Stanley, and Peerless Steel, ahead of time to determine which pieces the tour will visit: some clients prefer to focus on contemporary art, for example, while others want to see the year's most popular pieces. As they navigate the route, the tour guides provide inside information about artists and the inspiration behind the works of art.
But ArtPrize tours aren't just for corporations. Live Eventfully also does tours for local groups and groups visiting Grand Rapids specifically to see ArtPrize. Like corporations, groups of friends or family can choose a one-hour Disney-like Fast-Pass type of tour, filled with information about the pieces guests are seeing. "If we've talked to the artists prior to the tour and they tell us a story, we share that," says Distel. "If the artists is there, we'll have them come into the trolley and they'll explain their piece. It's a nice personal touch!"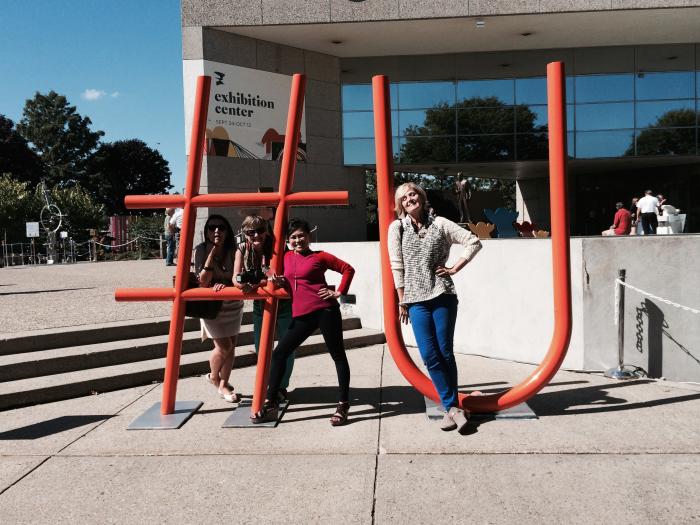 photo courtesy of Live Eventfully
The one-hour Fast Pass tours work well for groups who want to see and learn about the art in a comfortable, convenient atmosphere. It's a particularly good way for senior groups, who may have mobility issues, to experience ArtPrize without ever having to leave the vehicle.
For groups who really want to be among the art, and prefer to hit the streets sans wheels, Live Eventfully also offers one-, two-, and three-hour Walking Tours with a guide.
Or groups can choose a hybrid tour—part vehicle, part walking. "If you have 3 hours," says Distel, "we'll take you to the places we think you'll enjoy the most."
She says they provide a tour of outdoor pieces, and then take guests to certain venues to explore on their own. "They don't have to worry about getting around town or traffic. We already have it all mapped out. We start researching outdoor exhibits back in June! They can just sit back and we take them where they need to go."