London. Helsinki. Paris. Melbourne. Vienna. Florence. New York. And now Grand Rapids.
In the course of about a year, these are the cultural centers around the world that have been lucky enough to host an exhibit by prolific artist Ai Weiwei. Ai Weiwei, a conceptual artist and activist from China, is considered one of the most influential creators of our time by the online art website and resource, Artsy.
"Ai Weiwei [is]… consistently topping power lists and grabbing headlines around the globe," according to Artnet. An exhibit of Ai's work is a coveted opportunity. And now one of today's most talked-about artist is coming here.
Granted, hosting these types of exhibits is nothing new to Frederik Meijer Gardens & Sculpture Park. A walk through their sculpture park is like paging through an art history book. Henry Moore, Claes Oldenburg, Richard Serra, Kiki Smith, Keith Haring, Jenny Holzer, and so many more: they're all right in our backyard, ready for us to take a leisurely stroll through these giants of art.
But in the dead of winter, might we recommend that leisurely stroll begin inside, as Ai Weiwei's work will take over the entire building at Frederik Meijer Gardens & Sculpture January 27th through the summer. He'll be filling the conservatories, galleries, public spaces, and even the auditorium. What he'll be filling it with, so far, is shrouded in mystery. Will it be kites? Thousands of hand-painted ceramic seeds? Vases? LEGOs? Chairs? Joseph Becherer, Vice President and Chief Curator, says more details will be shared in the coming month, but for now, he says the title of the exhibition itself is enough to get our minds churning: "Ai Weiwei at Meijer Gardens: Natural State."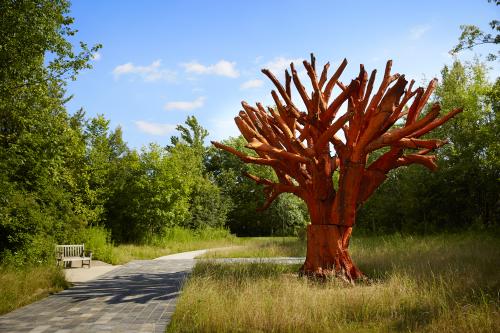 "This is the first time that he will have shown anywhere in a botanical garden or a sculpture park in the world, so obviously the nature part of it makes some sense. But "natural" is a funny word. Being of nature or from nature can go in lots of different directions," says Becherer. Along with the shift from a traditional "white box" space of a museum, he says, a lot of the work is made of natural materials: wood, jade, ceramics, clay, and so on. "So the play on the word natural here is pretty interesting. So is the notion of state: are you talking about a state of being? Are you talking about a state as a kind of political entity? Are you talking about a state of mind?"
These are the questions that conceptual art often makes us think about. And Ai Weiwei, with his prolific work and fascination with the power of ideas themselves, is a master at making us think.
"He is able to express and communicate so many ideas in constantly changing and innovative ways," says Becherer. "You may be looking at a pile of sunflower seeds or a basket of flowers—but by no means are any of those things intended to be decorative. They carry a very different kind of message."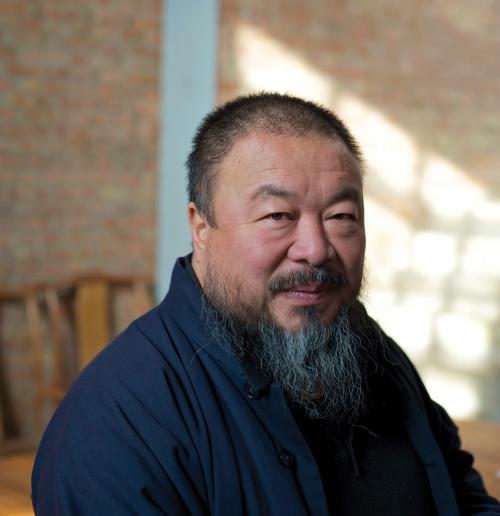 Whether Ai Weiwei is making us think about China, his home country, or about freedom of speech or the refugee crisis or history, Becherer says his sincere concern for global humanity always shines through his work. "It causes even the most casual visitor to take a step back and ask why," he says.
Don't miss Ai Weiwei as his ideas take over Frederik Meijer Gardens & Sculpture Park, January 27-August 20. Learn more about what you'll see when you visit the gardens, find open hours and ticket prices here. Learn more about Ai Weiwei on his website, or by following his near-daily posts on Instagram and Twitter.