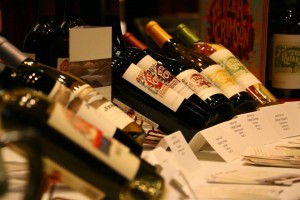 Photo Courtesy of Show Span
Grand Rapids is pleased to welcome back the 7th annual International Wine, Beer and Food Festival at the DeVos Place November 20-22. It's a triple threat: Any event that serves wine, beer and food (and cider, spirits and mead too!) in one place is guaranteed to be lively, and this festival is no exception.
If you've never attended, then you may not know that the IWBFF is the biggest festival of its kind in the midwest: "It's a tasting celebration," says Show Manager Dawn Baker. Attendees can purchase tickets for specific days, or can buy a three day pass for just $40, a new offering for 2014. Over 1,200 wines, including some rare or hard-to-find, are available to taste alongside West Michigan's culinary finest. Tasting tickets can be purchased in 50 cent increments and spent on as many snacks as you can hold. For a full dinner, reserve your tickets for a full pairings meal experience here.
If you prefer hops to grapes, check out the second year of the Brewer's Loft, an impressive offering of craft, domestic and imported beers. In 2013, the festival also embraced hard ciders, which have continued to grow in popularity and quantity for the past year.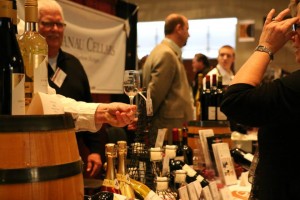 Photo Courtesy of Show Span
For many, the pull of this particular festival is the education piece. DeVos Place is the home of the Meijer Food Stage and a number of smaller presentation rooms. Seminars, workshops and demos dictate the agenda and cover a range of topics: The Standup Sommelier Laurie Forster presents comedic wine-tasting, or you can get a jump start on preparing for your holiday guests with Neal Dionne, B93 Morning Host. You'll find me at "Beer and Chocolate: A Perfect Pair", presented by Fred Bueltmann of New Holland Brewing Co. I couldn't agree more, Fred. Check out the full presentation schedule and plan your weekend accordingly!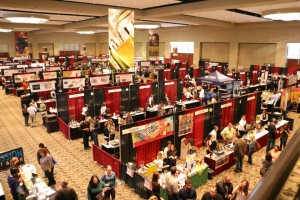 Photo Courtesy of Show Span
Aside from holiday guests, prepare for holiday gifts while you're tasting. Over 10,000 guests shopped the Riverfront Market in 2013 during their weekend at the Festival. The market is full of ideas for others...or just to put in your own kitchen. Shop for your Thanksgiving hosting tools and note the wines you enjoy that your local Meijer carries.
Above all, enjoy a fall weekend in beautiful downtown Grand Rapids before the rush of holiday season takes over. Need a place to stay? Try the Amway Grand Plaza or JW Marriott, both within walking distance of DeVos Place and offering tantalizing packages just for the festival! Both include up to two tickets for the festival, parking, accommodations and food for your evening or morning in.
Take the time to celebrate the variety that grapes, hops and cuisine present at what promises to be the biggest year yet. See you there!