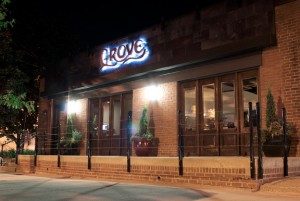 photo courtesy of Grove
On Wednesday, we filled you in on the don't-miss event of the weekend: the International Wine, Beer & Food Festival taking place right here in Grand Rapids.
Today, we're talking about food again, this time with Patrick Wise, the Executive Chef at Grove (named Grand Rapids Best New Restaurant in 2011 by Grand Rapids Magazine). Although Wise has been working in kitchens for years, he originally studied criminology and psychology in college. Fortunately for the rest of us, he ditched that idea and followed his passion for food and people instead.
Grove opened in the East Hills neighborhood of Grand Rapids in September 2011, joining other local favorites like Brewery Vivant, Marie Catrib and The Green Well. (In fact, Essence Restaurant Group, of which Wise is a partner, owns both The Green Well and Grove, along with another local star, Bistro Bella Vita.)
photo courtesy of Grove
Its strong focus on farm-to-table is what sets Grove apart. Although many Grand Rapids restaurants are using more locally sourced ingredients, Grove takes it one step further. "We try to take a head-to-tail approach to our cuisine," says Wise, "and use as many parts as possible of the animal that we buy. This includes using liver, pig heads, and oxtail so we can help our farmers work through their entire animal instead of just buying strip loins and tenderloins."
Having eaten at Grove, I can strongly recommend, well, everything I've tried. Of course, the menu changes regularly, so you'll probably have to try something I haven't had. But if the paella's on the menu, grab some. Really.
For a sneak preview, you can check out Groves interactive Sample Menu, which allows you to see where ingredients are sourced. Click 'white cheddar,' for example, and you'll discover it comes from the Farm Country Cheese House in Lakeview, MI.
I talked to Pat Wise recently to find out a little more about this new venture and his own journey to Grove.
Q & A with Pat Wise, Executive Chef at Grove
What do you like to do on your days off?
When I have a day off generally I enjoy spending time with my wife. We like shopping at the farmers market, coming home, and making dinner together. I also like the outdoors, and I like to read and watch sports. During the winter, I snowboard. We have a cabin up north and we like to go up there as much as possible.
If you're not working, where do you go when you eat out?
My wife and I like to go to Reserve. We end up at The Green Well quite a bit. And we also enjoy cooking at home.
When did you know you wanted to be a chef?
When I was in college. I worked in kitchens while I was going to school for criminology and psychology and I'd had a bad week. I went out one night and the food and dining experience made my week. I got to forget about my stuff. That's when the light went off. It clicked that in a restaurant, I could work hard and do my job well and make people happy. I enjoyed the relationship aspect of it.
What was your first food-related job?
I was a prep cook at Snug Harbor in Grand Haven.
Who's been your biggest career mentor?
My mom, because she instilled my work ethic.
What's the biggest mistake you ever made in the kitchen?
I left a half a side of pork in the oven overnight. I invested 8 hours of cooking time and forgot it at the end of the night. I woke up at 5:00 in the morning in a panic and ran down to the restaurant, but to no avail. It was ruined.
What's your favorite dish?
Slow cooked pork of any kind. I'm making cassoulet today, on a dreary, rainy day. When you take a lot of time and effort to take a chewy, rustic cut of meat and turn it into something extremely flavorful and soul satisfying--that's probably my favorite thing.
What ingredient do you think is essential in any kitchen?
Kosher salt.
Why kosher?
It enhances the flavor in dishes as opposed to iodized salt, which just tastes salty. I use it in so many dishes, in slow-cooked meats, brining, curing. It's the simplest thing but without it your food isn't seasoned.
What's your least favorite ingredient?
Anything pre-made or pre-processed.
What recent trend do you see in kitchens that you really like?
People responsibly sourcing product from sustainable farms, whether they're local or regional. Hopefully, continuing to cook seasonally isnt a trend but a movement for the future.
What would be your second choice for a career, if you weren't a chef?
Professional traveller. Maybe travel writer. Anthony Bourdain's job.
What's one thing most people don't know about you?
I tear up every time I watch Forest Gump.
What do you think sets Grove apart?
The honesty that we put into our food, where it comes from, and how it was sourced. We use local farms and responsible fisheries. People know that were very reactive seasonally and we work hard to source the best quality products to put on their table. Were also one of the few places doing a tasting menu of 3 courses for $30 (Taste of Grove), so you can sample a wide variety of ingredients and try things like ceviche, tartare, and chicken livers.

We're very proud be involved in the Grand Rapids and West Michigan community. The thing were most proud of is continuing to build relationships with artisans and farmers over the years and watch them be come a part of our extended restaurant family. That's basically what Grove boils down to.
Read other chef interviews in this series: