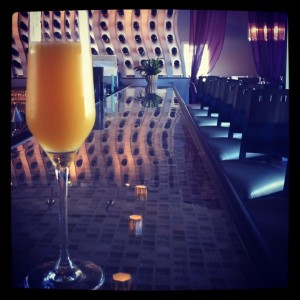 When Christine Gill put her daughter, Chloe Ãlan, up for adoption in 1986 no one could've guessed that 23 years later they'd reunite and Gill would eventually name a restaurant after her. But to the delight of foodies in West Michigan, that's exactly what happened. The result is Bistro Chloe Ãlan, an upscale spot with a contemporary feel that serves up unique, globally-inspired fare.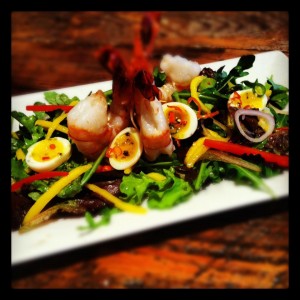 During the winter, you'll want to stick to the cosmopolitan interior, where you'll find top-notch service on par with the delectable food. Sustainability is paramount for Executive Chef Peter Setterington, who says, "You won't see species that are over-fished on our menu." He likes to experiment with flavors and has plenty of taste testers. "My lovely wife and three beautiful daughters are, far and away, my best food critics," he says.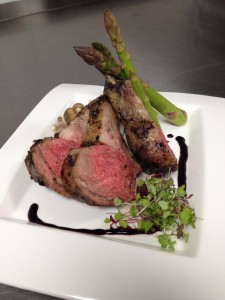 I chatted with Peter Setterington recently to learn a little more about his favorite ingredient, his favorite dish, and what he'd be doing if he weren't an Executive Chef.
Q&A with Peter Setterington, Executive Chef, Bistro Chloe Ãlan
What are your hobbies when you're not working--what do you like to do on your days off?
I like to eat, to travel, and to check out new & out of the way places.
If you're not working, where do you go when you eat out?
There are a lot of great eateries up in Traverse City and I spend a lot of time up there when I'm not working. In Grand Rapids, I like the Winchester, the Grove does a nice job, and Brewery Vivant is fun. Founders is a fun place to go, too.
When did you know you wanted to be a chef?
Food really became my passion in my early- to mid-twenties. I was in Ann Arbor, at a restaurant called the Earle, an old Ann Arbor institution that serves French & Italian provincial cooking. I took a lot of inspiration from Shelley, the chef. She was a very simple, straightforward chef, and didn't try to overcomplicate or reinvent things. She just did a very good job of execution & her technique was sound.
What was your first food-related job?
I was a busboy at the Roaring Twenties Pizza Place, which is no longer there. Its now a Quaker Steak & Lube.
What's the biggest mistake you ever made in the kitchen?
We actually forgot about some cheesecakes in the oven. That happened in this restaurant. We've got double convection ovens and two conventional ovens; two cheesecakes were left on the top shelf of one of our conventional ovens. I was putting something in the dumpster outside and I could smell them burning.
What's your favorite dish?
My favorite dish is an old French provincial dish called Hachis Parmentier. Its a potato casserole with duck meat, cheese, carrots, and onions and its a silly good dish in the winter.
What ingredient do you think is essential in any kitchen?
Duck fat. It offers such a richness to things and makes for a very nice subtle layer of flavor in so many different dishes. Also, sherry. I think we use more sherry here than anything.
What's your least favorite ingredient?
MSG.
What recent trend do you see in kitchens that you really like or dislike?
I personally love the the farm-to-table movement and the fact that people are really trying to utilize local ingredients, but I don't think its a new trend. It started with Alice Waters at Chez Panisse in Berkeley in 1971.

 

For me, the more important trend is sustainability and recognizing farmers and fishing practices that are going to leave the earth in as good a state or a better state than they found it. We try to use farmers and purveyors who promote and use sustainable practices, which means we look outside of Grand Rapids but we're still supporting the good, small farmer.
What would be your second choice for a career, if you weren't a chef?
A food writer. Id love to be Anthony Bourdain's chief assistant. Hes a good chef in his own right and hes very interested in food. Hes also interested in all of the off-beat places.
What's one thing most people don't know about you?
I am my own worst critic. On the door leading into our kitchen we have a sign that says Humility. Every day you can learn something from a customer, a busboy, a dishwasher. Its when you think that you know everything that you begin your descent.
What do you think sets Bistro Chloe Ãlan apart?
Our combination of flavors is different than you see elsewhere and you'll find some things on our menu that you don't typically find in the Grand Rapids' market. One example is the fish that we use. We use a lot of ocean fish and we really try and utilize very sustainable species, so you see some things that aren't typical in Michigan. For example, you might see black cod (which is a sustainable version of sea bass), barramundi, artic char, halibut, cobia, and stone crab. We want to introduce people to items that aren't 100% recognizable to them, take them a little out of their comfort zone, and broaden their perspective about food.
Read other chef interviews in this series:
Pat Wise, Executive Chef at Grove
Aaron Van Timmeren, Head Chef at Bistro Bella Vita
Ryan Wabeke, Executive Chef at One Trick Pony