Some years ago, I discovered the smooth, delicious spirit that is Irish Whiskey. Since then, I've sipped a number of them. Fortunately for me, Grand Rapids has plenty of Irish Pubs where I can sample the wares. Occasionally my son, Chase, who spent part of his college years studying abroad in Dublin, Ireland, accompanies me. I enjoy having time to visit with him and listen to him reminisce about his adventures abroad while enjoying a little bit of Ireland right here in West Michigan.
Known for stout beers, like Guinness, and Irish whiskeys, like Jameson and Bushmills, you can count on these Irish pubs for a festive atmosphere and, almost always, Irish music.
While St. Patrick's Day is a great time to enjoy Shepherd's Pie or Bangers and Mash with your beer, these local Irish Pubs go out of their way to make you feel welcome any time of year.
Quinn and Tuite's front entrance translates to "A Hundred Thousand Welcomes."
Photo by Experience GR (Taken by Bree Girard)
Quinn and Tuite's Irish Pub
When I first saw the tagline, "Céad Míle Fáilte!", which means "A Hundred Thousand Welcomes," I knew I'd find warm hospitality at Quinn and Tuite's. Owners Bill Quinn and Rick Schall bought the former "Pete Brown's Office" bar in the late '80s and eventually turned it into a popular Irish pub. (Tuite is Schall's mother's Irish family name.)
Since then, Wednesday night Irish sing-alongs, pool and darts, over 90 different Irish whiskeys, and award-winning pours of Guinness have become staples of the pub. "We were given the distinction of the best pint poured in Michigan by Guinness," says owner Bill Quinn. "We have the perfect mix of nitrogen and CO2, we use the proper gas, our lines are constantly cleaned, and our help is educated on how to pour a proper pint." In addition to Guinness, you'll find Irish mainstays on tap like Harp Lager, Smithwick's Irish Ale, and Magner's Irish Cider.
Quinn and Tuite's have been recognized for more than its Guinness pour. A few years ago, it was named the best neighborhood bar in Grand Rapids and one of the state's best neighborhood bars. I especially like its friendliness and great prices, and Chase does, too. "You're a regular the first time you're in here. You're never a stranger," says Quinn. "It's like being in Ireland." It's a warm welcome memory for a young man who fondly remembers his months in Dublin.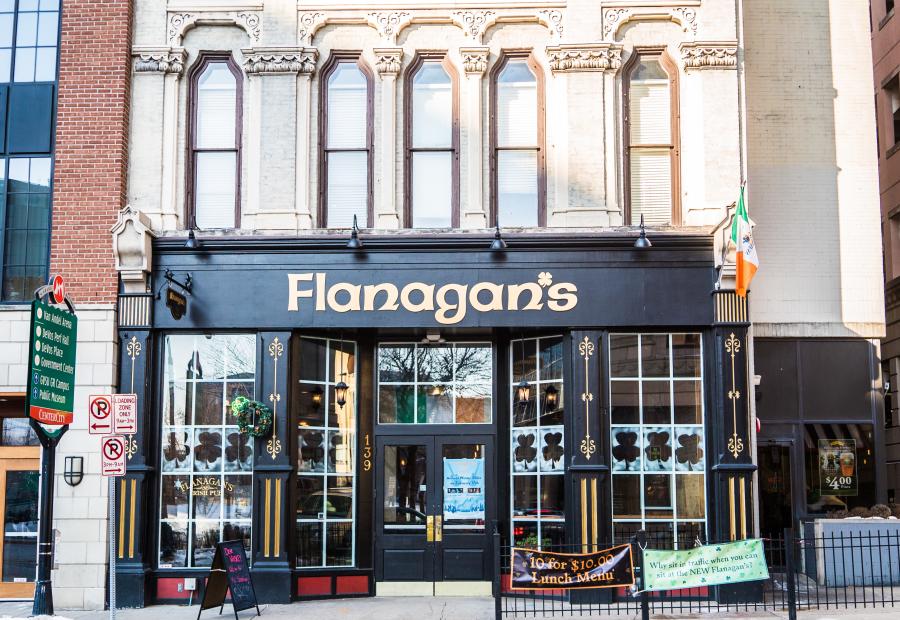 Enjoy Guinness and traditional Irish food in the heart of downtown at Flanagan's.
Photo by Experience Grand Rapids
Flanagan's Irish Pub
I love strolling around downtown Grand Rapids in every season. Whether it's a snowy winter day or a brilliant summer evening, when I'm ready for a break, it's easy to pop into Flanagan's. In the heart of downtown, across from Rosa Parks Circle and the historic McKay Tower, the welcoming Irish pub has been a part of the Grand Rapids community for four decades. It was completely remodeled by new owners (of Irish descent) in 2016, making it even more authentic and comfortable.
While I favor an Irish Whiskey, Chase is a Guinness fan and, naturally, Flanagan's has Guinness on tap. It also has several hand-picked selections for flights of whiskey, and they cook up lots of traditional Irish fare, from shepherd's pie to corned beef and cabbage.
Flanagan's is one of the stops along the St. Patrick's Day Bar Crawl/Stroll on March 17 and 18.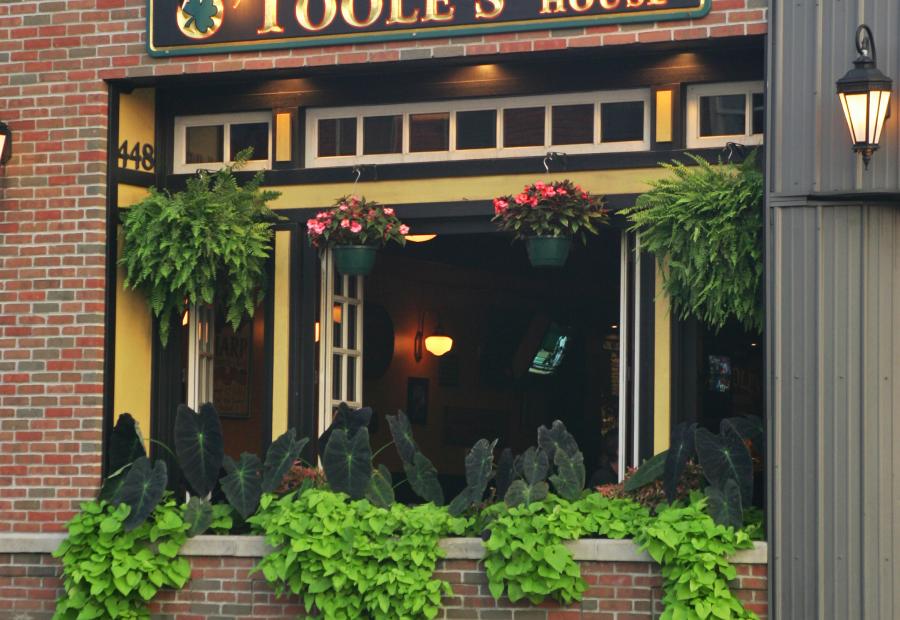 O'Toole's has a friendly, upbeat, come-as-you-are atmosphere.
Photo by Experience Grand Rapids
O'Toole's Public House
When twin brothers Dave and Paul Reinert were younger, they loved visiting the ubiquitous Irish public houses scattered throughout Boston. It struck them that Grand Rapids might embrace an Irish bar that was warm, welcoming, and lots of fun. "That's where the whole concept of O'Toole's came from," says Dave Reinert.
They opened O'Toole's in May of 2003 and the Bridge Street corridor where O'Toole's is located has seen tremendous growth and change in the past few years, bringing more bars and restaurants to the area. "When we opened we were one of the only places on the road," says Reinert. "It's been cool to see everything evolve." (As a side note, the brothers also own Butcher's Union, located on the same block.)
The vibe they've created is friendly and upbeat. "We have a really relaxed, come-as-you-are type of atmosphere," says Reinert. "O'Toole's is a great place to come with your friends and let your hair down a little bit." 
When you visit, you'll find Guinness on tap and plenty of Irish whiskeys. But O'Toole's also has a nice selection of scotches and tequilas, plenty of Michigan craft beer, and lots of locally-sourced menu items. I'm partial to the hand-pattied burgers made with beef sourced from Byron Center.
A little farther out...
Grattan Irish Pub (Belding, MI)
A little over 10 miles southeast of Rockford, off of Belding Road, you'll find Grattan Irish Pub. I stumbled onto it a few years ago and think it's a quaint dive bar with a solid Irish Pub feel—shamrocks galore! 
Built by Irish farmer immigrants, and established in 1937, Grattan Pub is family owned and operated. The menu offers Irish fare, like the corned beef Rueben sandwich with homemade sauerkraut (that they brine), but it also offers fairly traditional bar food. The burgers and wings are both tasty. On Friday and Saturday, you can also choose a ribeye or New York Strip steak, both of which are sourced locally.
Sometimes Grattan Irish Pub has live music on the weekends. Check the pub's Facebook page for more information.
The Curragh Traditional Irish Pub (Holland, MI)
My oldest son, Matthew – a soccer fan – enjoys going to the Curragh to cheer on his favorite team while enjoying their traditional Irish cuisine. The Curragh offers traditional Irish fare, including shepherd's pie, Irish stew, and corned beef.