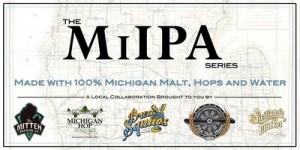 Photo Courtesy of The Mitten Brewing Co.
We all know that the beer and beer tourism industries in Michigan have ramped up immeasurably in the past two years. It's an exciting community to be a part of and a delicious one to be knowledgeable about. One thing we haven't seen or tasted yet? A Pure Michigan beer. And after talking to a number of industry members, it's exciting to think that it's not too far off.
Beer has four main ingredients- Hops, Malted Grain, Yeast and Water. Many brewers adjust the amount and style of the first three to effect a change in the beer color, alcohol by volume, and flavor. Michigan is lucky to have close proximity to some of the most sought after water in the world- The Great Lakes. So that remains the most simple ingredient to procure, although the water chemistry required for brewing demands a little filtration. I spoke with Erik May of Pilot Malt House, Emily Geiger of Craft Cultures Yeast Labs, and Blake Mazurek of The Michigan Hop Alliance to discuss where the other crucial ingredients are coming from as brewers turn to farmers and locals to have input in their beer.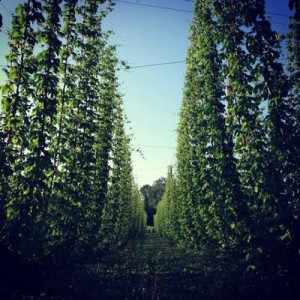 Photo Courtesy of Michigan Hop Alliance
Founded in 2012 and only licensed in August of 2013, Pilot Malt House has had an incredible journey from pipe dream to reality. Co-founder Erik May credits loving beer and hanging around with homebrewers as his inspiration to begin thinking about the middle men- the maltsters. Maltsters like May contacted local farms and have begun to offer Michigan farmers an alternative to the corn and soybean crops that dominate so much of the agricultural scene here. Malted barley, wheat and rye, to name a few, are the base ingredient to provide brewers and distillers with an alcoholic end product.
Malting for Pilot Malt House starts with picking up raw grain- about 2500 pounds at a time. This is the desired output from just one acre of Michigan farmland. The grain goes into fresh water with a bubbler to steep, is allowed to germinate, baked on an enormous kiln, and is then put through a cleaner and separator to be bagged for brewers and distillers. As they add customers every week, May happily calls Pilot "the conduit between the brewing and farming communities." The goal by this summer is consistent malt production of one ton a week. You can taste Pilot Malt House's product in a number of beers around Grand Rapids, including some at Osgood, Gravel Bottom, White Flame, and The Mitten Brewing Co., or you can homebrew with it from Siciliano's!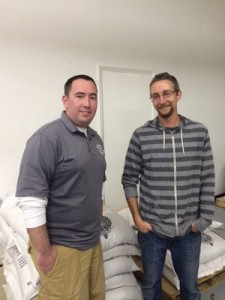 Photo Courtesy of Lyndsay Israel
Yeast is another crucial component to the color and ABV of craft beverages. When founder Emily Geiger started in the brewing business, it was as a quality assurance microbiologist. "I noticed that a gap exists in knowledge of the brewing process...many brewers understand that yeast plays an important role, but lack opportunities to learn the details and become educated." With this desire to educate brewers and consumers alike on how important yeast is to the brewing process, Craft Culture Yeast Labs was born.
The labs provide liquid yeast cultures of a variety of yeast strains to customers in Michigan and throughout the Midwest. Geiger adds, "We make yeast like the craft brewing industry makes beer; high quality and in small batches". You can meet the "Yeastie Boys, and Gal" as you peruse strain options for your next brew. Additionally, Geiger still leaves plenty of time for yeast care and maintenance education sessions, as well as brewery quality control testing.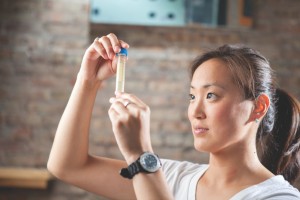 Photo Courtesy of Craft Cultures Yeast Lab
Even if you don't drink much beer, you may have heard of the term 'hop-head', a self-assigned label that enthusiasts all over identify with. Hops lend flavor, bitterness, aroma and finishing qualities to beer, the variety and quantity making a huge difference when paired with different malts and yeasts. Brewers can also decide if their beer will be 'wet-hopped' or 'dry-hopped', which involves using the plant fresh off the vine, vs. a pelletized version during fermentation. Hop plants are perennial vines that grow vertically, and a number of varieties happen to do well in Michigan.
The Hop Alliance is farmer owned and keeps the brewers in hops, which is sometimes a struggle based on the quantity used across the state. With 28 varieties offered, the potential for beer varietals is enormous. Farmer and homebrewer Blake Mazurek says, "One of the key reasons I got into growing hops is the community of people connected to Michigan's Craft Beer industry. There are so many people who are passionately dedicated to producing high quality beer and who's love for our state shows in what they produce."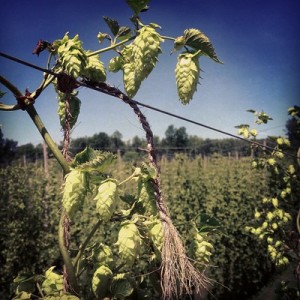 Photo Courtesy of Michigan Hop Alliance
As organizations like the three I've spoken with continue to build relationships with the craft beer and distilling community in Michigan, we look ahead and expect collaborations that could mean Pure Michigan beer becomes the expectation. The Michigan IPA project that The Mitten Brewing Co., Pilot Malt House, Michigan Hop Alliance and local homebrew club The Brewsquitos have started is a step toward introducing beer-drinkers to what local beer can look like.
The climate and resources in our state have helped grow a successful industry for beer and beer tourism and it's exciting to see what the future interpretations of this will taste like. As May said when asked why he liked participating in this industry- "It's so great to sit at the same table with the brewer, the owner, the maltster, the hop farmer, and enjoy a pint that everyone had a part in creating. It's why we're here."
To see more that's going on the Pure Michigan Beer conversation, watch videographer Damon Card's take on the locally sourced phenomenon happening in the West MI beer community: