What kiddo doesn't love learning about space? It's one of those subjects that can inspire awe in the hearts and minds of any age group, but it's more important now than ever that we continue to show our children how amazing this universe is...and how big.
Luckily for West Michigan, the Grand Rapids Public Museum recognized a need for that education to be made accessible years ago, and have been faithful to the community as a center for learning. March 6th, 2014 marked the date of their re-opening, after six months of renovations. The Roger B. Chaffee Planetarium has been exquisitely improved for residents and visitors of all ages to enjoy.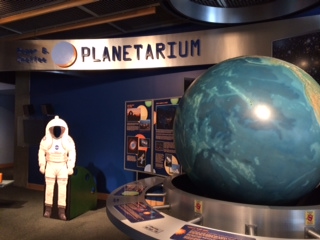 The renovations, which totaled over 1.2 million dollars, are radical, and bring the dome to life with state-of-the-art software and videos for guests to lean back and enjoy. The video shown at the re-opening will be one of their staple shows, and has won awards for being one of the best full dome system films available. "Dynamic Earth" explores why Earth has thrived while sister planets haven't...and how society impacts that prosperity, often negatively. The best part? Liam Neeson narrates and asks viewers the ultimate question- "Is our goal to spend Earth? Or save it?"
The glimpse we got of the new terrain and constellation software was exciting as well. The high resolution terrain imagery was available as our presenter called it up, quickly focusing in on our location from an aerial viewpoint, and then what we would see of the night sky from our earthly standpoint in Grand Rapids. The view is breathtaking, and blessedly without cloud cover or negative temperatures, so I now know that we CAN appreciate our winter night sky without cursing the snow.
The namesake of the Planetarium was celebrated that evening as well, with an excellent dome system film in honor of Roger B. Chaffee. Born in Grand Rapids, Chaffee was a proud pioneer in the space industry. As the space race heated up in the 1960's, America held its breath to see what superpower country would reach the moon first. Chaffee was selected with two others, out of 1,800 astronauts, to be the first man on the moon. In a tragic accident on January 27, 1967, Chaffee and his co-astronauts were killed in a flash fire during a test run on their rocket to the moon. Grand Rapids mourned a hero and America mourned the loss of her brave pioneers. It seems that Chaffee would have been proud of the legacy that continues with the museum's Planetarium.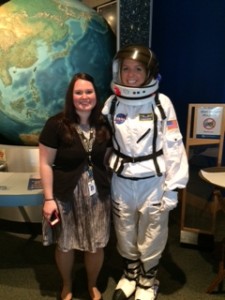 The Planetarium is open seven days a week, including a later evening (til 8pm) on Wednesday nights. The four shows that will rotate for this season include "Dynamic Earth", "The Little Star That Could", "Violent Universe" and "Under Frozen Skies". Admission is $4 in addition to museum entrance fees (but members are free!). I would encourage you to take the time to check it out, whether with your family, on your lunch break, as a first date, or with your grandparents! It's an awesome Earth we live on.