Spring break and summer vacation are both great reasons to plan a family trip to a new city. With so many exciting possibilities, however, choosing which activities to do can become overwhelming.
If you're trying to decide what to do in Grand Rapids, we've taken out the guesswork and rounded up seven kid-friendly culture stops that are fun for the whole family.
Keep in mind, the below activities are just some of the many kid-friendly attractions in Grand Rapids: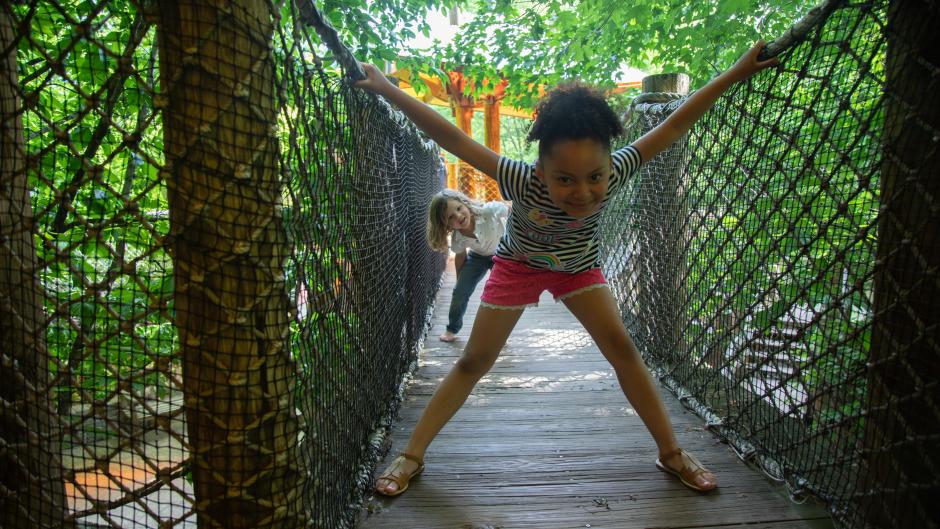 The Lena Meijer Children's Garden at Frederik Meijer Gardens & Sculpture Park is one of the many great places for kids to explore.
Photo Credit: Experience Grand Rapids
---
Frederik Meijer Gardens & Sculpture Park
Located inside the 150-acre Frederik Meijer Gardens & Sculpture Park is the Lena Meijer Children's Garden. Lena Meijer Children's Garden offers many options for all ages, including Grandparent and Me classes, necklace making, and oil painting.
During a day at Lena Meijer Children's Garden, you can build a boat at Great Lakes Garden, dig for buried fossils in the Rock Quarry, and more!
Also be sure to venture to the annual Fred and Dorothy Fichter Butterflies Are Blooming exhibit, the largest temporary tropical butterfly exhibit in the nation. Butterflies are Blooming is open yearly from March 1 until April 30, and it features more than 60 species of butterflies from Asia, Africa, Central, and South America.
A variety of summer camps begin June 10 at Frederik Meijer Gardens & Sculpture Park, including exploring, design, drawing/painting, animals, treehouses, bugs, rocks, and photography. Camps range from one to four days per week. Summer camps are open to children ages 3-14 for members and non-members alike.
"Frederik Meijer Gardens & Sculpture Park is a fantastic place for kids of all ages to learn and explore and enjoy art and nature all year," says John Vanderhaagen, Director of Communications at Frederik Meijer Gardens & Sculpture Park.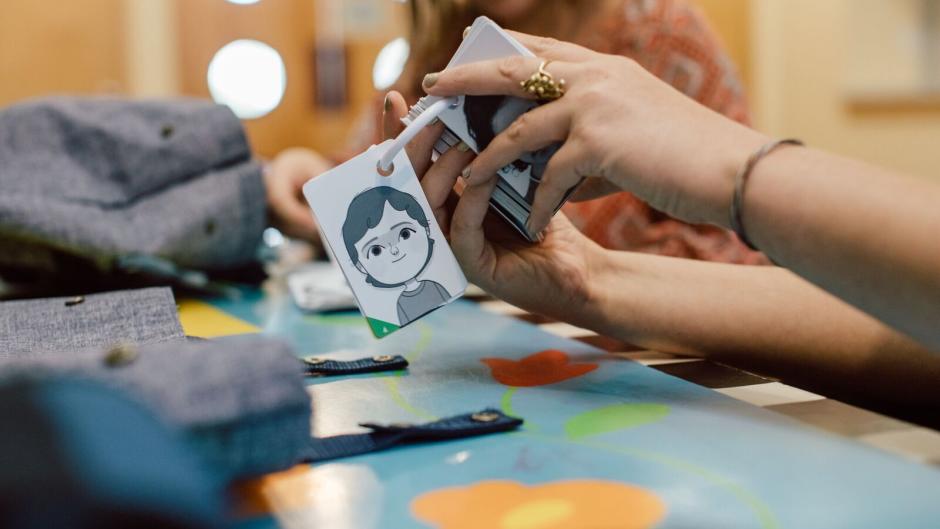 Grand Rapids Children's Museum offers a sensory-friendly play area.
Photo Credit: Experience Grand Rapids
---
Grand Rapids Children's Museum
The Grand Rapids Children's Museum (GRCM) provides entertainment for every member of the family. GRCM has a special area for children five years of age and younger with a guardian. It includes a special space for tummy time, a climbing area, ball ramps for toddlers, and even a tiny kitchen.
Older kids will enjoy many of the permanent exhibits. At Diagnosis: Fun, kids see what it's like to be a nurse, surgeon, doctor, or medical technician. Classic and Favorites is another popular exhibit where kids get to play with toys that have been around for generations, including Lincoln Logs and Legos®.
GRCM has a brand new exhibit called Think Tank. Think Tank is built on the success of the popular GRCM exhibit, Imagination Playground. There's no right or wrong way to play with the oversize blocks, piping, rope, and more, so let your imagination be your guide.
GRCM also offers sensory tool kits (noise reduction headphones, a weighted vest, stress balls, etc.) available to check out at the front desk.
Gerald R. Ford Presidential Museum in Grand Rapids, MI, offers plenty to explore, both inside and out.
Photo Credit: Gerald R. Ford Presidential Museum
---
Gerald R. Ford Presidential Museum/Ah-Nab-Awen Park
The Gerald R. Ford Presidential Museum permanently displays more than 19,000 artifacts, illustrating the life of President Ford and Betty Ford, both West Michigan natives. This preserved collection illustrates the legacy left by President Ford and the former First Lady.
In addition to the permanent exhibits, the Ford Museum will have a new exhibit titled "Extraordinary Circumstances: The Presidency of Gerald R. Ford," from March 25 to September 2, 2019.
"Extraordinary Circumstances" is an exhibition of photography by President Gerald Ford's personal White House photographer, David Hume Kennerly, who selected each image to create what he calls, "a close-up portrait of President Ford's humanity."
As part of your visit, be sure to tour the six-acre Ah-Nab-Awen Park it sits upon. Ah-Nab-Awen Park exhibits artwork and hosts many community-wide festivals on the banks of the Grand River.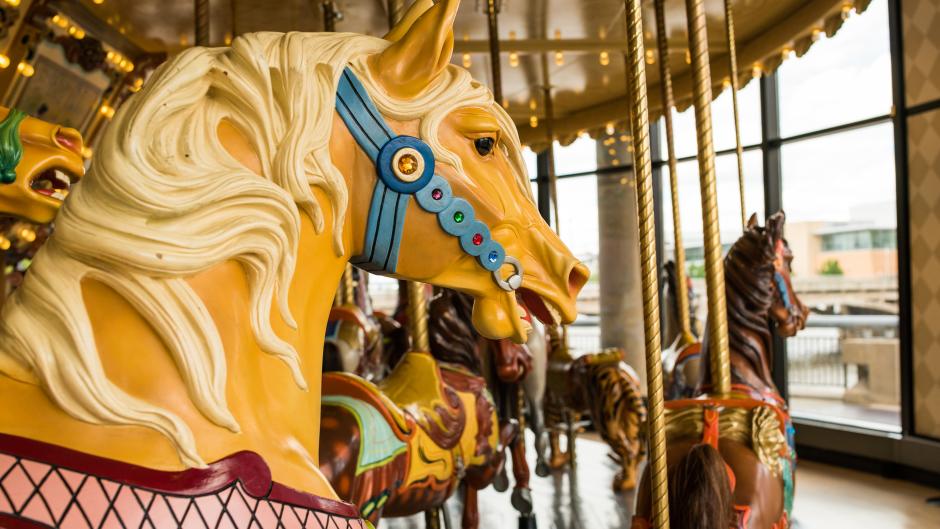 Carousel horse at Grand Rapids Public Museum Carousel
Photo Credit: Experience Grand Rapids
---
Grand Rapids Public Museum
If you and your kids love Jurassic creatures, visit the Grand Rapids Public Museum (GRPM) to experience Expedition: Dinosaur. Visitors can control a life-size dinosaur, go into microscopic detail of a T-Rex brain, and more.
For something lighthearted, visit Toys! an interactive, multi-generational exhibition of toys and games. The exhibit will take you on a journey of toys through the decades, with everything from paper dolls to Mr. Potato Head.
GRPM also offers a variety of summer camps, exploring science, history, culture, and art, for pre-K through 9th grade. Registration is open now for Camp Curious, which transforms the museum into a learning lab. The museum also offers kits for patrons with sensory sensitivities and has also established quite venues.
"These exhibits are sure to fascinate all ages, keeping kids learning while having fun," says Kate Kocienski, VP of Marketing and PR at GRPM. "In addition, the museum will host additional planetarium shows daily and free with admission activities and crafts for all to enjoy. And don't forget a carousel ride!"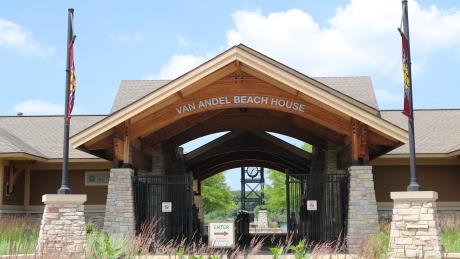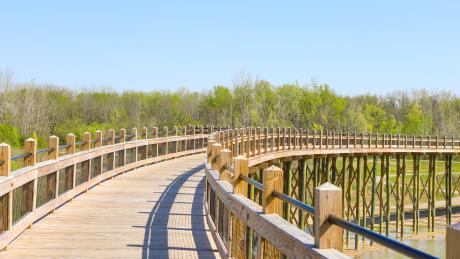 Millennium Park provides options for a variety of outings, from the beach and Van Andel Beach House to 18 miles of trails.
Photo Credit: Experience Grand Rapids
---
Millenium Park
If you want some beach time but don't want to drive out to Lake Michigan, Millennium Park is a great choice. One of the nation's largest urban parks, Millennium Park spans 1,400 acres, featuring a six-acre sand beach and 100-acre clear lake with its own designated swimming area.
In addition to swimming at Millennium Park, the DeVos Family Boathouse offers kayak, paddleboat, canoe, and stand-up paddleboard rentals. The Van Andel Beach House has locker rooms, restrooms, and picnic tables, as well as a concession stand stocked with snacks and ice cream.
Adjacent to the beach, kids of all ages can frolic around at the Mehney Splashpad. The splashpad features more than a dozen sprayers, splashers, and other water features.
If a day in the water isn't what you're looking for, Millennium Park also offers 18 miles of trails (most of them paved), playgrounds, sand volleyball, and basketball.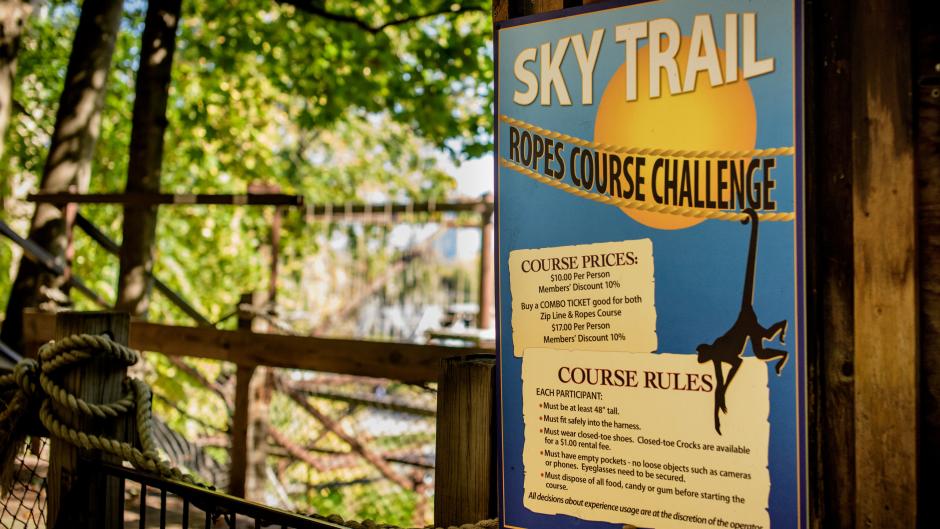 In addition to its unique animal habitats, John Ball Zoo also offers summer camps for kids.
Photo Credit: Tiberius Images
---
John Ball Zoo
John Ball Zoo gives families the opportunity to explore the wonders of nature together. The zoo is home to many exotic animals, as well as unique experiences, including camel rides, a petting corral, sky trail ropes course, and a zip line.
In addition to various events throughout the summer, John Ball Zoo offers Zoo Camp for kids from age three through those entering ninth grade. Zoo camps have many different programs that provide hands-on animal experiences, behind the scenes looks, crafts, songs, and more.
Like the Children's Museum and the Public Museum, the Zoo also offers sensory kits and quiet spaces for people who may need them.
Blandford Nature Center
Blandford Nature Center is your cure for spring fever. Go on a hike, find animals, create art in nature, and see how many signs of spring you can find. Blandford's Nature Nook playscape is a great place to spend time playing with your children.
Blandford Nature Center offers Spring Break Camp for kids in grades K-6 with themes like Wetlands and Raptors. Registration is open for Blandford's June Summer Camps; kids ages 4-12 can participate in a variety of camp themes based on age and times.
A great, affordable way to see many of these family-friendly places is with Culture Pass GR. The Culture Pass is a three-day pass that gives adults and children admission to the Children's Museum, Gerald Ford Presidential Museum, Public Museum, John Ball Zoo, and more for one price. Visit the Culture Pass GR page to purchase a pass and have it delivered straight to your phone!
Spring Break and summer vacation will be here before you know it. Plan your trip to Grand Rapids, Michigan, soon!
Never miss a post!
Subscribe to the Insider Experience blog.