Valentine's Day on a Friday is the perfect excuse to grab your sweetie for a night (or two) on the town enjoying all Grand Rapids has to offer. With water views, a pedestrian-friendly downtown, hundreds of restaurants, and a vibrant nightlife, there is something here for every couple to take a moment and reconnect. You'll find some of my favorite places for a special Valentine's celebration listed below as well as spots that are on my "make it happen" list. Happy planning!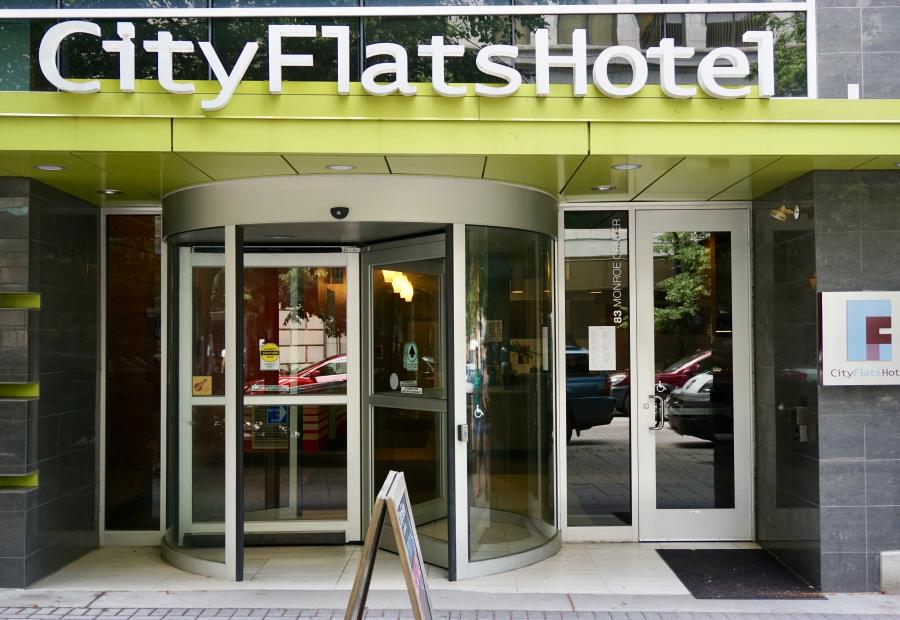 The Romance Package at CityFlatsHotel includes champagne, breakfast in bed, chocolate bon-bons, and more.
Photo by Brian Craig for Experience Grand Rapids
Hotels
CityFlatsHotel - Grand Rapids is a modern, LEED gold-certified hotel that offers a European hotel feel in the heart of Grand Rapids. If you're into doing what you can for the environment as I am, a LEED-certified hotel trumps all others. But what keeps me coming back? The friendly and authentic staff who make me feel welcome the moment I walk through the hotel doors. 
And while CityFlats is in the middle of it all, you'd never know it with the calm, peaceful, and quiet environment it provides. The cozy, boutique guest rooms boast plenty of natural light via oversized windows or architectural light wells and king, queen, or two full-size beds with amazingly comfortable hypoallergenic bamboo linens. Make your special night extra special and add the Romance Package with champagne, breakfast in bed for two, chocolate bon-bons and more. Be sure to call 48 hours in advance to add! 
Another great spot for romantics is the downtown JW Marriott Grand Rapids. Make the night something to remember and book a water or city view room.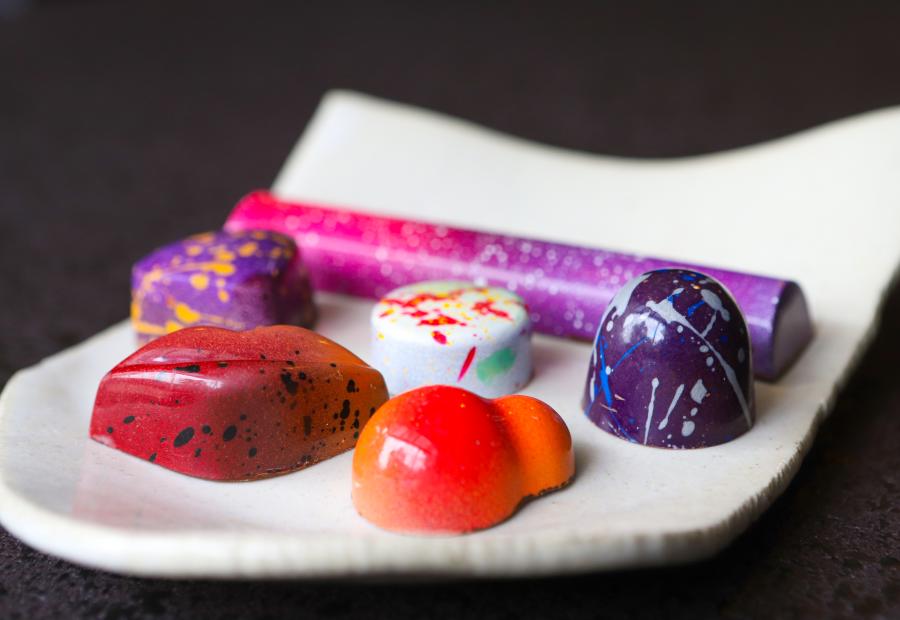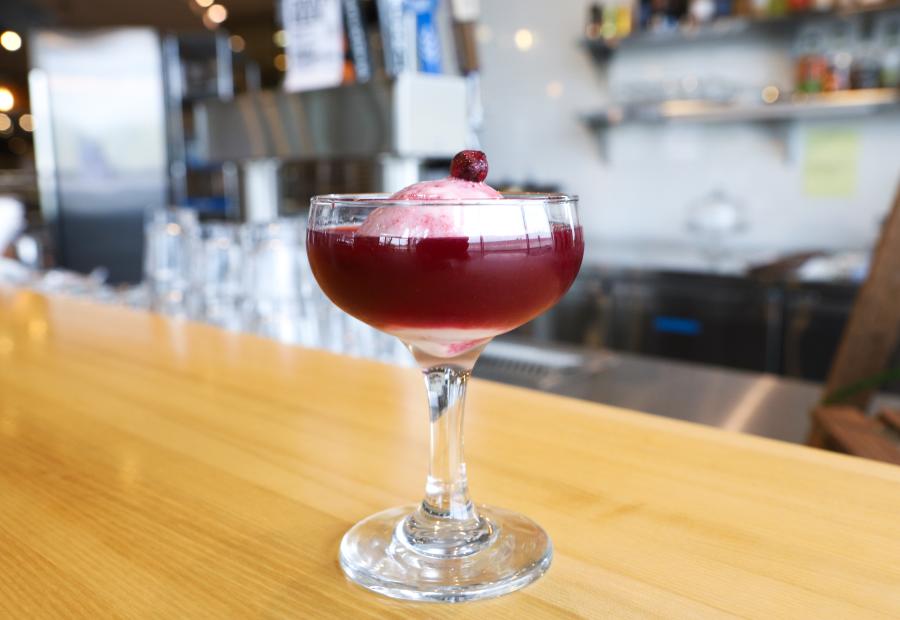 Treat yourselves to MoKAYA's delectable chocolates or Love's gelato and ice cream - or both!
Photo by Experience Grand Rapids
Sweets
I love that Grand Rapids has plenty of offerings for those looking to indulge. I can't wait to take my sweet-toothed better half to sample the handcrafted chocolates and other delights at MoKAYA. While he's enjoying their namesake candy bar or the French-inspired Peanut Butter Snobinette I'll indulge with a craft beer infused chocolate – most likely the Founders Porter Dark Chocolate. Yum!
Looking to share a sweet treat with your sweetheart? With a name like Love's Ice Cream and Chocolate, this artisan ice cream shop at the Downtown Market Grand Rapids is the perfect place to be on Valentine's Day. From low net carb ice cream to delicious chocolates and other sweets, your stomachs and hearts will be happy.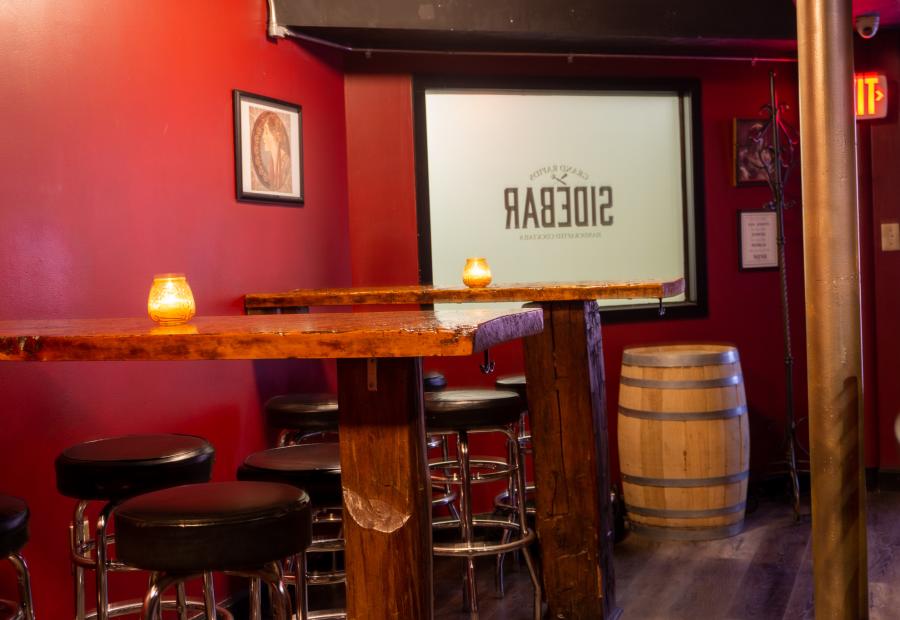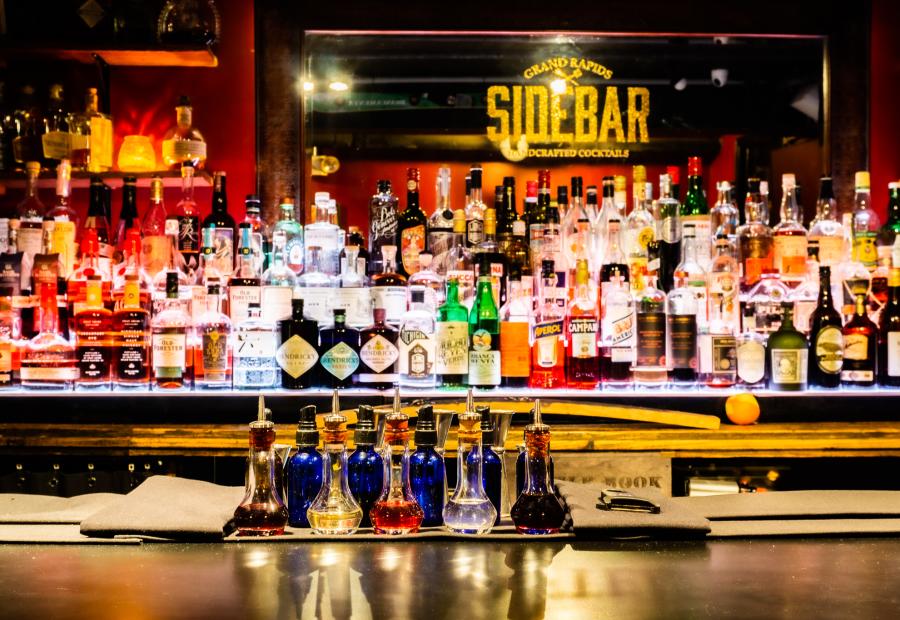 SideBar's cozy atmosphere and craft cocktails make it a perfect Valentine's Day stop.
Photo by Brian Craig for Experience Grand Rapids
Cocktails
If cozying up with your love and an adult beverage sounds like the perfect Valentine's Day, I'm here to help your planning. Step into SideBar, and immediately you feel at home. With its low-key speakeasy atmosphere and seating for only 18, it is the perfect backdrop for whispering sweet nothings to each other. 
For a larger yet still intimate place, be sure to check out Wheelhouse Kitchen & Cocktails. The menu features everything from snacks to sandwiches to entrees. Whether you opt for a table in the comfortable bar or a booth in the dining room closer to the large fireplace, it's a great spot to be. 
Are you in a newer relationship and looking to learn a bit more about each other? What better way to do that than over a tasting flight of small-batch vodka, rum, gin, white whiskey, and apple pie moonshine at Wise Men Distillery. 
Eastern Kille Distillery is also a fantastic spot for enjoying a craft cocktail made from local ingredients and great conversation. Any drink with "Mule" in the name is my go-to, and they don't disappoint at Eastern Kille. Remember to be safe and call a rideshare service if necessary!
Bistro Bella Vita is a great option among many in downtown Grand Rapids for a romantic dinner.
Photo by Experience Grand Rapids
Dining
Take a break from the kitchen to focus on each other over a delicious meal this Valentine's Day. Maru Sushi & Grill has a well-deserved reputation as one of the best sushi restaurants in Grand Rapids. If your date isn't sure about sushi and they want a lot of menu options, this is a great place to go. The Crouching Tiger with tempura shrimp takes raw off the menu, or you can opt for a vegan roll. Regardless, the modern bar and comfortable atmosphere is a must-see. 
If a classic steakhouse meal is more your speed, make a reservation at The Chop House for a luxurious experience. Enjoy exceptional cuts of USDA prime beef, fish, and seafood while being transported back to the 1940s with its lush décor. Bistro Bella Vita is another Grand Rapids staple featuring modern French and Italian cuisine in a modern yet cozy environment. Be sure to try one of the Bistro Martinis for a fresh take on a classic.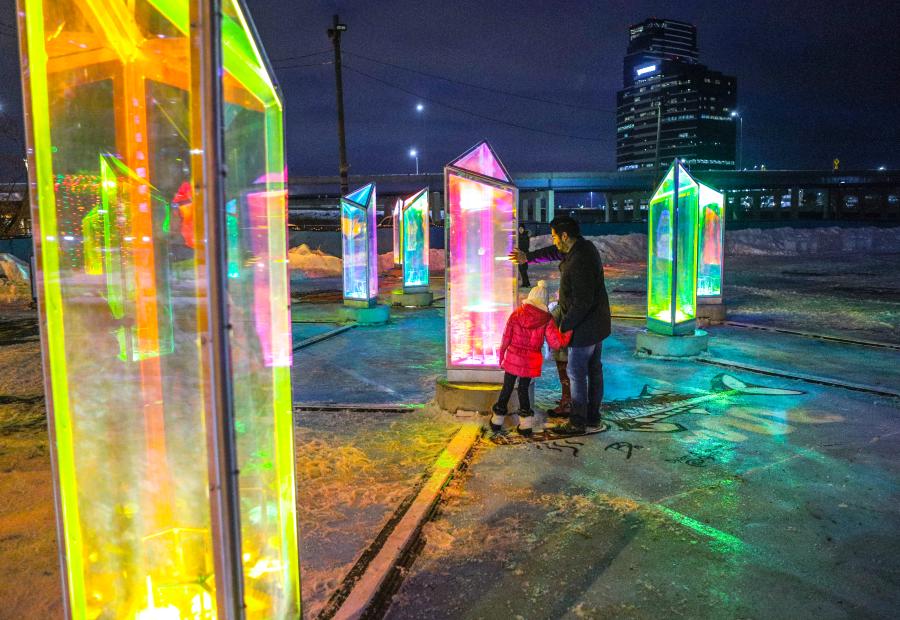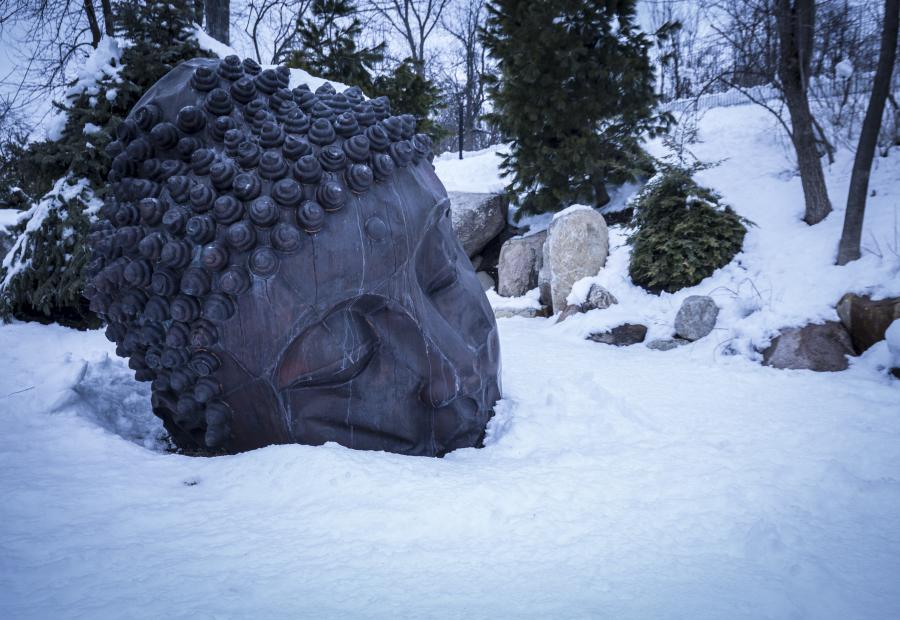 Visit temporary installations like Prismatica, or visit hot spots like the Frederik Meijer Gardens & Sculpture Park.
Photo by Photo: Experience Grand Rapids Art: RAW Design, collaboration with ATOMIC3
Entertainment
Set the mood with a stroll through Prismatica on Monroe during the last weekend of the World of Winter Festival. This interactive light installation features 25 pivoting prisms that create a modern ice palace, and a romantic mood. Plan time to enjoy a drink at the Downtown Market Ice Bar or enjoy 2-for-1 ice skating at Rosa Parks Circle. 
Take a break from dining and imbibing around Grand Rapids to soak in some of the cultural delights with your Valentine. An evening at DeVos Performance Hall listening to the Grand Rapids Symphony perform Franz Schubert's symphonic masterpiece "Great" would be a fantastic way to spend time together. 
Or take a romantic stroll through Frederik Meijer Gardens and Sculpture Park. Every time I visit, I see something I haven't noticed before. And you're bound to see even more with two sets of eyes. If you and your date are into science you two might enjoy a visit to the Bodies Revealed exhibit at the Grand Rapids Public Museum for an in-depth view of the heart. 
For the true romantics, a night watching the Grand Rapids Ballet perform Eternal Desire is another great entertainment option. 
There are so many ways to spend special time together on Valentine's Day in Grand Rapids. Whether you explore dining and beverage options, add some culture to your date, or find a way to combine them all, Grand Rapids is here for you. So get a plan together, make some calls or book online and create an evening of something exciting and new. Grand Rapids is expecting you!