Between concerts, skating rinks, recreation trails, bars, dancing, movie theaters, and sports contests, nightly events are happening in Grand Rapids almost daily. And trust us, attending these events can work up an appetite!
Experience Grand Rapids asked social media followers to find a good solution to this question: Where is your favorite place to eat that serves food after 10PM?
Here are some of their top responses:
Yesterdog
Yesterdog, an Eastown treasure with a city-wide following, is known for their fan-favorite hot dogs. It comes recommended in our Facebook poll by Cassie Villareal and Dan Olson: the latter describes Yesterdog as a "classic." Not to mention, their hotdogs are affordable. Try an Ultradog loaded with cheddar cheese, shredded pickles, chili, onions, ketchup and mustard for only $2.70! Or for non-meat eaters, try a Veggiedog with cheese, kraut, onion, pickles, mustard, and ketchup for only $2.60!
Yesterdog is open Monday to Saturday from 10:30AM to 2:30AM, and Sundays from 10:30AM to 1AM. Remember, Yesterdog does not accept credit cards, so hold onto your cash for your late night visit.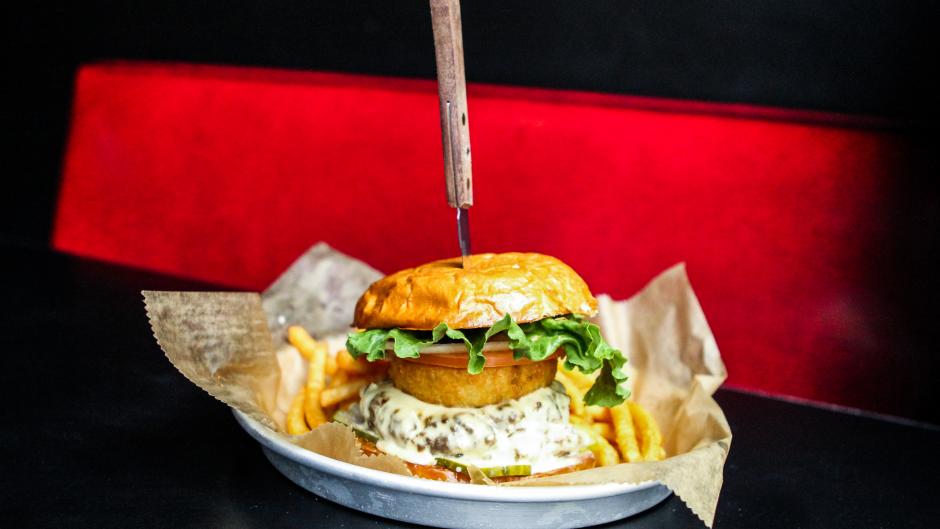 Fact: In 2012, Stella's half-pound, giant stuffed burger was named Best Burger in America by GQ Magazine!
Photo Credit: Paul Jendrasiak
---
Stella's Lounge
Centrally located in downtown Grand Rapids, Stella's is a favorite for late night food, drinks, and entertainment thanks to its abundance of arcade games. Stella's kitchen closes at 1AM every night, followed by its bar which closes at 2AM every night -- perfect for late night bites!
In a recent survey, Stella's has been dubbed as the Best Burger in Grand Rapids, thanks to its giant, stuffed burger patty accompanied with its famous chronic fries.
Uccello's Ristorante
Don Looman recommended Uccello's Ristorante in our Facebook poll, thanks to its, "great deals on great food!" Uccello's has multiple locations in-and-around Grand Rapids, making this a convenient stop no matter where you are. The restaurant has locations on East Beltline (Grand Rapids location), Standale (closer to Grand Valley State University and the lakeshore), Grandville (shares a parking lot with Rivertown Crossings Mall), Rockford (15 minutes north of Grand Rapids), and Caledonia (15 minutes southeast of Grand Rapids).
Uccello's is open until 2AM at all locations from Thursday to Saturday, and hours Sunday to Wednesday vary by location. Plus, Uccello's kitchens are open until 1:30AM, making this a no-brainer for late night bites. Looking for even greater convenience? Don't worry. Uccello's offers online ordering for pick-up and take-out!
Flo's Pizzeria Ristorante & Sports Bar
In our Facebook poll, Michael A. Diaz recommended Flo's Pizzeria Ristorante & Sports Bar by saying, "You can't beat their $3 trough of breadsticks or $4 3-topping personal pizzas. Affordable, but more importantly, DELICIOUS."
Flo's has locations in Belmont and Greenville, both a short drive from downtown Grand Rapids. Flo's kitchen is open until midnight every day.
The Winchester
The Winchester is another Eastown gem, known primarily for their bloody mary bar, brunch specials, and great happy hour discounts. Every day, the Winchester's kitchen closes at midnight, followed by the bar, which closes at 2AM.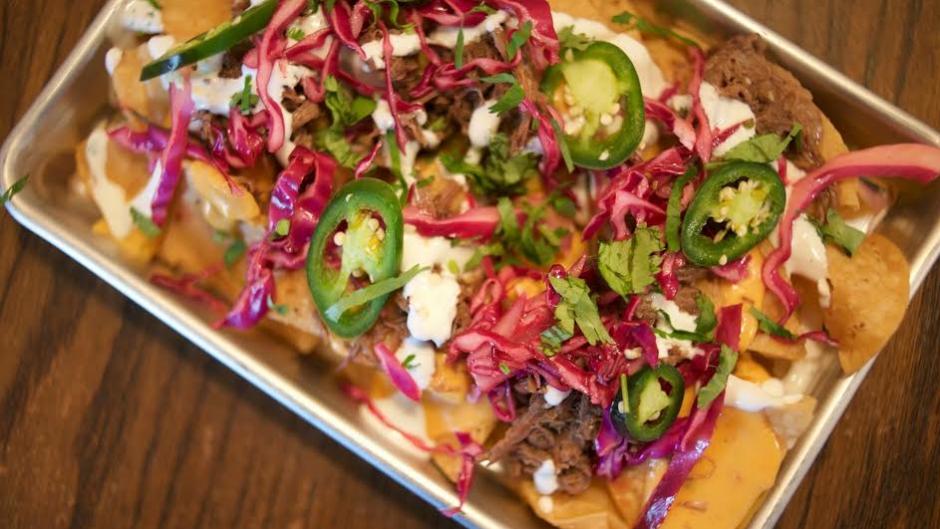 Yes, The Winchester's What the Truck Nachos taste as good as they look!
---
Consider trying the What the Truck Nachos, which are loaded with queso, bulgogi braised beef, red cabbage, jalapenos, marinated cabbage salad, cilantro, green onion, and chive sour cream -- is your mouth watering yet?
Z's Bar
Z's Bar is a perfect location for laid back nights due to its sports bar atmosphere and central location to the JW Marriott and the Amway Grand. Z's kitchen and bar is open until 2 AM Monday to Saturday, and 1 AM on Sunday. Z's extensive menu offerings including shareable appetizers, burgers, sandwiches, salads, pizzas, and desserts, cover just about any late night craving.
Did we miss your favorite place for late night bites? Let us know in the comments.
Additionally, thank you to all of our Facebook followers who contributed to this poll.
Happy eating, night owls.
Never miss a post!
Subscribe to the Insider Experience blog.