It's no secret that Grand Rapids is a pretty great place, whether you're looking to buy a house, sample great microbrews, or explore the arts. A strong economy and relatively low costs of living have rocketed Grand Rapids to Forbes and other top 10 lists for things like "raising a family." On top of all that good news, it's Grand Rapids' arts and culture scene that's really caught people's attention. Thanks to the pull of ArtPrize, a thriving local artist community, and passionate performing and fine arts institutions, over the last decade, Grand Rapids has become nationally—and even internationally—known as a "veritable arts destination."
But what does it mean, exactly, to be a destination city for arts and culture? More importantly, how do we ensure that our arts community continues to thrive and grow?
These are questions local artists, arts organizations, residents, visitors and media alike have been asking. And we—cultured.GR, that is—want to explore them deeper. We know you do, too. The answer to helping our arts community continue to grow is embedding the arts into our lives and our conversations.
Launched just this last September 14th to help fill the gap in local dedicated arts media coverage, we at cultured.GR are on a mission to take conversations about the arts deeper.
Our online publication's mission, officially, is to "celebrate, examine, and support the visual and performing arts culture of Grand Rapids by building thoughtful conversation through news, arts criticism, and conversations with creators."
We believe that by widely sharing meaningful information about the arts, we can foster a healthy community and make our cultural assets accessible—to everyone.
We're thrilled to join Experience Grand Rapids in a dedicated column about the arts opportunities that exist, and the conversations they provoke. And we want you to join us.
Well-known institutions like Kendall College of Art and Design, ArtPrize, the Grand Rapids Art Museum (GRAM), the Urban Institute for Contemporary Art (UICA) and Grand Rapids Ballet are a brilliant starting place for these conversations. But Grand Rapids has so much more. We want to get the community talking about those off-the-beaten-path experiences, too.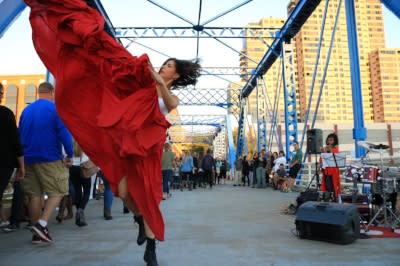 Take Opera Grand Rapids' recently sold out performance of "Maria de Buenos Aires," a surreal mix of poetry, tango and stunning imagery. And weirdness, if we're honest. We're really not sure what it means to "die for the first time," but we think it's a conversation worth having.
Kent District Library (KDL), as another example, has year-round programming that really knocks our socks off. For example, their invites aspiring writers young and old to submit short stories in both English and Spanish now through November 30. Winning entries will be published by Chapbook Press, through local bookstore Schuler Books and Music. KDL's 18 branches also bring the community panel film discussions, wine and cider tastings, live monthly concerts, and much more. And the price of admission is always free.
That's just the tip of the iceberg.
Grand Rapids' arts culture is thriving. In order to keep it healthy, and to help our arts community keep growing, we need to shine a light on some of the unseen corners of that community. We need to have deeper conversations about how our art is working, how it's not, and what it means to us—as humans.
So join us! You can read more reviews, news and conversations at cultured.GR, and share your experiences with Experience Grand Rapids and with cultured.GR on your favorite social media channel, using the tag #getcultured. What are you experiencing? What conversations are you having? What moved you, challenged you, and what did you question?
We want to hear from you. Let's dig deeper.