Listen Live: Founders Dave Engbers
GR Live Radio Show
GR LIVE is a live and open to the public broadcast and podcast every Thursday at noon down at The House of Music and Entertainment inside the B.O.B. in downtown Grand Rapids.  It airs live on Grand Rapids community radio station 88.1 FM WYCE and beer and lunch is available to purchase while watching the radio show.  You will always hear several bands and musicians perform as promotion for their upcoming performances in the area, as well as interviews with folks from the West Michigan entertainment community.
This week we welcomed Grand Rapids musicians Jonny Carroll and Ben Slater, as well as a special segment with Founders Brewing featuring a performance by Rio, also a chat about Founders Fest and a very special chat with Founders Co-Founder and President Dave Engbers.
Listen to the entire podcast here:
Founders Brewing Company | Dave Engbers
Founders Brewing is more than just beer.  People in West Michigan know their involvement with community, entertainment/music, and their story.  But visitors to our city as well as Founders beer fans from around the world may just know them as beer makers.  This week was the 9th annual "Founders Fest" which is a celebration of beer and music and all things Founders that takes place out in front of the brewery.  I took the unique opportunity to have a discussion with Dave Engbers, Co-Founder and President of Founders, on the journey Founders has been on over the years.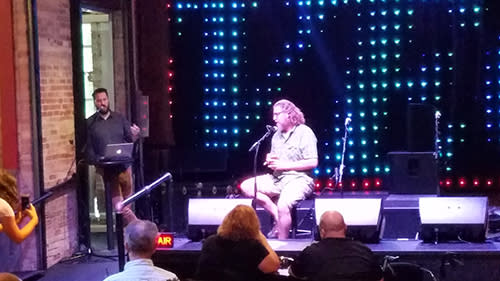 Take a listen to him tell you about their history as well as Founders Entertainment Director Joey Basch tells you about the Fest and a performance from Rio, here: