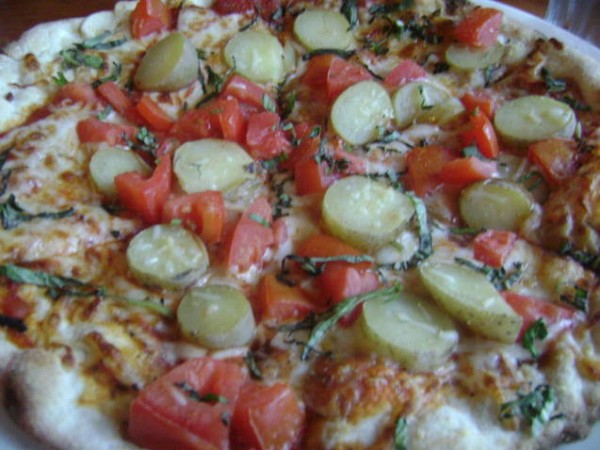 The pizza is winning me over before I've even sat down.
As I walk to my table at Bistro Bella Vita, aromas of crackly thin crust and roasted tomatoes beckon. While I've arrived with images of leafy salads tossed with winter vegetables - this restaurant, part of Grand Rapids Essence Restaurant Group, is a local champion of fresh, locally grown ingredients - I'm now shifting my dream meal to fresh-out-of-the-oven pizza pies. Inside this cozy little space in downtown Grand Rapids, pies are baked in a rustic brick oven.
I'm a sucker for comfort foods. Mashed potatoes, macaroni and cheese, sweet-potato fries, pizza, pasta, you name it. I'm sold on not only the pizza - the Formaggi, my selection, is topped with goat cheese, gorgonzola, mozzarella and parmesan, as well as wild mushrooms, asparagus and rosemary - but what the waiter suggests next, another one of my comfort-food vices: bubbly. Surprisingly, it's a bottle from Northern Michigan's Leelenau Peninsula. And when I take that first sip of L. Mawby Blanc de Blancs, enjoying how the fresh, crisp acidity cascades down my throat with notes of oven-baked peaches, I'm thinking I better make a pit stop before heading home to Wisconsin. I need to have a bottle of this wine in my cellar.
Because not only am I a sucker for comfort foods, I'm a glutton for local foods and drinks too. Bistro Bella Vita is West Michigan's first farm-to-table restaurant, with strict guidelines on what ingredients are bought: they must be a combination of locally grown, chemical-free, certified-organic, you get the picture. (And, if you're a sustainable-labels nut like me, its a real treat to meet up with a restaurant that is equally concerned about what goes into our food.) Some of the employees even work with the restaurant groups farm project, which this year has been heavily into planting heirloom seeds and continues to focus on chemical-free produce.
You might not think Grand Rapids could succeed with locovore cuisine after the first snowfall, once farm fields have dried up and green lawns turned a dull brown, but the opposite is true. Dried state-grown cherries top gourmet salads at many restaurants, including the Michigan Harvest Salad at The Green Well Gastropub on Cherry Street, where I pop in for lunch one day. (This restaurant is a sibling of Bistro Bella Vita, under the Essence Restaurant Group umbrella.) Though the salad sounds delicious, especially since the sun is blazing on a rare warm autumn day, I opt for a tried-and-true favorite of grilled-cheese sandwich served with a side of tomato-basil soup. Baked local goat cheese looks good, too, but I don't want to overload on cheese (remember, I'm from Wisconsin and its practically in my DNA to eat cheese often; my arteries need a break). The Green Well's owners harvest many of the ingredients more in summer, obviously from regional farms.
House-made raspberry syrup is a key ingredient in The Green Well's lemonade and the ginger ale is house-made too. Beer lovers might revel in the fact that The Green Well Gastropub offers six Michigan beers on tap. Even the Sangria has a local accent: Black Star Farms wine, from Sutton's Bay, about a half hour north of Traverse City.
But what really woos me at The Green Well is the vibe and decor: pumpkin and sage colored walls are filled with local artwork. Sun pours in through the windows. Turns out its LEED certified from the U.S. Green Building Council too - super impressive! The restaurants front door is just a few steps in from the curb much like the rest of pedestrian-friendly Cherry Street, where you can shop, grab a pint of beer from a pub, take a yoga class, meet your pals for dinner, etc., all within a few blocks, at human-scale instead of beyond a parking lot.
After lunch at The Green Well I take a stroll down Cherry Street to Marie Catrib's and drool over the pastry case in its adjacent store, mostly because I know that many of the options are gluten-free, as well as vegan, and therefore pretty healthy. (Although I'm never one to turn down a cupcake slathered with buttercream frosting, ahem.) To-go, I choose a chocolate/peanut brownie bar and granola for breakfast (once I'm back home in Wisconsin.) What's interesting about this restaurant is that the green consciousness extends to its food partners, including a year-round greens grower: Mud Lake Farm and its hydroponic greenhouses are in southern Ottawa County. You don't have to be a vegan to enjoy the localism either (pork, eggs and bacon are bought from Creswick Farms in Ravenna).
In fact, on an earlier visit to Grand Rapids, I met the famous Marie Catrib herself. A native of Lebanon, she settled in Flint during the 1970s, then the U.P., before migrating a tad West and South to Grand Rapids. Marie Catrib's opened in 2004. She's one of those visionaries I love meeting during my frequent tours of restaurants as a food writer. Passionate, yet no-nonsense, she truly believes in her beef, which is that too many restaurants feed customers food that's overly processed and contains non-traceable ingredients. Its nice to know that she's not alone in her convictions, however: plenty of Grand Rapids restaurants are following her lead.