Grand Rapids has a vibrant donut scene, with many local staples providing a fresh take on the classics and newcomers offering unique twists and innovative creations. To find out which Grand Rapids donut destinations are fan favorites, we asked the locals on the Experience Grand Rapids social media pages. Loosen your belt loops because you'll want to try them all!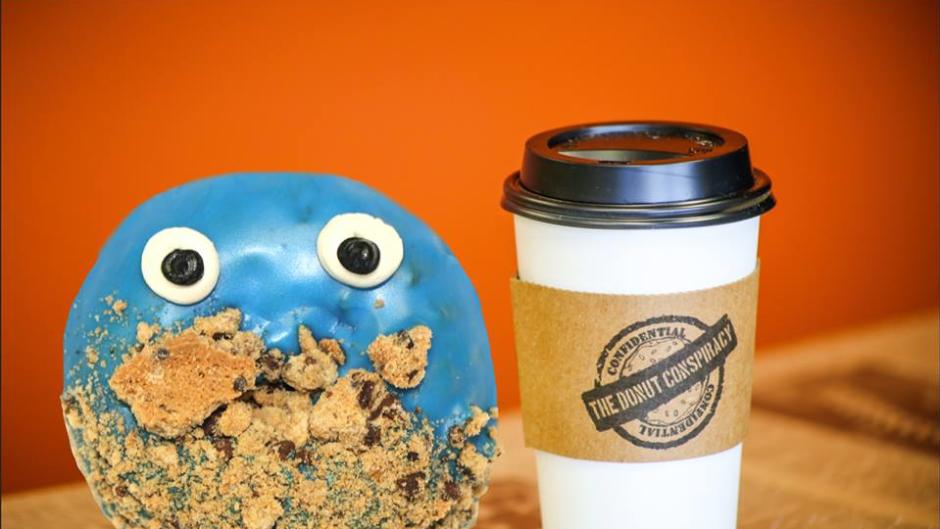 The Donut Conspiracy
Photo Credit: The Donut Conspiracy
---
The Donut Conspiracy
The Donut Conspiracy's more than 30 donut creations are what keep customers coming back for more. The family-owned business is packed with donuts topped with everything from candy and caramel to bacon and cereal. When satisfying your sweet tooth, be sure to try a few best sellers including the maple bacon, sweet Shirley, S.O.S., or anger management.
"If you want a classic glazed donut or a delicious apple fritter the size of your head, we can accommodate," says Stacey Vincent, co-owner of The Donut Conspiracy. "And, if you're looking to try something a little new, how about a donut with Sour Patch Kids on it or a donut made with coffee, carrots, or oranges? We truly do have something for every taste."
When you first walk in, everyone is smiling, and the place smells like paradise!
What locals say: "When you first walk in, everyone is smiling, and the place smells like paradise! My daughter and I went in for one donut each, but they were so beautiful, we each left with 3! The coconut cake donut was my favorite, and the Oreo cheesecake one was amazing also!" Krissy S. on Facebook.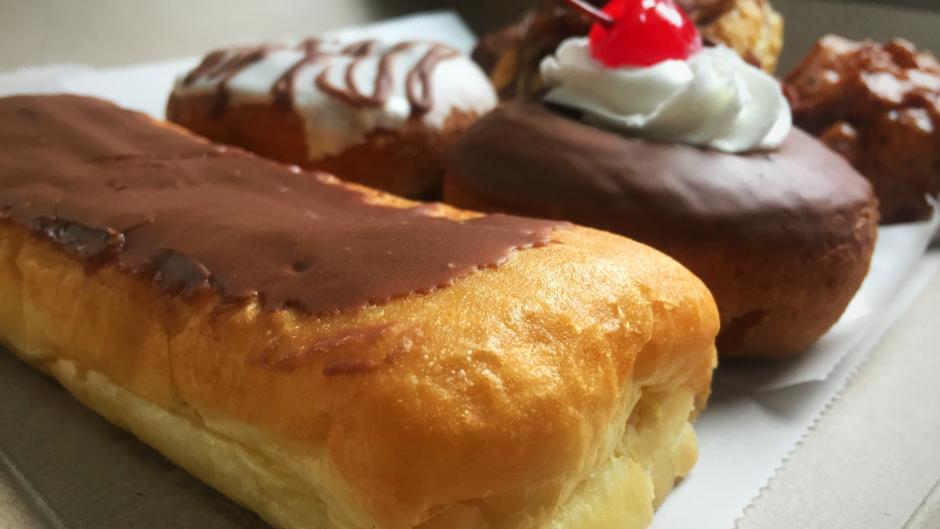 Marge's Donut Den
Photo Credit: Experience Grand Rapids
---
Marge's Donut Den
Marge's Donut Den has been a steadfast fixture in the local donut scene since 1975 and the store's success could be attributed to its motto, "quality comes first." Most praised for fritters of different flavors like apple and blueberry and Long Johns packed with creamy custard, you will quickly find a favorite donut here. Marge's also offers custom donut designs for birthdays and other special occasions in addition to custom wedding cakes, birthday cakes, and cupcakes.
What locals say: "Marge's Donut Den!! Every donut (and cake!) that I've had has been delicious — a taste explosion of delight. And the ambiance is great too!" Brandy Y. on Facebook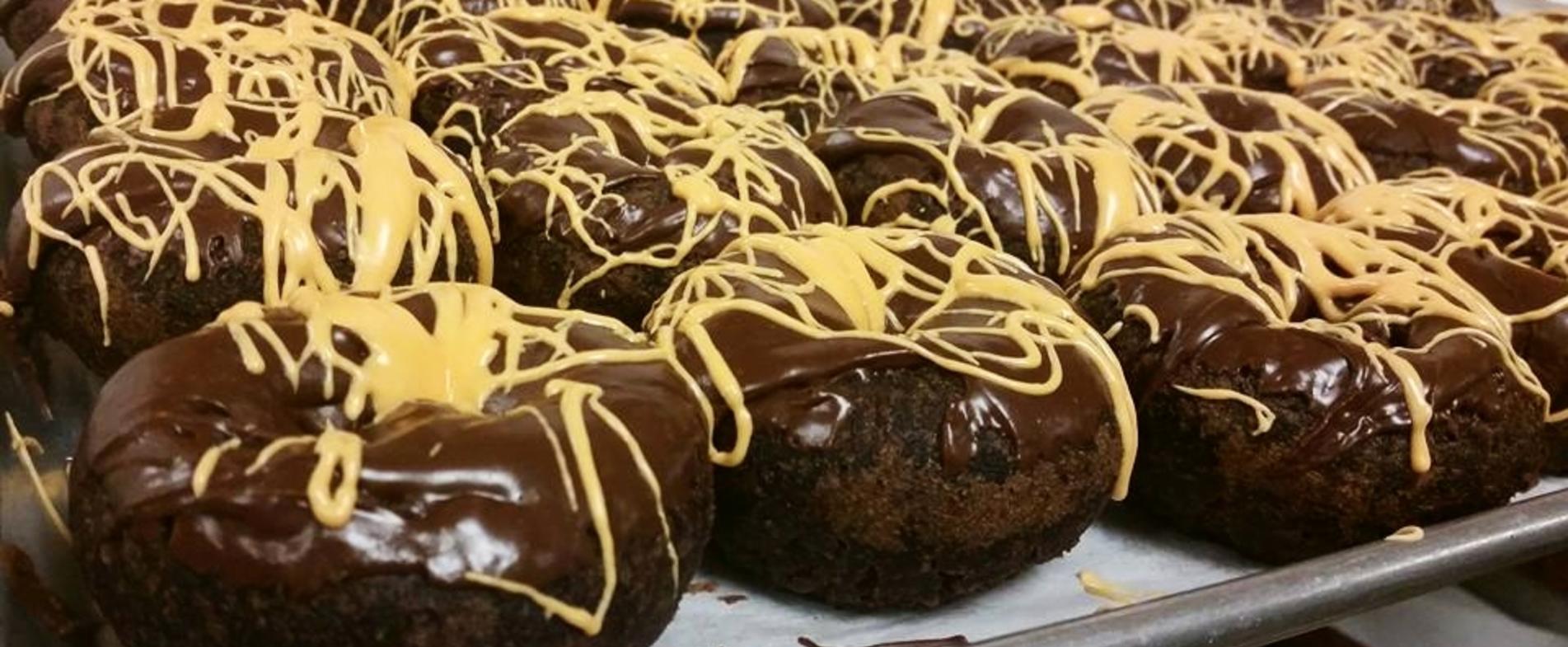 Sandy's Donuts
Photo Credit: Sandy's Donuts
Sandy's Donuts
There's a reason why people use the phrases "best donuts in town" and "breakfast of champions" when describing Sandy's Donuts. Many loyal customers claim that this is one of the best bang-for-your-buck donut shops in Grand Rapids, especially praising the shop's yumyum donut (glazed chocolate swirl) and honeymooner (dipped in chocolate with dollop of white cream on top).
"We are proud to be a local landmark for West Siders," says Nikki, manager at Sandy's Donuts. "Most of our customer-base make their stop a regular tradition with friends and family. A select few have been faithful enough to come and see us every morning for the past 20 years."
What locals say: "This has been my favorite donut shop for 25 years! I have lived in five states and searched long and hard for better, it just doesn't exist!!!!" Wes B. on Facebook.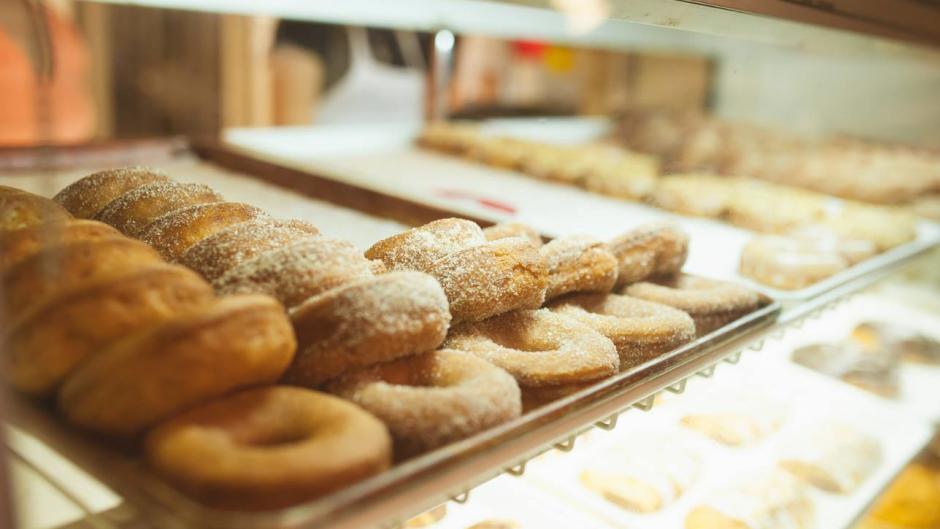 Selection of donuts in a case at Robinette's in Grand Rapids
Photo Credit: Robinette's Apple Haus & Winery
---
Robinette's Apple Haus & Winery
Established in 1911, Robinette's Apple Haus & Winery is not only a go-to stop along the Kent Harvest Trail during the fall months, but also year-round because of a robust selection of breads, pies, and pastries including, of course, donuts. In fact, Robinette's bakery originated in 1972 with donuts, which are still the most popular item on the menu. While Robinette's donuts are delicious any time of the year, mark your calendars to taste their special pumpkin spice donut from Labor Day through Thanksgiving.
What locals say: "Love the farm, food, and family! The warm donuts, fresh fruit, and local wine are exceptional. Great place to take your family and relax or go for a walk!" Terri D. on Facebook.
Honorable Mentions
While we have highlighted some fan-favorite shops in the Grand Rapids area, you really cannot go wrong no matter which donut den you visit. In that spirit, check out these honorable mentions from our poll: Van's Pastry Shoppe, Sprinkles Donut Shop (in both Rockford and Hudsonville), Rise Grand Rapids, and Bostwick Bakery and Coffee Shop.
Which Grand Rapids area donut shops have you visited? Let us know in the comments below or on the Experience Grand Rapids Facebook, Twitter, or Instagram pages.
Never miss a post!
Sign-up for the Insider Experience blog.