Grand Rapids has a vibrant donut scene, with many local staples providing a fresh take on the classics and newcomers offering unique twists and innovative creations. To find out which Grand Rapids donut destinations are fan favorites, we asked the locals on the Experience Grand Rapids social media pages. Loosen your belt loops because you'll want to try them all!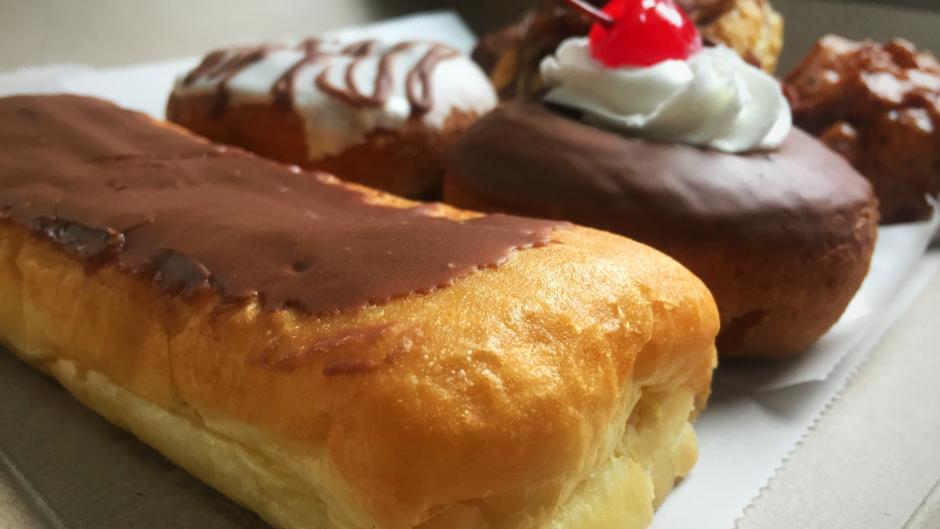 Marge's Donut Den
Photo Credit: Experience Grand Rapids
---
Marge's Donut Den
1751 28th St. SW, Wyoming, MI 49519
Marge's Donut Den has been a steadfast fixture in the local donut scene since 1975 and the store's success could be attributed to its motto, "quality comes first." Most praised for fritters of different flavors like apple and blueberry and Long Johns packed with creamy custard, you will quickly find a favorite donut here. Marge's also offers custom donut designs for birthdays and other special occasions in addition to custom wedding cakes, birthday cakes, and cupcakes.
What locals say: "Marge's Donut Den!! Every donut (and cake!) that I've had has been delicious — a taste explosion of delight. And the ambiance is great too!" Brandy Y. on Facebook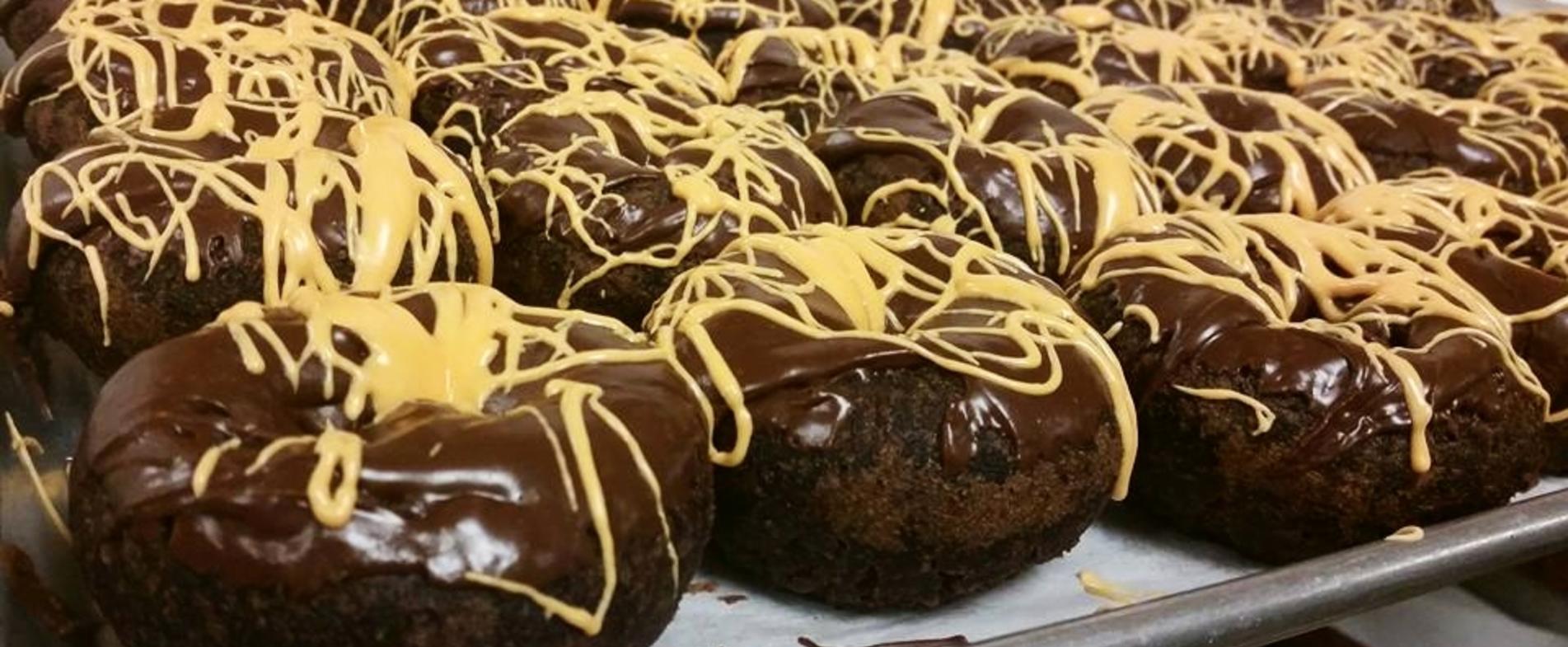 Sandy's Donuts
Photo Credit: Sandy's Donuts
Sandy's Donuts
2040 Leonard St. NW, Grand Rapids, MI 49504
There's a reason why people use the phrases "best donuts in town" and "breakfast of champions" when describing Sandy's Donuts. Many loyal customers claim that this is one of the best bang-for-your-buck donut shops in Grand Rapids, especially praising the shop's yumyum donut (glazed chocolate swirl) and honeymooner (dipped in chocolate with dollop of white cream on top).
"We are proud to be a local landmark for West Siders," says Nikki, manager at Sandy's Donuts. "Most of our customer-base make their stop a regular tradition with friends and family. A select few have been faithful enough to come and see us every morning for the past 20 years."
What locals say: "This has been my favorite donut shop for 25 years! I have lived in five states and searched long and hard for better, it just doesn't exist!!!!" Wes B. on Facebook.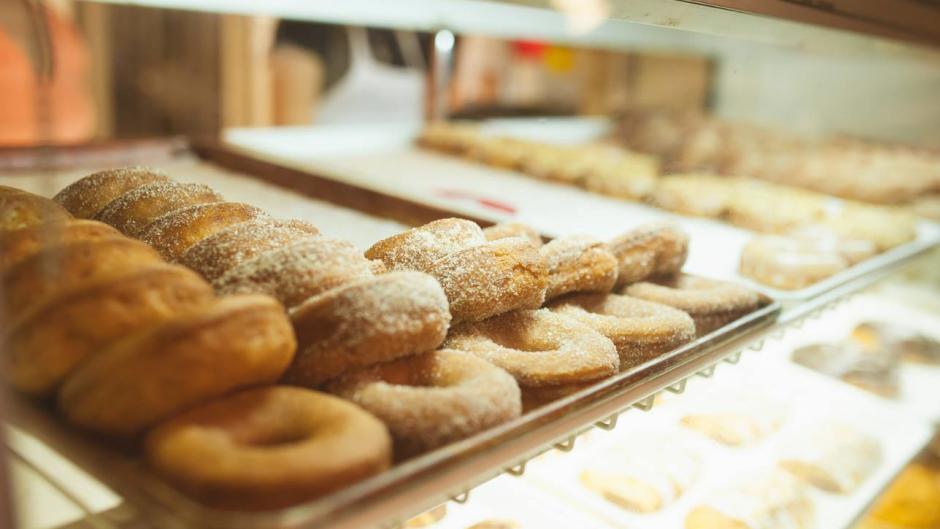 Selection of donuts in a case at Robinette's in Grand Rapids
Photo Credit: Robinette's Apple Haus & Winery
---
Robinette's Apple Haus & Winery
3142 4 Mile Road NE, Grand Rapids, MI 49525
Established in 1911, Robinette's Apple Haus & Winery is not only a go-to stop along the Kent Harvest Trail during the fall months, but also year-round because of a robust selection of breads, pies, and pastries including, of course, donuts. In fact, Robinette's bakery originated in 1972 with donuts, which are still the most popular item on the menu. While Robinette's donuts are delicious any time of the year, mark your calendars to taste their special pumpkin spice donut from Labor Day through Thanksgiving.
What locals say: "Love the farm, food, and family! The warm donuts, fresh fruit, and local wine are exceptional. Great place to take your family and relax or go for a walk!" Terri D. on Facebook.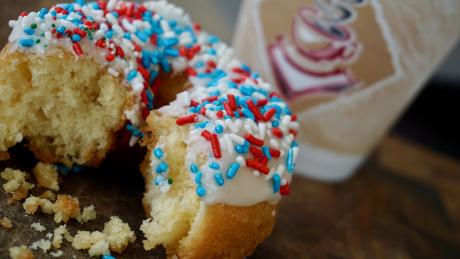 Exterior of Cindy's Donuts & Ice cream in Grand Rapids
Photo Credit: Brian Craig for Experience Grand Rapids
---
Cindy's Donuts & Ice Cream
4020 28th Street Southeast, Kentwood, MI 49512
"Hidden treasure" is how some locals describe Cindy's Donuts & Ice Cream, located at the corner of 28th Street and East Paris.
When entering Cindy's, you're greeted by enthusiastic staff behind an expansive showcase of pastries who are ready to dish up your desired donuts.
It's almost impossible not to notice the massive apple fritters and bear claws situated next to croissant breakfast sandwiches and cinnamon rolls that are literally the size of your face.
Cindy's cake donuts are baked to that awesome balance of crunchy and chewy. They'll satisfy your sweet tooth whether you're craving cherry flavor, orange, apple cider, or classic chocolate with sprinkles.
There's also an ample selection of raised donuts, including twisted, buttermilk, and fillings like lemon and raspberry.
And at Cindy's, you can wash your donut down with coffee from Ferris Coffee & Nut, or even a scoop of Hudsonville ice cream.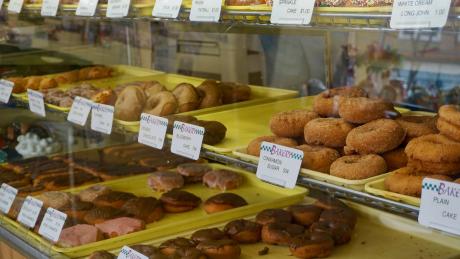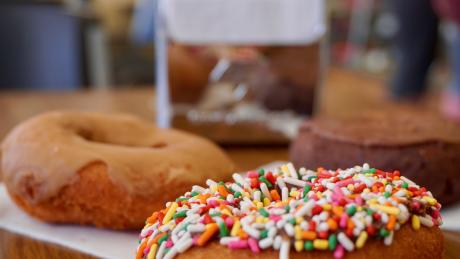 Van's Pastry in Grand Rapids has an amazing selection
Photo Credit: Brian Craig for Experience Grand Rapids
---
Van's Pastry Shoppe
955 Fulton Street East, Grand Rapids, MI 49503
A steadfast staple in Grand Rapids since 1942, Van's Pastry Shoppe has been a tradition among local families for literally generations.
Van's has been operating out of the same building since opening its doors more than 75 years ago and is currently a fourth-generation, family-run business.
Not to mention, Van's continues to be one of the best deals around to enjoy donuts. Their plain and sugar cinnamon donuts start at just 50 cents, and you can pair a $1 coffee with your donut.
In addition to the friendly staff, you'll also notice the decor features a vast cookie jar collection, as well as pictures on the walls spotlighting shop regulars.
The latest addition to the Van's Pastry Shoppe menu is a sour cream donut, and local regulars often praise the glazed donuts (especially the chocolate), long johns, and the incredible orange twist donut.
"In addition to donuts, our Round English Muffin Bread is known widely as some of the best bread in town," says David Vander Meer, the current owner of Van's Pastry Shoppe. "We are a very old school bakery; not too many fancy donuts, but they are good."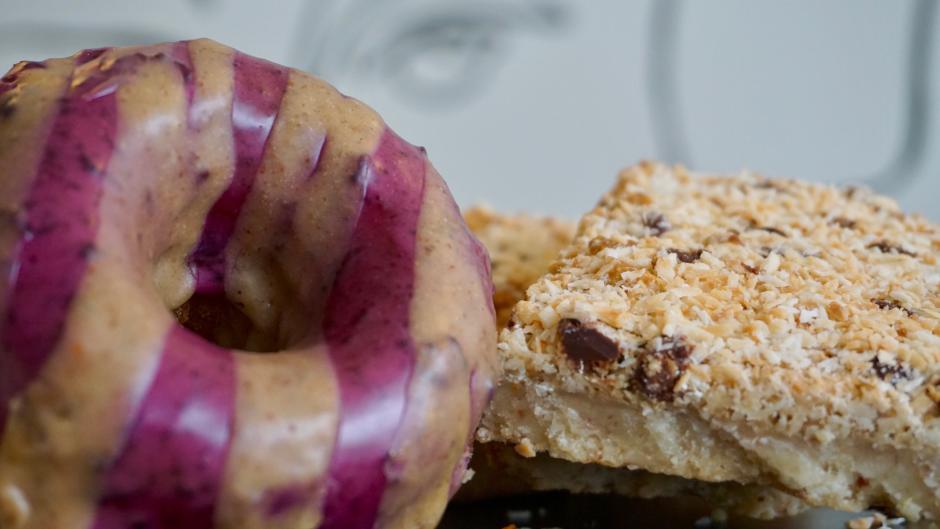 Donuts and Baked Goods at Rise Donuts in Grand Rapids
Photo Credit: Brian Craig for Experience Grand Rapids
---
Rise Authentic Baking Co.
1220 Fulton Street West, Grand Rapids 49504
Owned by husband and wife team Nick and Becca Van Liere, the treats at Rise Authentic Baking Co. are all gluten-free, vegan, and soy-free. While they provide products for the allergy-conscious, they strive to make everything on the menu enjoyable for everyone, which has taken years of trial and error.
"Gluten-free donuts require a unique process and it took a while for us to master the perfect donut," says Becca. "We've learned that it's best to first bake the donuts, then fry them. This allows them to shape in a pan, but also spend some time in the fryer crisping up for that perfect donut consistency."
You can find popular flavors like cinnamon sugar, vanilla lavender, cookies and cream, chocolate espresso, and orange cardamom on the menu, but the menu is always changing.
"We allow our staff full creative freedom on donut flavors, so they change daily and often we have some really unique flavor offerings such as peanut butter sriracha, carrot cake crumble, lemon poppyseed, and many more," says Becca.
Rise's seasonal treats are a must-try. Some of their unique flavors include pumpkin maple pecan, apple cider glazed, holiday nog, cranberry clove, chocolate peppermint stick, and gingerbread.
Rise also offers plenty of delicious non-donut treats, including Yum Tarts, scones, cheesecake bars, cookies, and cakes with homemade buttercream frosting.
There are multiple locations to enjoy Rise's treats. Most recently, Rise opened a storefront at 1220 Fulton Street West in collaboration with Squibb Coffee Bar.
Rise also ships fresh items daily to 11 local shops and restaurants, including Lantern Coffee Bar & Lounge, Bridge Street Market, Corridor Coffee, and Lyon Street Cafe. The bakery also provides custom orders and large event dessert catering.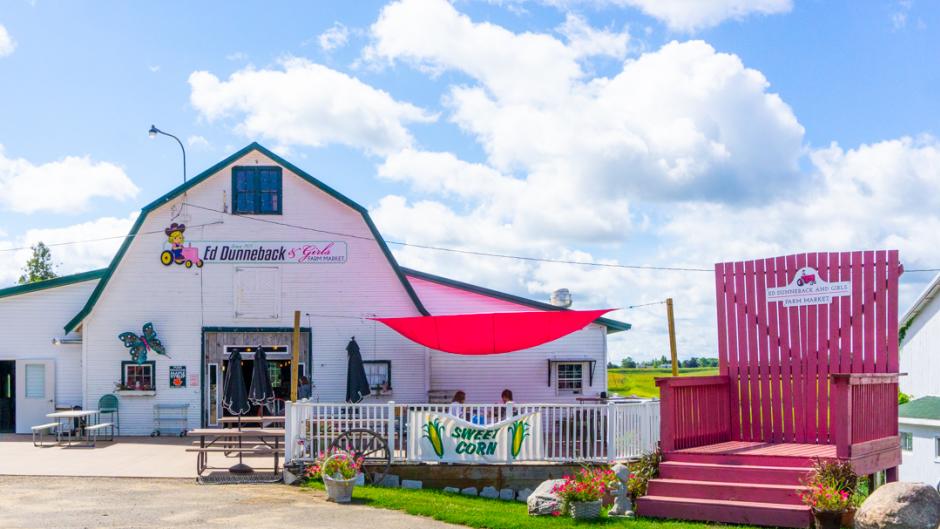 Ed Dunneback & Girls Farms near Grand Rapids
Photo Credit: Experience Grand rapids
---
Ed Dunneback & Girls Fruit Farm
3025 6 Mile Road Northwest, Grand Rapids 49544
If you want a slice of Americana plus a tasty donut (or three), head to Ed Dunneback & Girls Fruit Farm — a family-owned farm that's currently in its fourth generation of management.
In addition to growing various fruits, vegetables, pumpkins, hops, and more on the family's 170 acres of farmland, the Dunneback family has a bakery nestled inside their nearly 100-year-old barn.
Stephanie Ginsberg, who co-owns and operates the farm alongside the other women of the Dunneback family, says the bakery includes donuts, turnovers, fritters, cinnamon rolls, cookies, and their famous homemade pies.
"Donuts are all made fresh daily and we offer apple, cinnamon, blueberry, cherry, chocolate covered cherry, chocolate with sprinkles, salted caramel, and in the fall, we add pumpkin spice and apple caramel with nuts," says Ginsberg.
Ginsberg added that they are always open to experimenting with their donuts. That mindset once led to the creation of a beer-flavored donut made in collaboration with Perrin Brewing Co.
"We used a dark beer to mix in our dough and a lighter beer to make a caramel glaze," says Ginsberg.
Open May through October each year, the Dunneback family features family-friendly events, private farm-to-table events, a farm market, and a corn maze in the fall.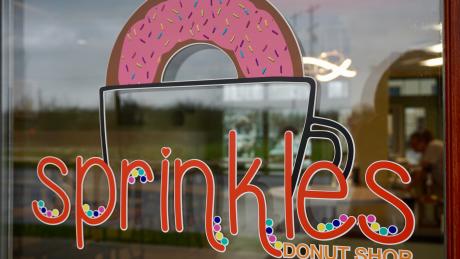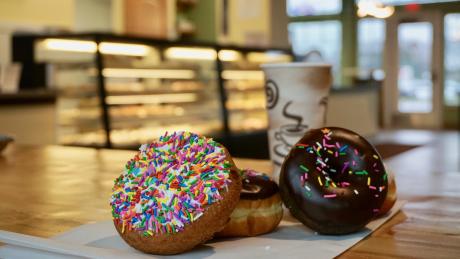 Sprinkles Donut Shop has five locations in the Grand Rapids area.
Photo Credit: Brian Craig for Experience Grand Rapids
---
Sprinkles Donut Shop
452 Ada Dr. SE #130, Ada, MI 49301
6450 28th Ave, Hudsonville, MI 49426
5135 Lake Michigan Dr, Allendale, MI 49401
8467 Algoma Ave NE, Rockford, MI 49341
9365 Cherry Valley Ave SE, Caledonia, MI 49316
Patrons of Sprinkles Donut Shop love their apple fritters and cronuts, but those only scratch the glazed surface of this eatery's vast menu of tasty treats.
Sprinkles offers 13 types of yeast donuts, like their glazed cinnamon twist, cherry chocolate, birdnest, and peanut butter cinnamon fry, as well as 11 different cake donuts, from peanut butter iced to chocolate cake glazed. Be sure to try some of the local favorites, including the apple cherry fritter, long johns, old fashion, and peanut butter cinnamon roll.
When at Sprinkles, do yourself a favor and try some of the menu's specialty items, like the devil dogs, which are devils food cake topped with whipped cream covered in homemade chocolate with a chocolate ganache drizzle. Or try the sprinkle puffs, which consist of light and flaky pastry puff filled with New Holland Crème and topped with caramelized sugar and a drizzle of chocolate on top.
Sprinkles also strives to support the local business culture by sourcing the majority of its ingredients and even manufactured items locally. Additionally, Sprinkles strives to help protect the planet by using eco-friendly products, like their coffee cups and sleeves.
Sprinkles has locations in Rockford, Ada, Hudsonville, Allendale, and Caledonia.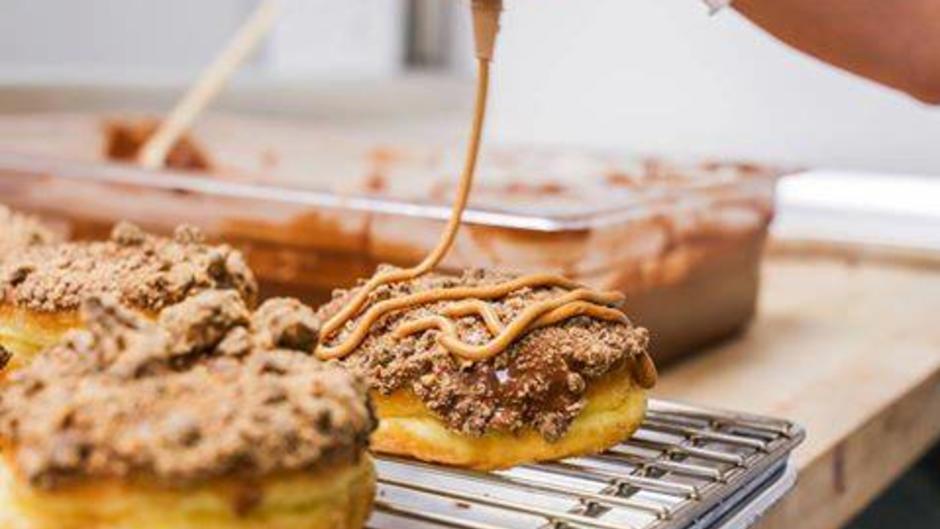 The Donut Conspiracy
Photo Credit: The Donut Conspiracy
---
The Donut Conspiracy (Temporarily Closed)
1971 E. Beltline Ave. NW, Ste 123, Grand Rapids, MI 49525
The Donut Conspiracy's more than 30 donut creations are what keep customers coming back for more. The family-owned business is packed with donuts topped with everything from candy and caramel to bacon and cereal. When satisfying your sweet tooth, be sure to try a few best sellers including the maple bacon, sweet Shirley, S.O.S., or anger management.
"If you want a classic glazed donut or a delicious apple fritter the size of your head, we can accommodate," says Stacey Vincent, co-owner of The Donut Conspiracy. "And, if you're looking to try something a little new, how about a donut with Sour Patch Kids on it or a donut made with coffee, carrots, or oranges? We truly do have something for every taste."
When you first walk in, everyone is smiling, and the place smells like paradise!
What locals say: "When you first walk in, everyone is smiling, and the place smells like paradise! My daughter and I went in for one donut each, but they were so beautiful, we each left with 3! The coconut cake donut was my favorite, and the Oreo cheesecake one was amazing also!" Krissy S. on Facebook.
Never miss a post!
Sign-up for the Insider Experience blog.