Not only is Grand Rapids widely recognized as a top 10 Foodie City and Beer City USA, but its locals also praise its many unique coffee shops. Though you're not far from popular coffee chains like Starbucks and Biggby in the Grand Rapids area, there are plenty of local places that any coffee lover will enjoy. In no particular order, here's a list of my personal favorites to get you started: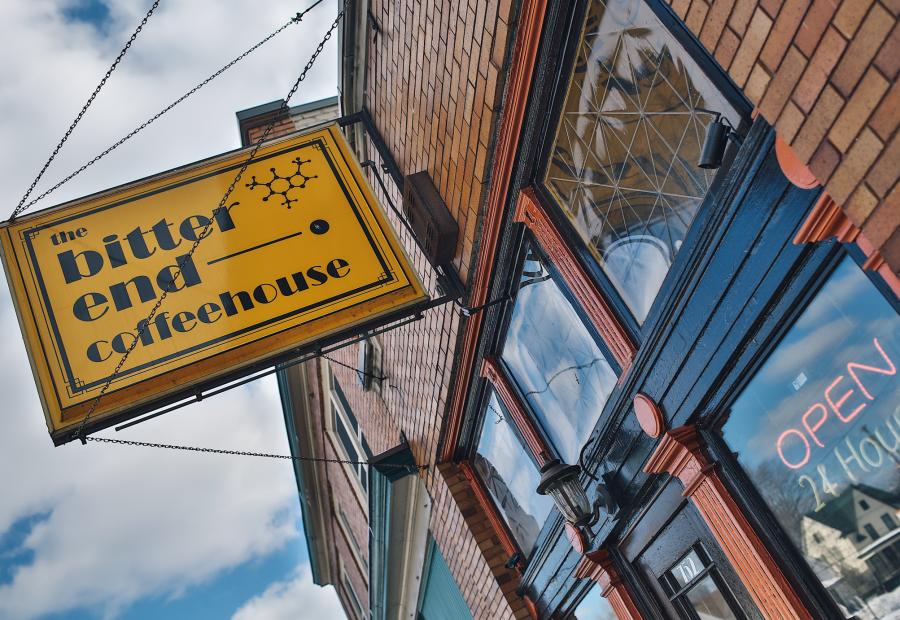 The Bitter End Coffeehouse is ready to warm you with coffee any time of day.
Photo by Experience Grand Rapids
The Bitter End Coffeehouse
From the eclectic wall décor to the lighting to the patrons themselves, The Bitter End screams one word: hip. This shop also features a large menu that easily caters to all tastes. Signature lattes like their French toast and crème brulee flavors, smoothies, a variety of teas, and specialties like their ice cream mocha make the Bitter End a standout in a sea of coffee shops.
If you're practical like I am, you'll also love the fact that the Bitter End is located across the street from a free public parking lot. But perhaps the coolest thing about this coffeehouse is the fact that it's open 24/7. So whether you need some caffeine for an early morning, an afternoon pick-me-up, or a fun stop on a night out with friends, the Bitter End is ready for you.
The Lantern Coffee Bar and Lounge
As soon as you walk in, you'll understand why this shop is called The Lantern. Its location in the historic Grand Central Engineering Building lends an old, comfortable feel to the place, while its ambient lighting envelopes you in a warm glow. 
The Lantern has outdoor seating available for the warmer months, but I think the real star is the lower level in its interior. When you walk in, you'll order from the bar on the main floor; then, coffee in hand, descend the staircase to find a cozy seating area that serves as the perfect hideaway from cold weather.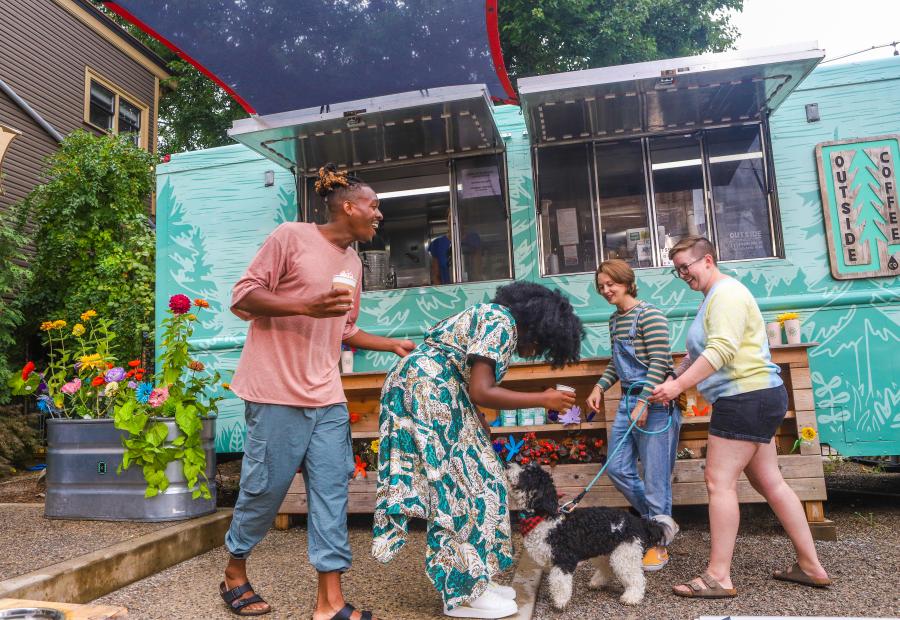 Outside Coffee Co. is a great place to catch up with friends -- both human and furry.
Photo by Outside Coffee Co.
Outside Coffee Co.
If you're looking for a unique coffee experience, look no further than Outside Coffee Co. Located in Uptown, you can order your drink and a bite to eat from the truck in the garden, and lounge outside while you wait. I always stop in to peruse the shop, Woosah, next door as well, which features apparel, hand-crafted art and much more.
If you're making the trip in the rain or snow, don't let the cold weather deter you—there are insulated igloos set up in the garden as well to keep you warm while you enjoy your beverage. I personally love heading to Outside Coffee Co. on a snowy afternoon or evening in the heart of winter, as the view of snow falling against the dark sky in the glow of the lights strung up in the garden is unbeatable. 
Madcap Coffee
You can hardly talk about Grand Rapids coffee shops without talking about Madcap. Their iconic downtown shop offers a large space with lots of natural light for patrons, and includes a 180° bar—which allows you to watch your coffee being brewed and chat with the baristas.
Not only is the coffee delicious—especially the iced mocha, my personal favorite—but the downtown location's spot right across the street from Rosa Parks Circle makes it the perfect place to stop on a day exploring the city. Whenever I ice skate at Rosa Parks in the winter months, I always treat myself to a hot beverage at Madcap afterward to warm up. Madcap also has a Fulton Street location and is a popular stop for people on their way to or from the Fulton Street Farmer's Market.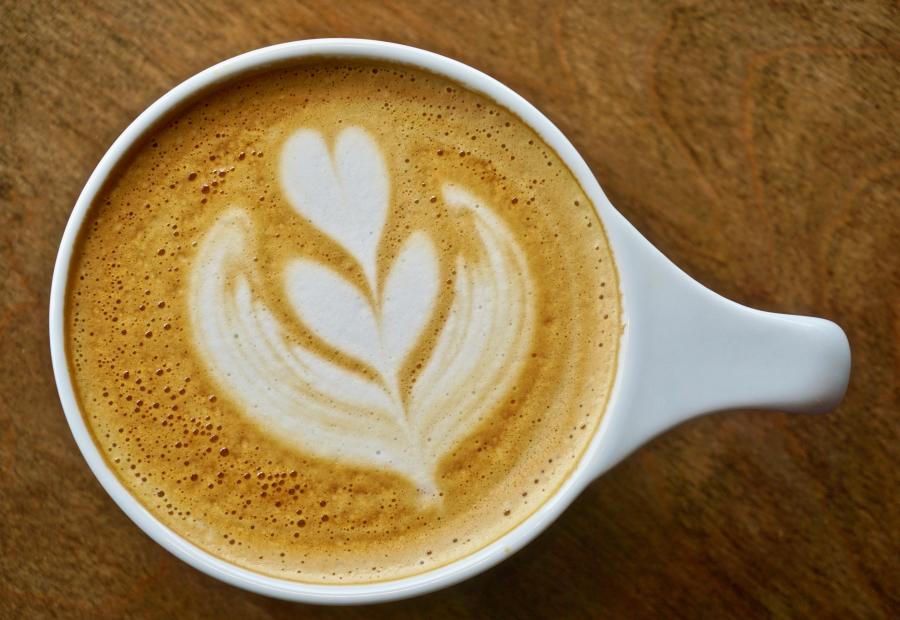 Wildroast is a must-visit for coffee lovers.
Photo by Experience Grand Rapids
Wildroast Coffee Co.
Just a short drive from downtown Grand Rapids, Wildroast Coffee Co. is Grandville's best-kept secret. The interior design is artfully done, with brick walls, wood flooring, cozy lighting and plenty of seating. Pair that with the boho décor style and the soft music playing in the background, and you have what is in my opinion, the quintessential coffee shop atmosphere. 
There have been many school and work days during which I've set up shop at Wildroast for the day to tackle a long to-do list, and I can confirm that this space is perfect for studying or working remotely, especially with a delicious beverage close at hand. Be sure to ask about their seasonal drinks, as they rotate tasty options like the honey lavender and s'mores lattes throughout the year.
Roots Brew Shop
There's nothing quite like the earthy, bright, soft atmosphere of Roots—or if there is, I haven't found it yet. With fun, colored walls, lights strung up everywhere and seating designed for conversations, Roots is the perfect place to catch up with friends and enjoy each other's company. 
One of the best parts about Roots is undoubtedly the menu. They offer classic coffee beverages in addition to hot chocolate and root beer, as well as a long list of bagels, sandwiches and baked goods. If you visit on a Saturday morning, you can also sample their delicious waffles for a perfect start to the day.
The next time you find yourself in the Grand Rapids area, don't miss out on the tons of great local coffee shops the city has to offer. Whether you're making a quick pit stop on a busy day or looking for your new favorite study spot, you're sure to find the perfect coffee shop for you.