Grand Rapids shines year round with its proximity to gorgeous beaches, burgeoning food scene, and incomparable craft beer and liquor offerings, and winter is no exception. From downtown to surrounding areas, Grand Rapids puts on amazing holiday light displays that can get even Ebenezer Scrooge to smile.
We asked those who are "in the know" – i.e. the Experience Grand Rapids social media followers – for their recommendations on the best places to see holiday lights in the greater Grand Rapids area. Enjoy the suggestions and please share any places you think are worth a visit in the comments.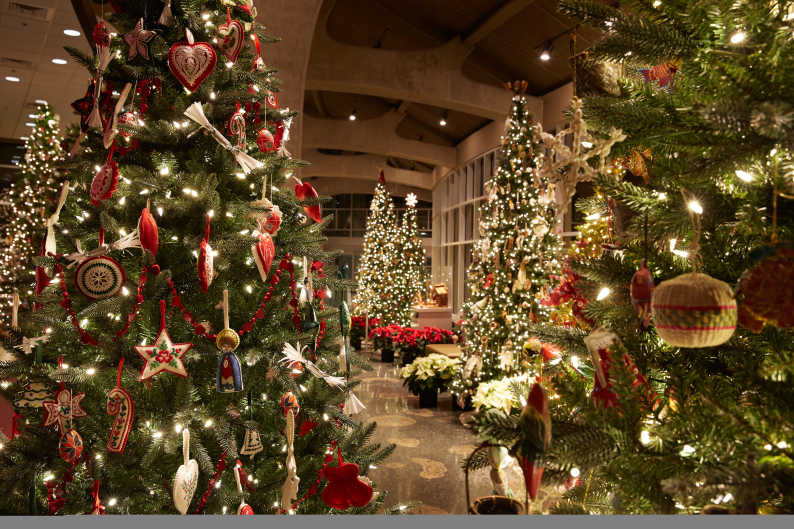 See many cultures represented through holiday tree displays at Frederik Meijer Gardens.
Photo Credit: Frederik Meijer Gardens & Sculpture Park
---
Frederik Meijer Gardens & Sculpture Park
The Frederik Meijer Gardens & Sculpture Park's premier holiday display, Christmas and Holiday Traditions Around the World, features nearly 400,000 lights, more than 40 Christmas trees from around the world, wandering carolers, and even rooftop reindeer. With such an extravagant showing, it's no wonder the Frederik Meijer Gardens is a favorite for the Experience Grand Rapids social media followers!
Throughout the gardens, past and present holiday traditions from around the world are highlighted, including trees decorated in authentic styles from Germany, England, and the Middle East. With its international and multicultural focus, visiting the Christmas and Holiday Traditions Around the World exhibition has become an annual tradition for many West Michigan families. The exhibition runs through January 7.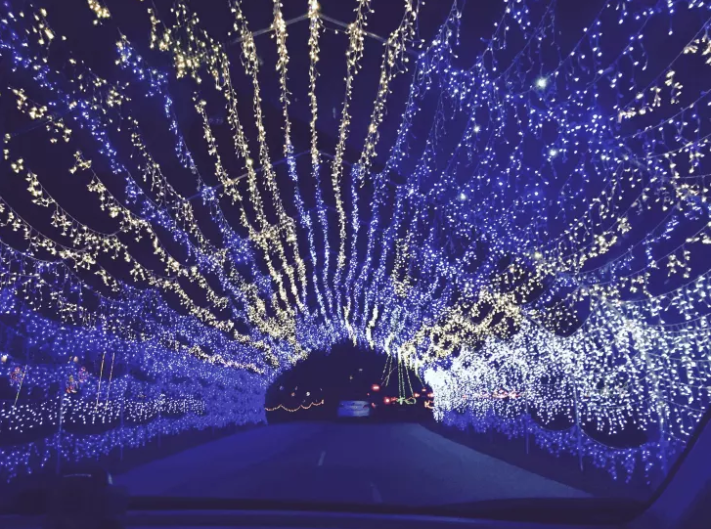 The spectacular tunnel of lights is a highlight of the Fifth Third Ballpark light display.
Photo Credit: Experience Grand Rapids
---
Fifth Third Ballpark
For over 20 years, Fifth Third Ballpark has hosted the Christmas Lite Show, Michigan's largest drive-through light show that is sure to put everyone in the holiday spirit. A carload of you and your holiday-loving friends and family can enjoy a nearly two-mile show of a million lights that include animated displays and lighted tunnels. On select evenings, the little ones can stop by Santa's House and give him their Christmas wish lists. In keeping with the holiday spirit, a portion of all money raised goes to the Grand Rapids Home for Veterans. The Christmas Lite Show runs now through December 31.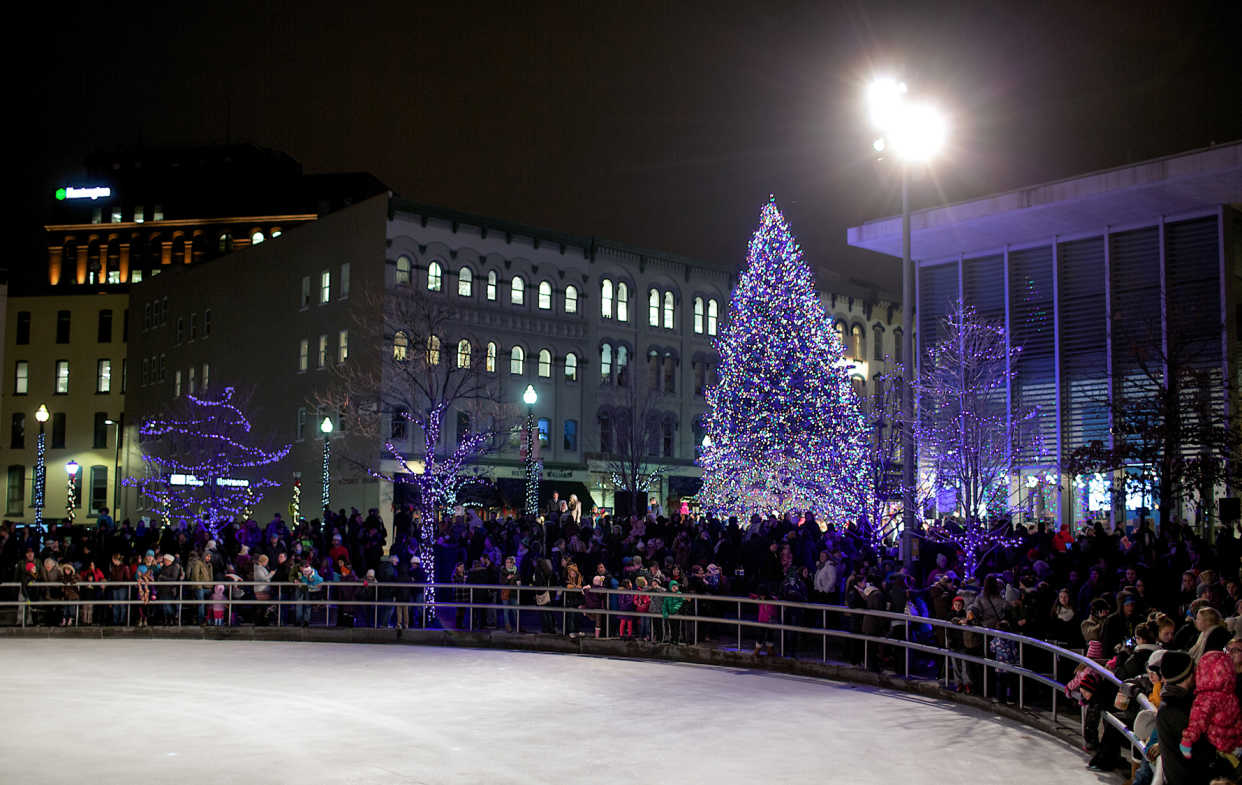 Enjoy the gorgeous holiday glow as you ice-skate at Rosa Parks Circle.
Photo Credit: Experience Grand Rapids
Rosa Parks Circle
It's nearly impossible to walk through downtown Grand Rapids during December and miss the city's holiday display in the middle of Rosa Parks Circle. City dwellers will find a 38-foot Christmas tree decorated with over 45,000 lights overlooking the ice rink that emerges each year in the middle of the park. To create an even more spectacular atmosphere, the trees lining the city streets are also decorated and lit with thousands of lights. Enjoy ice-skating surrounded by the holiday decor for only $3 for adults and $1 for kids. And yes, they provide the skates!
What the locals say:
"Rosa Parks Circle and the huge Christmas tree! I also love when the small trees along the streets are lit up," says emgagnon via Instagram.
The streets of downtown Grand Rapids are decorated to create a beautiful Winter Wonderland.
Photo Credit: Kirsetin Morello
---
Gaslight Village
If you're looking for holiday cheer outside of the downtown area, our social media followers are also very adept at finding holiday sparkle outside of the city. Gaslight Village in East Grand Rapids boasts a beautiful tree in the center of its plaza. Enjoy the lights throughout the area as you pop into local and national boutiques searching for holiday gift-giving ideas or one of the many restaurants to refuel after walking and shopping. For more holiday beauty, don't forget to take a look out the window as you drive out of Gaslight Village. Many of the residential streets boast picture-perfect light displays too.
What the locals say:
'Gaslight Village and there is a house on Averill in Wyoming off Clyde that's pretty awesome." Katafsaunders via Instagram
28th Street Shopping
When driving down 28th Street in the evening, you can't miss the amazing light display at Art Van Furniture. The store has heralded the approaching holidays for six years and continues to amaze all passers-by with a larger-than-life, brightly-lit holiday display. From dazzling lights around the building to the decor inside, Art Van Furniture becomes a Winter Wonderland in December.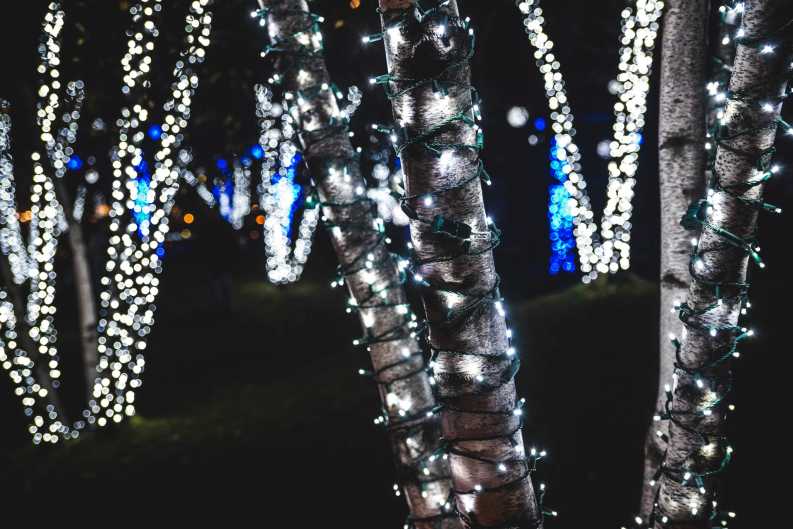 You don't have to go far for holiday lights – just look down your own street!
Photo Credit: Downtown Grand Rapids, Inc.
---
Additional Neighborhoods
You don't have to drive by the shopping districts or through downtown to get your daily dose of holiday beauty. Many residential streets and homes get in on the holiday fun as well. You won't have to look far for a residential display that will fill you with the holiday spirit. Linda K. from Facebook recommends visiting "Oliver Woods Dr. in Ada! Incredible display!" Inweedgr from Instagram suggests hitting Courtland Drive, NE from 10 Mile Road to Northland Drive, NE in Rockford. Take a cue from some of our social media followers and turn a stroll through the beautifully lit streets into a date night.
In Grand Rapids, there are so many options and luckily still plenty of time to see them all! Snow or no snow, these lights outshine all the others. Grab some hot chocolate and get yourself into the holiday spirit with some holiday lights.
Looking for more holiday activities or planning to visit the Grand Rapids area during the holiday season? Visit the Experience Grand Rapids Holidays page for more information.
Never miss a post!
Subscribe to the Insider Experience blog.