If there is one thing 2020 has brought, it is change. This winter season is no exception. For one thing, I've noticed I've been spending more time outside, including dining out. Yes that's right – it's time we start dining out. And by out I mean outside, enjoying the outdoor spaces Grand Rapids' restaurants and breweries have created. 
One thing that hasn't changed for me is keeping in the know with friends and family and helping them get their closets right. When it comes to layering up for the winter ahead, we still want pieces that are fashionable yet comfy and warm. In other words, the items that we make our go-tos. I don't think there is a better way to spice up an outfit than by adding those staple pieces. From sweaters and cardigans, to coats and socks, these local shops (in no particular order) have it all for your winter wants and needs.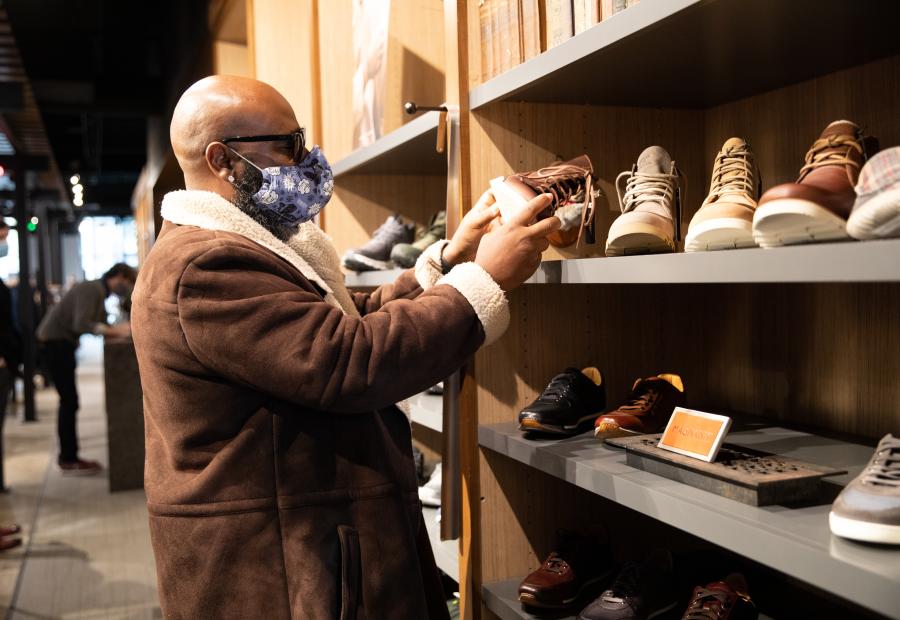 Fitzgerald's -- where you go to keep your feet and your closet happy.
Photo by Carbon Stories for Experience Grand Rapids
Fitzgerald's Men's Store
When I'm out shopping, I can guarantee one of my stops is Fitzgerald's, which is located in Breton Village. They always have an incredible selection of winter clothes and boots. Stop in to find a everything from knitted sweaters all the way to jeans. If you need something to keep yourself warm, it's at Fitzgerald's.
A.K. Rikks
A.K. Rikks is a must-stop if you're looking for a place where luxury meets function, and you want your investment to support a locally-owned business. This winter, they have a great selection of clothes for the season, including brands like Canada Goose and Stone Island. Add this to your list when you need to find items to help you stay warm and look fashionable while doing it.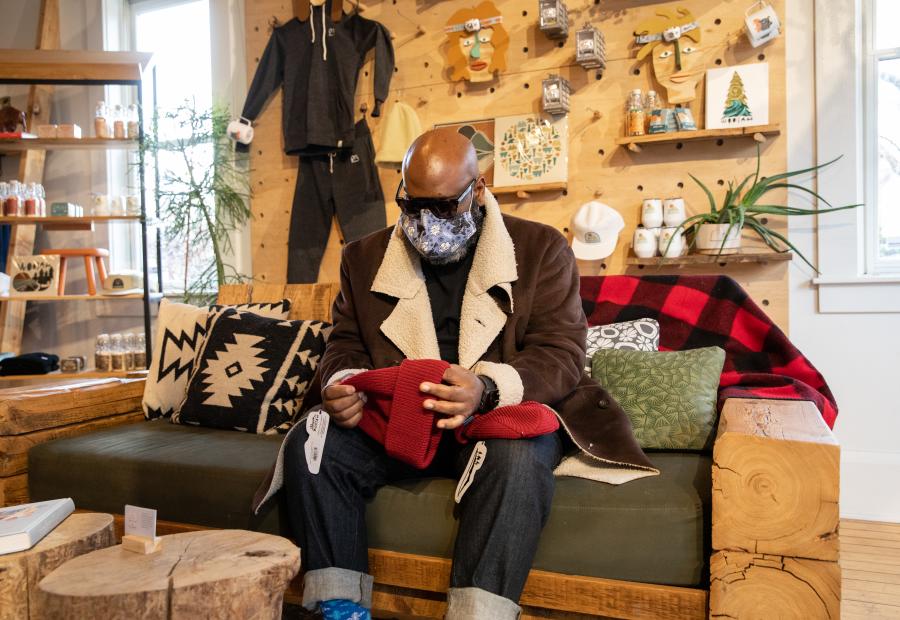 If you ask me, Woosah has perfected a certain Michigan outdoors aesthetic for clothes, home goods, and other artworks.
Photo by Carbon Stories for Experience Grand Rapids
Woosah Outfitters
Woosah is an amazing store that has the ultimate outdoor apparel collection. Consider it wearable art because many of the pieces are designed using woodcuts created by founder and owner, Erica Lang. Plus, the shop is located right in the Uptown neighborhood, which is a great area to take a refreshing walk, do some window shopping and view some Christmas lights before you stop in. Be sure to check out their collection of sweaters and hoodies – just the thing to keep you warm during all your outdoor activities. 
Premier Skate
If you are like me, you like bold yet functionable pieces. With Premier Skate you can get just that. Premier is not just a skate shop; they have a wide selection of brands ranging from Carhartt to Nike ACG. Check them out so you can stay cozy and dry during your holiday festivities and all season long.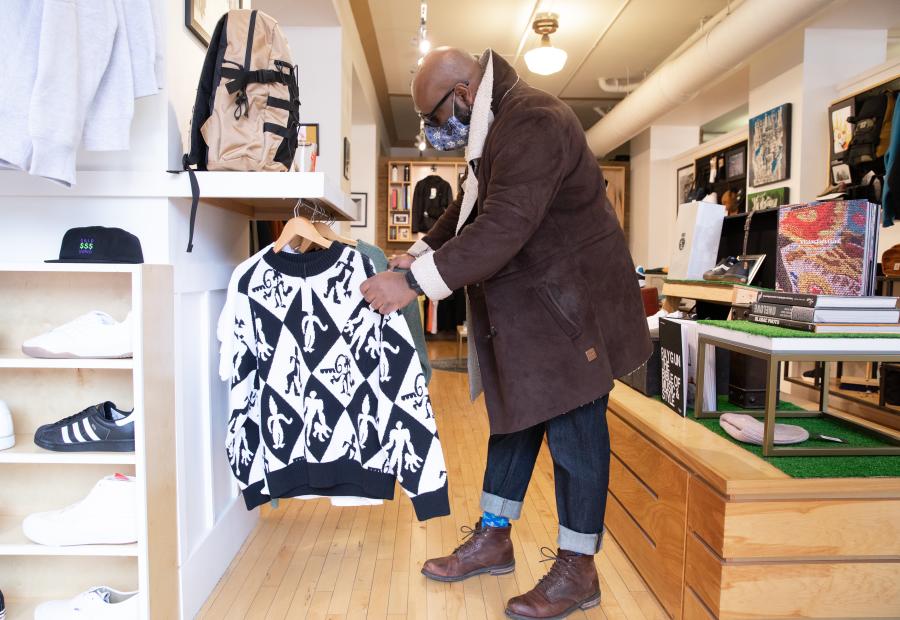 Shopping at Premier Skate. Notice the nice pop of color my socks provide? Then point your browser to iNFable socks.
Photo by Carbon Stories for Experience Grand Rapids
Online-Only Shops
Now that we have covered all the stores I love to go into; I can cover the online shops that offer many selections right at your fingertips. Shop fashion-forward pieces to keep you warm from the comfort of your home -- or really wherever you are. 
Adrian Butler
Adrian "AB" Butler is a Grand Rapids-based musician and DJ, who has now added clothing designer to his list of activities. His shop has the best joggers and hoodies around – they're great for any occasion and the combination of things you can get at this store are endless. Stay warm while eating outdoors or viewing the holiday lights downtown. 
Resistant by Nature
A must for your closet. The first time I wore a hoodie from Resistant by Nature, I was in love, it was fuzzy on the inside which made it super comfy and also kept me nice and warm – we're talking built-in-heater warm. This shop is a must for the winter season. Head's up though -- they are currently extending their black Friday sale to prepare for the launch of a new round of inventory. If the product you want is sold out, hold tight and keep an eye on their website.
iNFable Socks
Flashy socks are a great way to spice up an outfit and stand out in a crowd. iNFable has wide selection allows you to decide to be mild or wild. Whichever you choose, can know you're doing some good, too. Each of their sock designs support different causes and a portion of every sale goes to supporting charitable organizations. Check out their online shop and keep those feet warm this winter. 
These stores have given me some of my must-have pieces, check them out. You will not be disappointed. Find even more shops on this page and share some of your faves in the comments below.