As we finally see signs of spring in Michigan, beer enthusiasts around Grand Rapids began advocating to hold our Beer City title through 2014. In a surprise move by the founder of the poll, Colorado homebrewer Charlie Papazian, the Beer City poll has been declared finished! Papazian is proud that it has served its purpose for five years of bringing great beer into the spotlight. For at least the last two rounds of voting, thousands of gallons of that spotlight beer has been Michigan made.
Instead of the campaigning events and voting excitement that has gone on the last few years, Grand Rapids will recognize the honor by celebrating Beer City Week, May 3-10. Buy your tickets now to the Beer City Spring Festival in Hudsonville, or participate in the Thank You Tour on May 6th, 7th or 8th that starts at Hopcat at 5pm! For more information on how to celebrate our title, visit Beer City Grand Rapids! If you'd like to simply enjoy a craft beer at home, tweet what you're sipping and use #beercitygr to be a part of the conversation. But now let's look back at the last two years of triumph.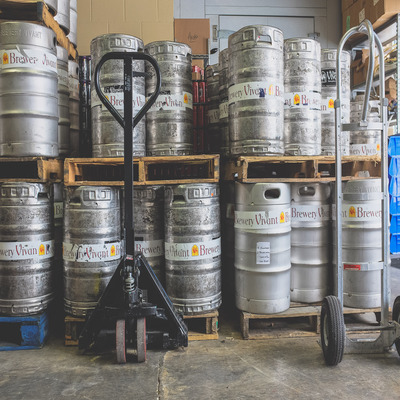 Photo Courtesy of Brewery Vivant
In May of 2012, 17,849 votes were cast in favor of Grand Rapids as Beer City USA; A tie with the votes cast for Asheville, NC. The two cities gladly shared the title and the glory during the fourth year of the online poll. In 2013, Grand Rapids mobilized for the win. Brewers, enthusiasts and unsuspecting brew-pub customers were swept up in the spirit of the campaigning process that lasted a week. 27,005 voters from Michigan and beyond rallied behind the burgeoning craft beverage industry in West Michigan and we brought the Beer City home.
As Grand Rapids prepares to retire the title, let's look back at what else a simple and non-scientific poll has changed for this community.
Even by 2012, the state of Michigan boasted 122 craft breweries, 5th out of our fifty states. This number has only grown, with more breweries opening every month. Existing breweries in Grand Rapids are expanding and improving both taprooms and brewing systems in an attempt to keep up with demand. Hop heads, stout hunters, barrel-aged connoisseurs and even domestic beer drinkers are seeking out craft beverages for comparison, critique and enjoyment. I spoke with a beer marketing director, a professional brewer, a homebrewer, a cidery founder and a distributor about how this is transforming the heartbeat of Grand Rapids.
Photo Courtesy of Brewery Vivant
As brewers, Wob Wanhatalo and Jason Warnes have worked harder than ever in 2013 to keep the beer flowing. With the popularity of the craft beer scene, places like The Mitten Brewing Co., where Warnes and Wanahatalo sometimes brew six days a week, have to work non-stop to keep options in the taproom.
When asked to reflect on the effects of the Beer City title, Wanahatalo says, "The timing was right. It won't level off, the culture for craft beer established in Grand Rapids is all about eating, drinking and being social - at each place you get something different. It's why I do what I do."
Kate Avery, the Abbess of Beer Marketing at Brewery Vivant, a Belgo-Franco operation located in a renovated funeral chapel, agrees with that statement. "We've made a strong case; we will ride the coattails of winning the last Beer City title. New places are still opening and beer tourism is powered by things like releases and festivals- the Grand Rapids beer community is savvy enough to continue."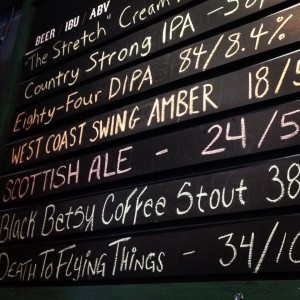 Photo Courtesy of The Mitten Brewing Co,
Wanhatalo's partner, Jason Warnes, came to The Mitten Brewing Co. as an avid homebrewer before becoming co-head brewer there. He is still involved with his homebrew club, the Brewsquitos, and was able to give a little insight about the effect of Beer City on supplies and community as a basement brewer. "We have almost doubled the size of the group in the last two years. Not only that, the brewers themselves have become better. Breweries also have been more active in getting homebrew clubs in their tap rotation, through homebrew competitions that the brewery hosts."
Members of the brewing community all over town are often asked about the level of competition with so many promising brewers in the thirty mile radius. The one word that comes up in response? "Collaboration." The Grand Rapids Society of Brewers (fondly known as the GRSOB) was founded just a few months before the first Beer City title was awarded in 2012.
Their approach was grassroots: collaborate and share plans, odd recipes, hard-to-find hops, etc. Over the past two years, the mission statement has slightly changed. While the GRSOB still does all of those things, there's also a technical aspect present in light of the sometimes overwhelming beer tourism in West Michigan.For example, it's more important than ever for breweries to focus on sanitation to prevent a single batch from going to waste. There are now meetings about topics like sanitation, beer marketing, helpful Michigan farms, and beer festival realities.
But competition? "Rising tides raise all ships," says Avery. "The brewers like when other people do well." Wanhatalo adds, "The more breweries there are, the more we'll need specialty farmers, distributors, bloggers and enthusiasts: we're all proud to be from here and to be involved."
I was thrilled to get additional perspective on beverage pride from the founder of The People's Cider Co., Jason Lummen. While Lummen humbly acknowledged that "beer culture makes projects like mine possible," he also pointed out that amidst so much variety, "We've created an adventurous consumer." As Beer City pride has grown, the willingness to try new things has expanded alongside it.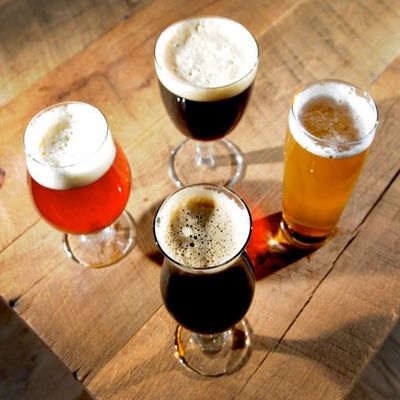 Photo Courtesy of Brewery Vivant
Like Avery mentioned, it is now beer releases and festivals that enthusiasts can attribute to Grand Rapids culture. These events have garnered national attention since Grand Rapids was placed on the Beer City pedestal and breweries have come to expect travelers from near and far to journey here for them. Releases like Founder's KBS lead to lines that rival Black Friday shoppers, and just as many camp-outs.
For this year's release on April 1st, Founders sold tickets for the bottle release in the taproom and sent kegs all over town to be tapped and spread the crowds. The Michigan Brewer's Guild hosts three festivals a year and for the past two, the annual Winter Beer Festival at Fifth-Third Ballpark has sold out in just minutes. Smaller festivals like BRU Fest, Brew-Haha, and Lansing's first Beerfest at the Ballpark are also a place where the public can come and taste as much as they'd like - a brewery tour without the distance driving! Dozens of breweries bring their finest (and some experimental) wares to please any palate.
In addition to the people directly impacted by increased beer production, fringe industries that have thrived from Beer City excitement include local restaurants and hotels. Hotel packages centered around beer events have become commonplace, and some check-ins have even included growlers, t-shirts, or a Brew and Renew Spa experience!
Cool Brews. Hot Eats. 2014 was a huge hit as dozens of local chefs added some pizzazz to their menu by supporting a local brewery. These craft beverage and food pairings have become their own educational arena, with lectures and tasting sessions hosted at venues like Frederik Meijer Gardens and the Downtown Market. Apps like Michigan Microcaps have been designed and marketed to be fun on your phone, but also provide information about the closest brewery and their accompanying social media channels. The Beer City Ale Trail map released this winter by Experience GR has led locals and visitors to discover all sorts of hidden craft brewing gems around West Michigan.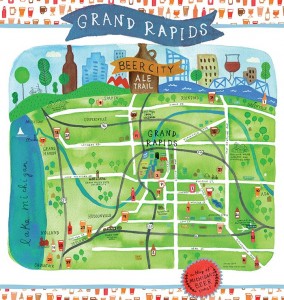 Photo Courtesy of Experience GR
So should we mourn the end of our Beer City reign? Absolutely not. The experts from all facets of the industry look forward to working with a product that is constantly changing, getting better, and reaching more people. "Beer City put Grand Rapids on the map," says Avery, "and now we're lucky to have the competitors and companions Beer City nurtured."
We can all appreciate the tangible cultural, economic and social implications of being a city with great brews, and it's with great appreciation that we lay down the crown. Cheers to the last two years of glory, and may the pride in a job well done motivate drinkers and brewers for years to come!