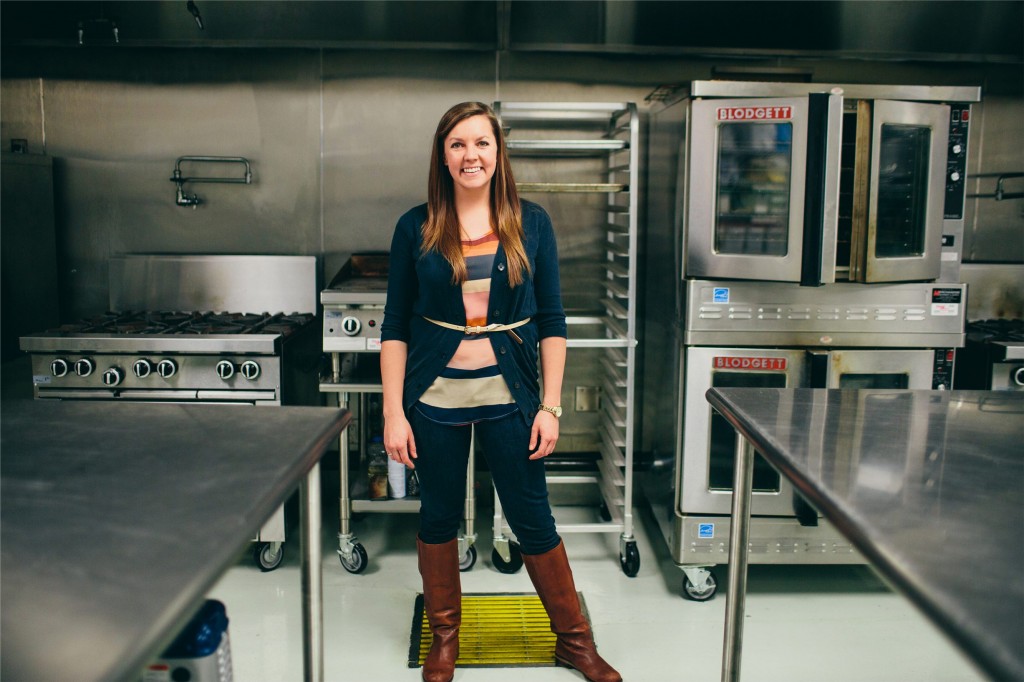 Kelly LeCoy of Uptown Kitchen, photo by Jill DeVries Photography
When Kelly LeCoy moved off campus during college in Grand Rapids and began cooking for herself, she also started thinking more about the kinds of food she put into her body. At the same time, the organic food movement was burgeoning. LeCoy tried shopping at farmers markets and experimenting in the kitchen with the ingredients she found there. "My interest in food, in general, peaked and started to grow," she says, "and it's definitely been a process since then."
LeCoy is now the owner of Uptown Kitchen, the downtown Grand Rapids incubator kitchen that provides affordable commercial kitchen space to small food-based businesses. Her tenants include entrepreneurs like GR Bagel Bakery (their boiled bagels are available at Connie's Cakes and the Downtown Market), Mrs. Bs Focaccia (available at WM Coop and, soon, Tree Huggers), and Link Love, maker of artisanal sausages (available at WM Coop and the Downtown Market) .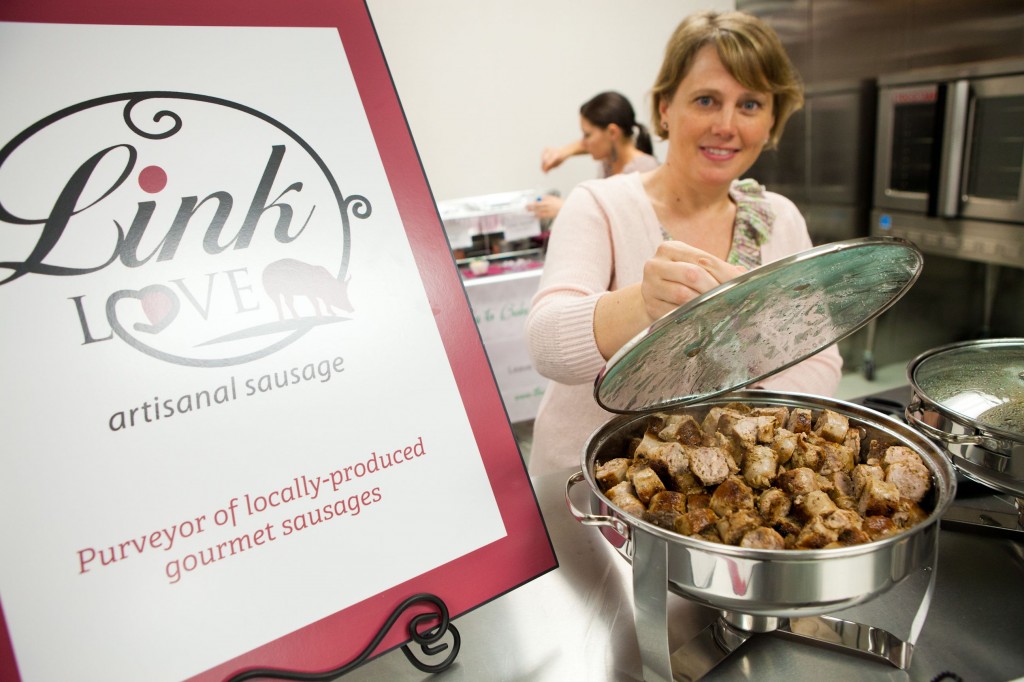 Kristen Bergers Fauson, owner of Link Love, photo by Jonathan Stoner Photography
You can also find makers of fresh salsa at Uptown Kitchen: both PapaVedo LLC (Arts Hot Salsa) and Scoville Farms create their products there.
Scoville Farms name refers to the Scoville Scale, which is used to quantify the level of spiciness in a pepper or food - its like the Richter Scale for spiciness. Scoville farms owner Dominic Sorenson sells his Everydae salsa through local stores like Kingma's Market, Siciliano's, and, now, in the Made in Michigan section at selected Meijer stores.
PapaVedo, LLC owner Art Azevedo produces Art's Hot Salsa, a spicy family recipe that's been handed down through generations. You can find Art's Hot Salsa in lots of local stores as well, including Ken's Fruit Market and Art of the Table. (A new, milder Sissy Salsa is also available for customers who don't want the heat of the original.)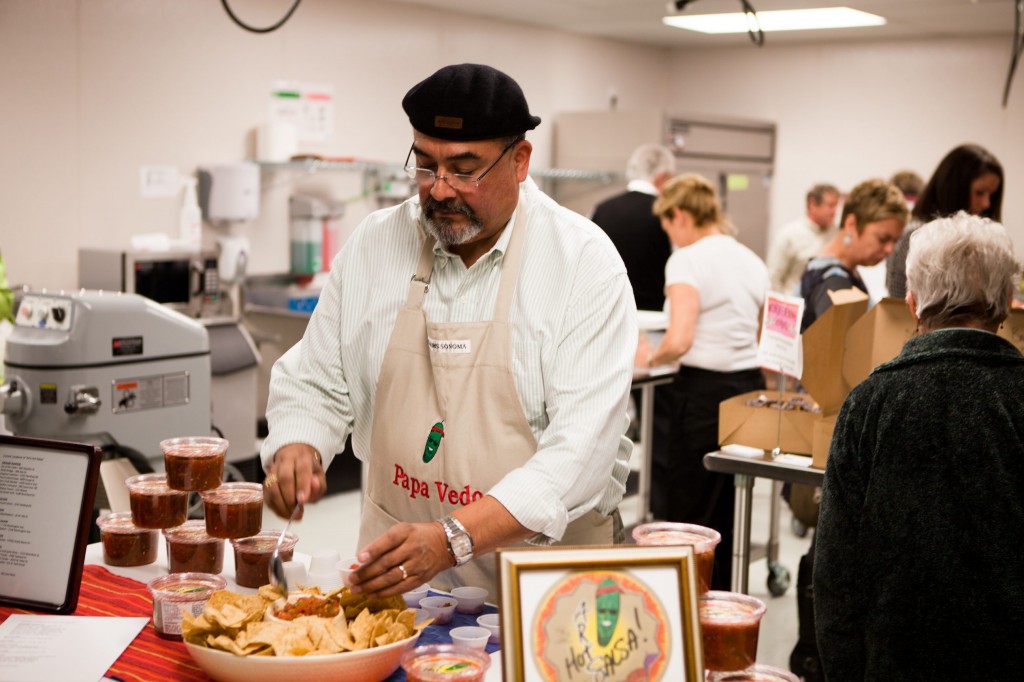 Papa Vedo LLC's Art's Hot Salsa, photo by Jonathan Stoner Photography
It was during her senior year at Calvin College, before LeCoy knew about Art's Hot Salsa or Mrs. B's Focaccia, that she first discovered the idea behind incubator kitchens. She was writing a business plan for her final thesis and, as part of her research, LeCoy headed to Wealthy Street to interview several local business owners. She wanted to find out what was missing in the business sector in Grand Rapids.
One of the owners mentioned that people often approached her asking if they could sell homemade food in her store. However, while Michigan's Cottage Food Law allows consumers to sell certain homemade foods directly to the consumer (through farmers markets or roadside stands, for example), it doesn't allow them to sell those products to a retailer or restaurant. In order to sell their wares through retail outlets, or over the Internet, the foods must be prepared in a commercial kitchen and commercial kitchens are expensive!
LeCoy continued her research and discovered that there were incubator kitchens across the nation, but none locally. This law creates a pretty high barrier to entering the market, explains LeCoy. As these food entrepreneurs were getting started, they didn't have anywhere to go in Grand Rapids.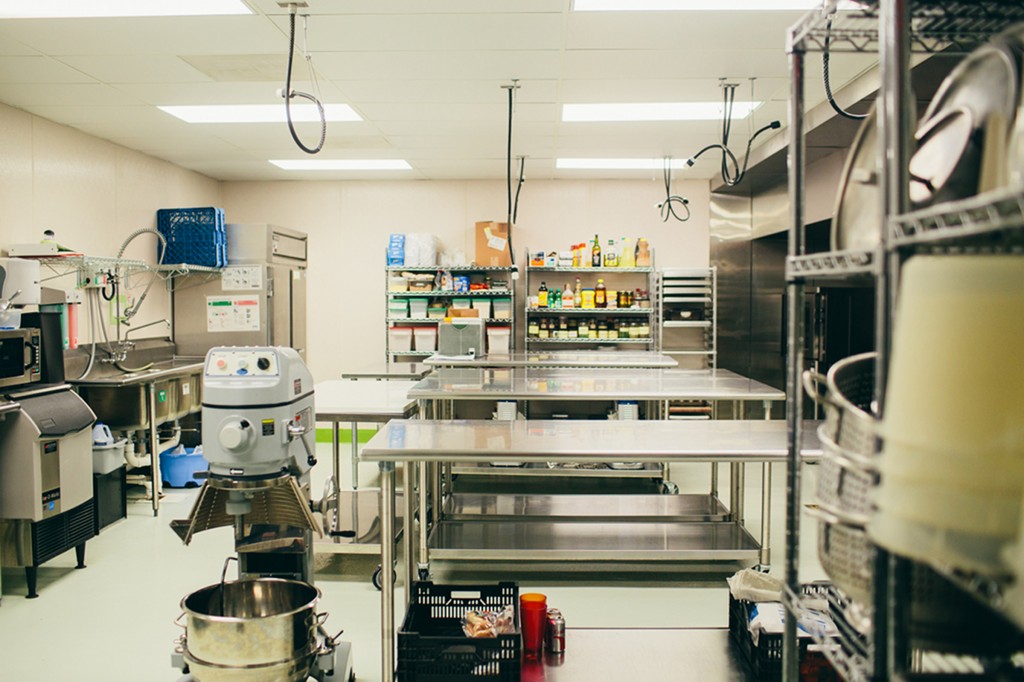 Uptown Kitchen, Grand Rapids
Her thesis completed, LeCoy accepted an internship through Calvin's semester program and moved to Chicago to work for a local business alliance, but she didn't plan to become an entrepreneur herself. Although she grew up watching her grandfather run a small business, she'd always been drawn to branding and marketing. LeCoy expected that one day shed have a career at an advertising agency. But, she says, working in Chicago expanded her understanding of small business in neighborhoods. "My perspective on what I wanted to do changed. Suddenly I was very interested in small business."
Meanwhile, a professor emailed LeCoy regarding the Calvin BizPlan competition, which encourages entrepreneurship among students. LeCoy entered and her business plan won, giving her $1000 towards turning her idea into a reality. Shortly thereafter her business plan also won the West Michigan Regional Business Plan competition, netting her another $3000. But when she enteredand wonthe 5x5 Night competition, in which 5 presenters had 5 minutes to explain their idea, she knew she was really onto something.
"Suddenly this was a very public idea," she says. She began receiving email after email asking her when she was opening. "A little snowball became a mountain. It kind of created itself." Certain now that Grand Rapids needed and could support an incubator kitchen, LeCoy added the $5000 prize money from 5x5Night to the rest and Uptown Kitchen officially opened for business less than a year later, in February 2012.
In addition to providing kitchen space to entrepreneurs, Uptown Kitchen rents its facilities to individuals who have shorter-term needs, like baking large batches of holiday cookies, or preparing food for a party.
Chefs can also rent Uptown Kitchen space for cooking classes. Currently, Diane Devereaux, the Canning Diva, is offering several classes in which she shares her knowledge and helps clients learn how to can everything from chutneys and relishes to asparagus! (The next class is this Thursday, June 6 you can read more and find registration info here.)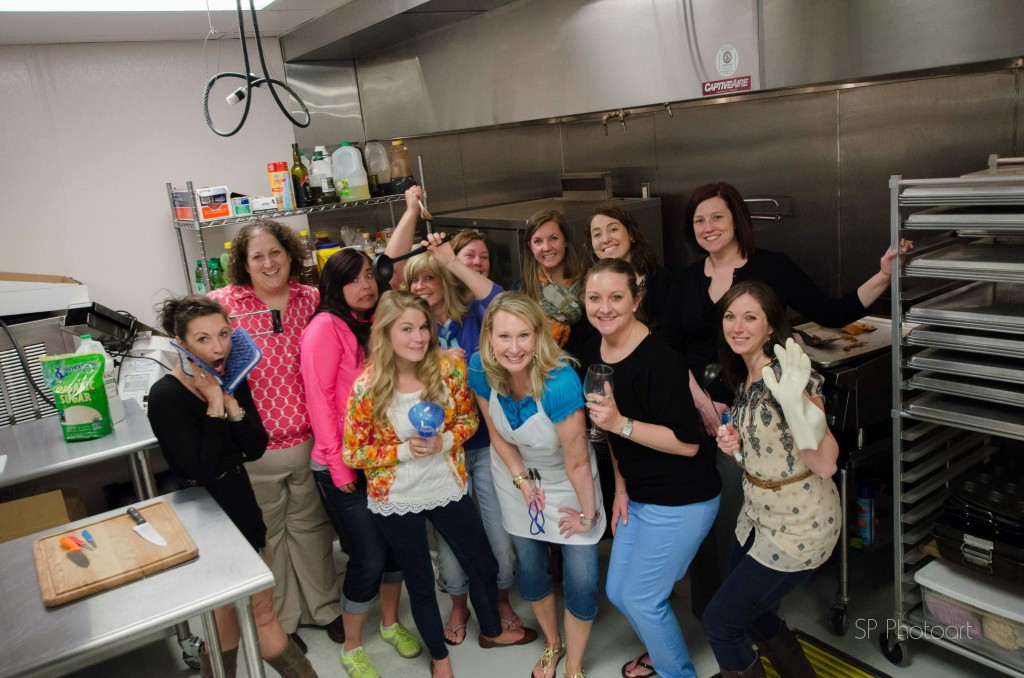 Fun with The Canning Diva (photo courtesy of The Canning Diva)
With so much interest in classes like the Canning Diva offers, as well as its urban farms, farm to table movement and the new Downtown Market, LeCoy thinks Grand Rapids is in a really exciting stage in the growth of its food culture. "We caught the beginning wave of all of it," she says. "Grand Rapids has clasped onto the idea and been very supportive of it. This community quickly wraps its arms around new ideas."
The community showed its enthusiasm for Uptown Kitchen by awarding LeCoy with the 2013 EPIC Young Entrepreneur of the Year award. She is young, but that hasn't stopped her from creating a successful business. When she first won the 5x5Night awards and moved forward with plans for Uptown Kitchen, she got quite a few questions about her youth and experience, but she feels like those questions opened up a good conversation in the community with other young entrepreneurs. "Yes, we're young," she says, but that doesn't change what we're passionate about."
One of LeCoy's passions is making sure her business is more than a prep and cooking space. Instead, she envisions Uptown Kitchen as a community of businesses who collaborate with and support one another. As she continues to grow her business to support culinary entrepreneurship, she encourages others to do the same.
"Food is a really easy way to support your local economy," she says, "by going to lunch at a local restaurant or buying food from local stores. It's something anyone in Grand Rapids can do just by changing one of their meals or a part of their meal, by shopping locally." LeCoy loves to frequent local businesses, and says Marie Catribs is a long-time favorite (with especially good breakfasts) and that Trillium Haven's Happy Hour is a don't miss!
"I think food is important," says LeCoy, "and it's one of the biggest things that brings people together. We're excited to be a part of the food culture here."
Please enjoy this recipe, courtesy of Uptown Kitchen tenant, Mrs. B's Focaccia