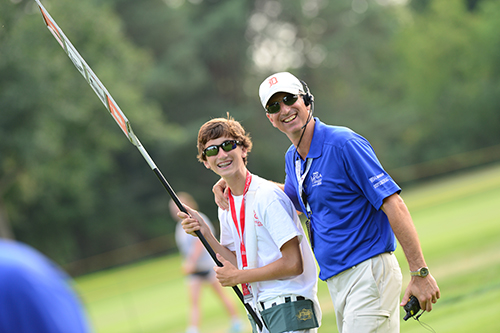 Photo courtesy of Octagon Events and Hospitality
The second annual Meijer LPGA Classic presented by Kraft returns to Grand Rapids July 21-26. Whether you plan to watch professional golf at its finest at Blythefield Country Club, or enjoy events in Grand Rapids once the links close for the day, the Meijer LPGA Classic offers plenty of fun for everyone.
Each of the week's festivities will benefit the Meijer Simply Give program which has helped keep local food pantries stocked with food since November 2008, said Libby Peacock, senior account executive for Octagon Events & Hospitality Division. Last year the inaugural Meijer LPGA Classic presented by Kraft raised $600,000 for the Simply Give program to feed those in need.
In keeping with the food theme,Top Chef judge and culinary expert Gail Simmons along with celebrity chef Mario Batali will be at the Grand Rapids Public Museum 6:30 p.m. July 24 hosting the Celebrity Chef Cook-off.
Both Batali and Simmons will prepare an appetizer and main course while interacting with guests throughout the evening, said Libby Peacock, senior account executive for Octagon Events & Hospitality Division. The event will also feature local pastry fare that will be voted on by the guests.
Nearly 400 attended the event last year raising close to $40,000. With 700 expected this year and limited seating available be sure to purchase tickets for this special evening before they sell out. Each ticket includes food, wine and a weekend pass to the golf tournament.
Saturday, July 24 OneRepublic visits Van Andel Arena after playing Wembley Stadium in London for the Meijer LPGA Community Concert sponsored by General Mills.
Hits from their most recent album Native include Counting Stars, Love Runs Out, and If I Lose Myself. Stay tuned for the announcement of their opening act! Tickets are on sale now and start at $25 each.
Interested in an up close and personal look at some of the greatest women golfers in the world? The Meijer LPGA Classic is still accepting volunteers for all committees including Walking Scorers, Transportation, and Player Services.
Volunteering at the Meijer LPGA Classic is a great way to get involved at this event, Peacock said. "You don't need to be an avid golfer to volunteer, just someone who loves helping out, getting involved, and having a good time! There is truly something for everyone."
Each volunteer receives two tournament golf shirts, one official tournament hat, one volunteer badge, four weekly grounds badges, meals provided on scheduled work days, and a volunteer party invitation.
Peacock said the event completely exceeded expectations last year. "Everyone is anxious and excited to see what year two has in store."