If you're looking to get your sweat on while visiting Grand Rapids, there are plenty of small, intimate studios to help get your heart racing.
Take a look at our previous blog post on boutique gyms (aka gyms that specialize in certain types of fitness) in addition to the list below for more West Michigan locations that allow drop-ins.
Every Rhythm Fitness Studio class is geared toward getting the body moving for maximum results.
Photo Credit: Rhythm Fitness Studio
---
Rhythm Fitness Studio
Rhythm Fitness Studio, located in Byron Center, is a great place to try a number of different workout classes. In all, there are 10 different classes.
With a name like Rhythm Fitness, it's only natural the studio offers dance-inspired workout classes like the Pound class, where guests use "Ripstix" (lightly weighted drumsticks) to pound to the beat of the music. This unique class is a great workout, and provides great entertainment, too.
If you're looking for more traditional workout classes, Rhythm Fitness also offers Zumba, Pilates, Kickboxing, Strength/Sculpt/Stretch, and more.
Every class is geared toward getting the body moving for maximum results. While every class has different intensity levels, Rhythm Fitness instructors are more than happy to work with you to create modified moves.
Rhythm Fitness Studio requires no memberships and no contracts. Your first Rhythm Fitness Studio class is free, followed by $8 per class for drop-ins.
Life Addicts Studio
Life Addicts Studio is the brainchild of dynamic husband and wife team, Travis and Whitney. The studio's main goal is to create a community of people living healthy lives. Life Addicts offers workshops, personal training, interval, strength, and cross-training classes, as well as nutritional and fitness challenges.
The studio offers classes taught by Travis, Whitney, or their team of dedicated and enthusiastic instructors. If you're short on time, there's a 30-minute Express Bootcamp class which mixes interval training, bodyweight training, and strength exercises.
Life Addicts also offers longer classes that range from 45 to 60-minutes, including HIIT (high intensity interval training) Bootcamp, Bands (exercise band-based class), Hustle & Step (dance-based class), and a low impact class called L.I.F.E.
Guests interested in dropping-in for a class must RSVP online for the particular class they'd like to attend. Drop-ins are $12 per class.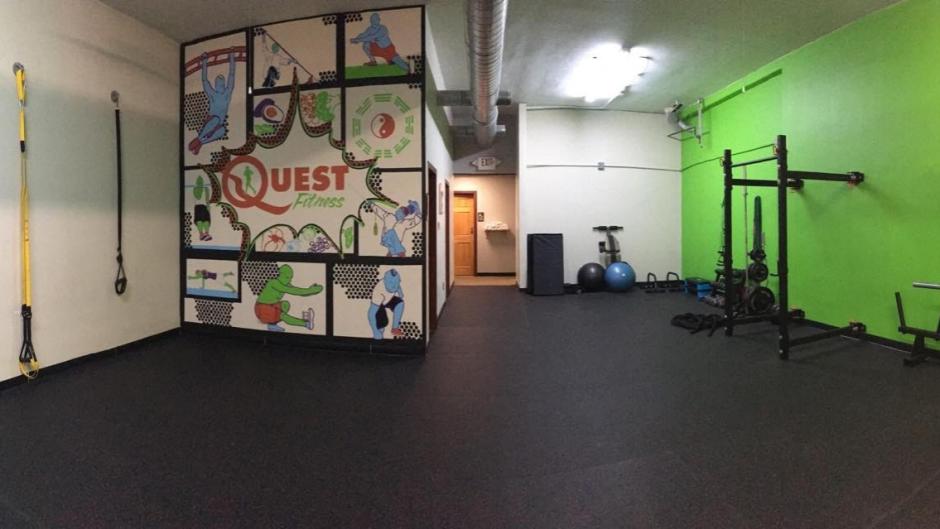 Quest Fitness has massage therapy onsite, so after class, you can get your sore muscles worked out.
Photo Credit: Quest Fitness
---
Quest Fitness
Located in Kentwood, Quest Fitness is a personal training gym that offers classes on a drop-in basis.
In addition to Tai Chi, Advanced Tai Chi, and Yoga, Quest Fitness offers something called the Beast Club Bootcamp. This particular class was built specifically by gym owner Ray Shonk, who has nearly a dozen fitness certifications. Also known as Full Body Bootcamp, the Beast Club Class is a strength and cardio endurance class done completely with calisthenics.
As a bonus, Quest Fitness also has massage therapy onsite, so after class, you can get your sore muscles worked out.
Drop-in classes are $15 each, and guests can pre-register by visiting Quest Fitness' website.
F45 Training (Franchise)
Developed in Australia in 2012, F45 Training is a franchise workout facility with a boutique gym feel.
The studio offers over 27 different workouts, 45-minutes each and every class has its own unique name and theme. Foxtrot, for example, is a cardio class that's military-based. Brooklyn, on the other hand, features boxing, MMA, and martial arts.
Drop-in class rates are $22, and as a bonus, customers receive a complimentary week long class pass, which is perfect for visitors staying in West Michigan for an extended weekend. Guests can sign up by visiting the F45 Grand Rapids website.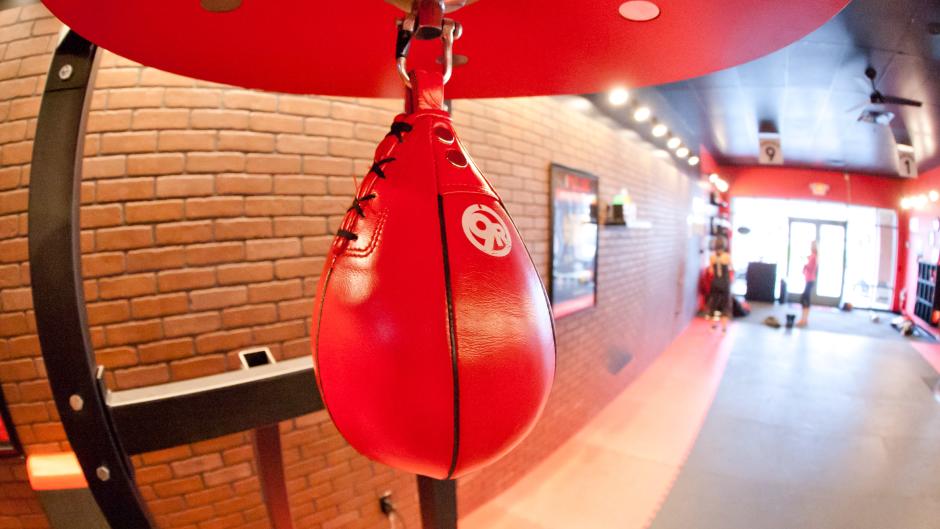 Fact: 9Round doesn't have specific class times so guests can visit whenever is most convenient for them.
Photo Credit: 9Round Byron Center
---
9Round (Franchise)
Fans of kickboxing will really enjoy 9Round, located in Byron Center.
The unique thing about the kickboxing franchise is that there are no class times.
That's right, you choose to workout whenever it is convenient for you.
A new workout circuit starts every three minutes, so you can jump in at any time. Once you move through all nine, three-minute circuits, your 30-minute workout is complete!
Even though there is no set class time, there is a trainer on-hand to help motivate and push you. Since a lot of the class revolves around punching bags, trainers are also there to help teach you how to properly wrap your hands to avoid injury when hitting the punching bag.
First-time visitors can receive a free drop-in class by signing up on 9Round Byron Center's website.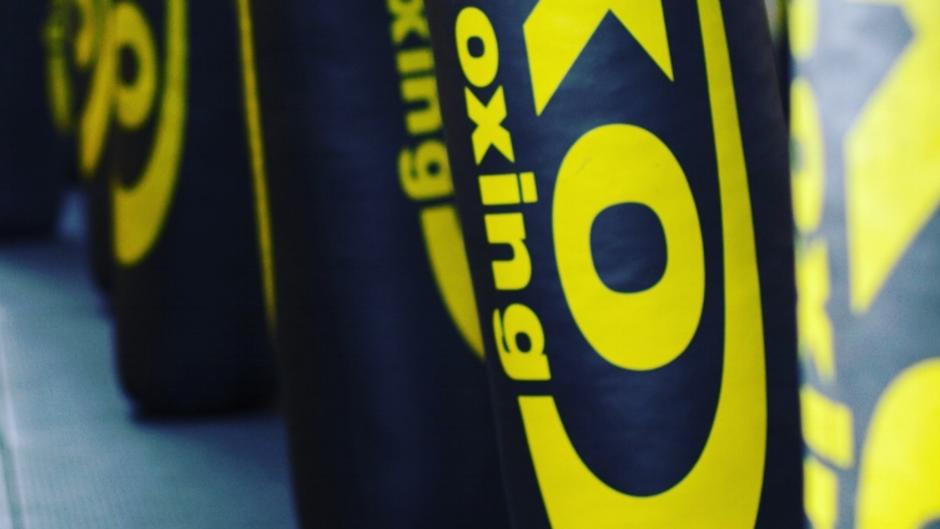 CKO Kickboxing has two boutique gyms in Grand Rapids.
Photo Credit: CKO Kickboxing
---
CKO Kickboxing (Franchise)
Another place in town to drop-in for kickboxing classes is one of CKO Kickboxing's two Grand Rapids locations. For visitors staying close to downtown, CKO Kickboxing's Monroe location may be more convenient, or if you're staying south of Grand Rapids, visit CKO Kickboxing's GR South location.
Every class offered is a great way to reduce stress and tone your body while kicking and punching a heavy bag. To mix things up, there are burpees, push-ups, and other body weight exercise incorporated throughout CKO's classes.
Whether you sign up for a 45 or 60-minute session, you'll burn hundreds of calories doing this HIIT workout.
First time visitors can purchase a pack of three-classes and gloves for $19.99 by visiting the CKO Kickboxing website.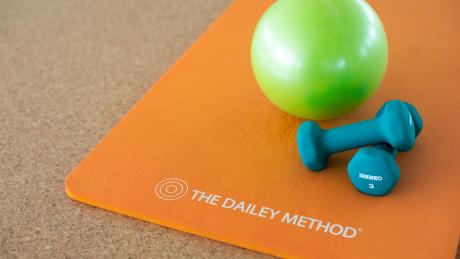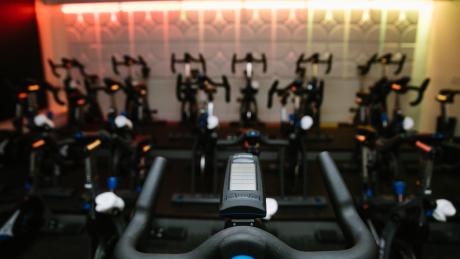 The Dailey Method Eastown offers cycling and barre fitness classes.
Photo Credit: The Dailey Method Eastown
---
The Dailey Method (Franchise)
The Dailey Method is seeks to strengthen your body's alignment while offering a full-body workout. The studio is located in the Grand Rapids neighborhood of Uptown and is a part of the larger The Dailey Method franchise.
The main focus of this studio is barre and cycling. Some of the classes combine the two activities, while others are solely focus on one or the other. The Dailey Method offers 45 and 60-minute classes to accommodate all schedules.
As a bonus, the The Dailey Method's Grand Rapids location offers childcare during certain times of the day.
Guests interested in dropping in for a class must register on The Dailey Method's website, or through the MINDBODY app. Drop-in classes are $24.
Title Boxing Club (Franchise)
For a full boxing experience, Title Boxing Club is a great place to stop in for a workout. All boxing classes consist of a series of three minute rounds of kicking and punching a 100-pound bag. To ensure maximum efficiency during your workout, instructors review proper stance and form before every class.
Title Boxing Club has two locations in West Michigan, one in Kentwood and one in Grand Rapids. The Grand Rapids location offers 45 and 60-minute sessions of Boxing or Kickboxing classes. The Kentwood location also offers MMA classes on Sundays.
Title Boxing Club offers a free drop-in class to first-time visitors. For frequent West Michigan visitors, Title Boxing Club offers flexible membership options such as "Club 4," which allows guests four workouts per month. For information, or to drop-in to a class, visit a Title Boxing Club gym.
What's your favorite boutique gym to drop-in when visiting Grand Rapids? Share your favorites in the comments section.
For more ways to boost your heart rate outdoors, visit the Outdoor Recreation page for more fun, physical activities
Never Miss a Post!
Sign up for the Insider Experience blog.