Even though the temperature is dropping, there's no need to run indoors. There are a number of restaurants, coffee shops, and breweries near Grand Rapids that have the perfect outdoor patio spaces to stay cozy and enjoy crisp weather. 
Cascade Roadhouse
The rustic atmosphere and mostly wood interior at Cascade Roadhouse is a great fit for a crisp, fall day. Warm up near the indoor fireplace or hang out on the large outdoor courtyard with a fireplace and heaters to keep you warm. Enjoy the cabin feel without even leaving town.
Cascade Roadhouse has a large lunch and dinner selection, in addition to a spacious bar.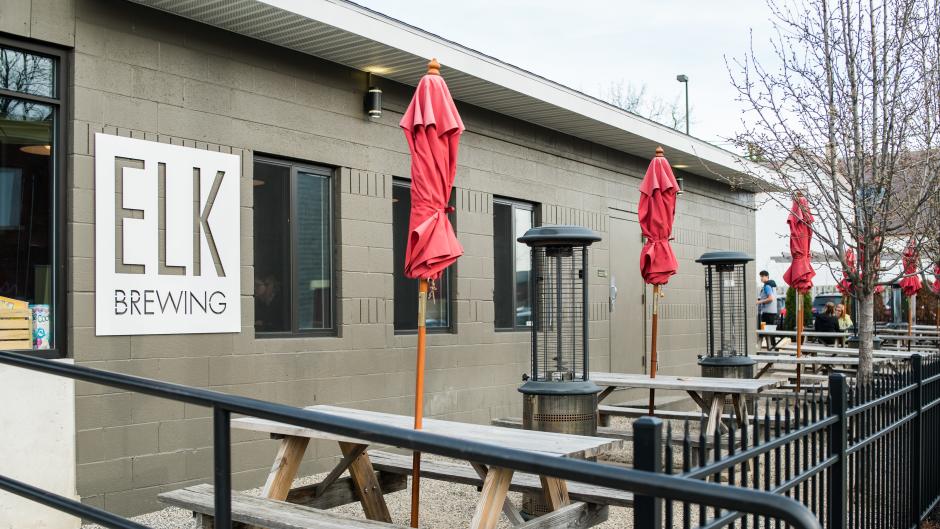 Elk Brewing's patio has heaters to keep guests warm during cool weather.
Photo Credit: Experience Grand Rapids
---
Elk Brewing
Elk Brewing has two locations, one in Comstock Park and the other in the Uptown neighborhood of Grand Rapids, both with great outdoor space. The Uptown location of Elk Brewing has an outdoor patio with great seating. Grab a picnic table near the outdoor fireplace to stay warm. Elk also has a large selection of board games to play. 
There's a small snack menu at the Uptown location, but you can also bring your own food; it's the perfect excuse to try out nearby restaurants. At the Comstock Park brewery, there's a large food menu with burgers, sandwiches, and salads.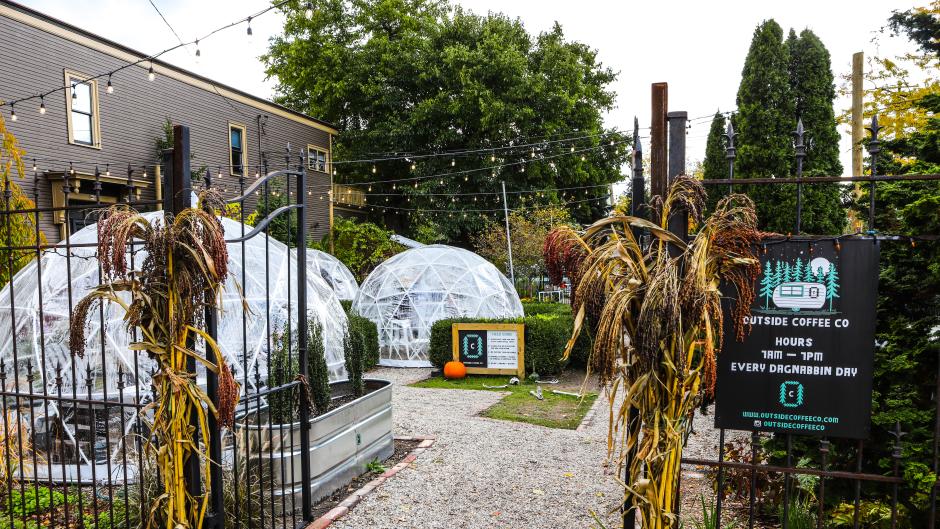 Outside Coffee Co. is a picturesque cold weather hangout with geo domes and heaters to keep you warm.
Photo Credit: Experience Grand Rapids
---
Outside Coffee Co 
Completely outdoors, in the garden next to Woosah Outfitters, sits Outside Coffee Co, a prime chilly weather hangout. Grab a cup of coffee or a snack from the camper, bring your dog, sit back, and enjoy. 
You can relax in style and warmth in the geo domes, which have chairs and heaters for the colder months.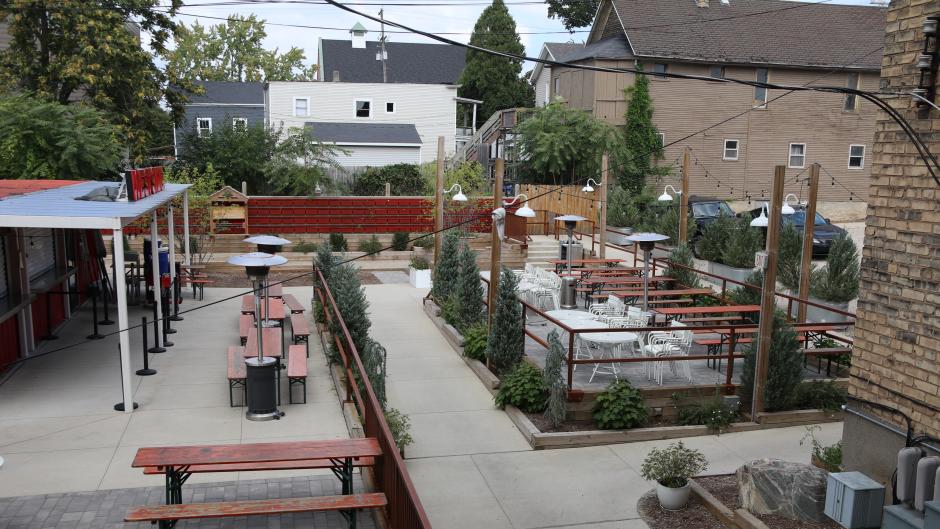 Besides heaters, The Sovengard's biergarten also has a fireplace to help you stay cozy.
Photo Credit: Experience Grand Rapids
---
The Sovengard 
The Sovengard's Biergarten is the perfect place to enjoy the fall weather. Complete with an outdoor bar, picnic tables to gather with friends, a bocci ball court, and a fire pit, there's no need to stay indoors. 
In addition to the great drinks, The Sovengard has a unique food menu focused on hyper-local ingredients and farm-to-table dishes to satisfy your appetite.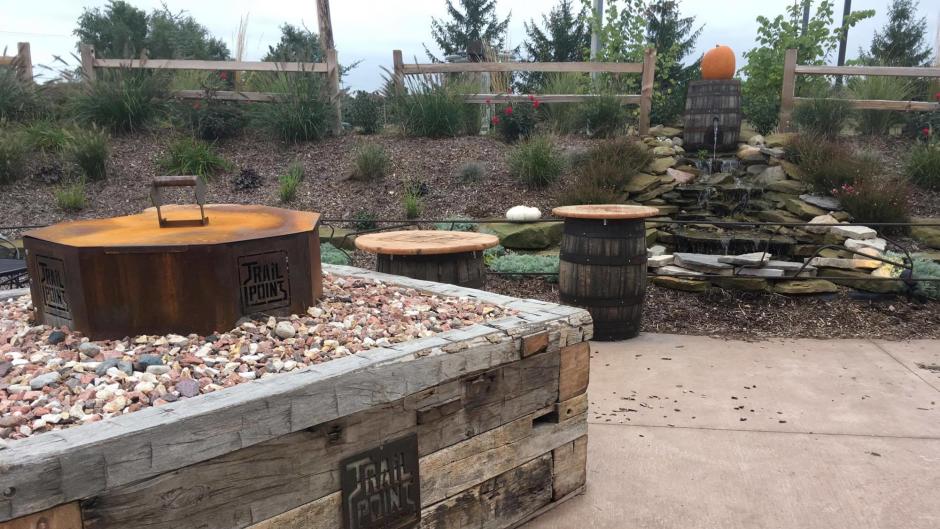 Trail Point Brewing Company has a dog-friendly patio with fireplaces and heaters. You can also bring your own food to enjoy with your beer.
Photo Credit: Lyndsay Daly
---
Trail Point Brewing Company 
Named after the trail marker trees that helped guide travelers, Trail Point Brewing Company was inspired by the woods and nature, as well as the community and craft beer.
In just about any weather, you can relax with a craft beer (and your dog) at Trail Point Brewing Company's patio, complete with a fire pit and outdoor heaters. The spacious patio at the Allendale brewery is a great spot to hang out and enjoy a Michigan fall. 
While Trail Point doesn't have a food menu, you can bring your own or visit one of the food trucks that frequent the brewery, which can be found on its calendar, along with regular events such as Trivia Tuesdays, Thirsty Thursday, and even the Trail Point Run Club. 
These patios are sure to get you outdoors and enjoy Michigan's cooler months. 
Looking for more cool-weather activities? Check out our list of craft beverage stops for fall or our favorite trails and hikes around Grand Rapids.
Never miss a post!
Subscribe to the Insider Experience blog.