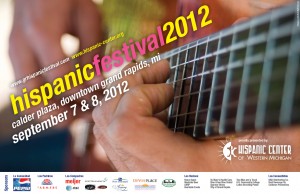 The 35th Annual Hispanic Festival takes place this weekend at Calder Plaza in Grand Rapids
Get your party hat on.Grand Rapids has a jam-packed weekend of activities in store! Earlier this week, we gave you details on Celebration on the Grand, which kicks off today with the Taste of Downtown (it starts at 11:00 a.m., near Rosa Parks Circle).
Add the activities of the 35th annual Hispanic Festival, which also begins today and takes place at Calder Plaza,and the 51st Annual Grand Valley Indian Lodge Traditional Pow Wow, which takes place Friday and Saturday at Riverside Park, and there are plenty of opportunities for food, music, and fun in Grand Rapids this weekend.
What can you expect at the Hispanic Festival? Delicious jarritos (my son's new beverage of choice, after being introduced to it by a teacher this summer), Mexican, Dominican, and Caribbean food, arts, crafts, shopping, and music that will make it hard for you to sit still.
Get a taste of thing to come by heading downtown for an authentic Latino lunch today (vendors open at 11:30 a.m.). A few Anglo-American favorites, like French fries and kettle corn, will also be available, but I can't imagine passing up the delicious and authentic Latino options! The afternoon air will be filled with music from a DJ and live entertainment begins at 7:00.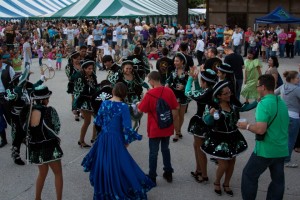 photo courtesy of Hispanic Festival 2012
Saturday, families can enjoy a performance by Grupo Sabrosisimo, a Grand Valley State University dance troupe, which opens the festivities at noon. There will be plenty of kid-focused fun, like inflatables and face painting, as well as entertainment, activities, and shopping for adults. It's an event designed for the whole family.
More family fun can be found up at beautiful Riverside Park, at the 51st Annual Grand Valley Indian Lodge Traditional Pow Wow. This traditional event features music, crafts, dancing and plenty of food for all. Activities begin at 10:00 tomorrow (Saturday) and continue until dark; Sunday the fun runs from 10:00 a.m - 4:00 p.m. Both parking and admission are free.
There's something for everyone in the GR area this weekend. It's a great time to take advantage of these fantastically diverse festivities and enjoy free-entry events with the whole family.