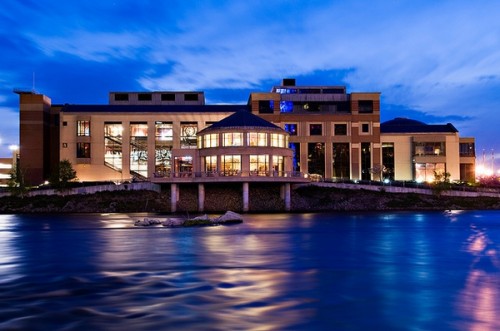 Grand Rapids Public Museum
As the weather heats up, so is the arts and culture scene in Grand Rapids. This spring the city is boasting several events you definitely won't want to miss!
For starters, mark your calendar for FREE admission to five Grand Rapids museums on Sunday, April 26.
Grand Rapids is lucky to have top-notch museums and even luckier that one day each year, Amway Corporation partners with these world-class institutions to offer free admission to all visitors. Kids and adults alike can marvel at each museums exhibits from 12 PM 5 PM on Sunday, April 26, 2015.
The museums will have family-friendly activities throughout the day and a free shuttle will run between all five museums. So bring the whole crew for an arts experience you wont forget!
Participating museums:
Date/Time: April 26, 12 PM 5PM More Info: Visit the Avenue for the Arts website, here.
For one night you can experience the work of hundreds of artists and musicians at creative venues throughout downtown Grand Rapids, including galleries, businesses, studio spaces, and U-Haul trailers.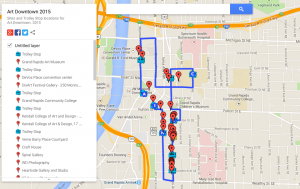 A few of the venues and artists you'll see at Art. Downtown:
Open Source Studio. Curator Liz Hertl will showcase the work of more than ten artists who specialize in fiber art, using weaving, crochet and embroidery as their medium.
Heartside Gallery and Studio. In this venue, Curator Sarah Scott will exhibit new works by over 40 artists. If you like interactive art, stop by and watch artists Magnus Anyanwu, who will be painting an indoor mural during Art. Downtown.
Smokin' J's. Curator Joe Parsaca showcases Workin On it, a regional exhibition featuring paintings, illustrations, prints and clothing from six Michigan artists. Smokin' Js will also feature a live art performance.
The Grand Rapids Trolley will provide free transportations between the major venues, rain or shine and volunteers will help direct you to venues, area restaurants, and nearby parking. Artists, curators and shop owners will be on hand to answer your questions.
Location: venues throughout downtown Grand Rapids Date/Time: April 10, 6 PM 11PM More Info: Visit the Avenue for the Arts website, here.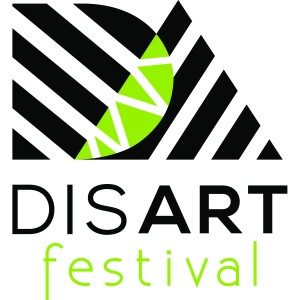 photo courtesy of DisArt 2015
April 10, 2015 also marks the opening night of the DisArts Festival, an international exhibition of artwork by artists with disabilities taking place throughout Grand Rapids. During the 2-week festival, which runs through April 25, you'll have the opportunity to view a film festival, a fashion show, several cultural education events, and dance performances as well as more traditional art exhibits. Check here for a complete list of DisArt Festival events.
If you'd like to hear the Curator Talk that kicks off DisArt Festival, head to the GRAMat 6PM on April 10th. Lots of other events are going on throughout the evening, some in conjunction with Art.Downtown.
The U.S. premiere of Art of the Lived Experiment will also take place at the DisArt Festival, and will be on display at three downtown locations: the Grand Rapids Art Museum (GRAM), Kendall College of Art and Design, and the Urban Institute for Contemporary Art (UICA). Art of the Lived Experiment was curated by artist Aaron Williamson for the U.Ks DaDaFest International 2014 and includes a range of artworks, from sculpture and painting to photography and ceramics, by artists from around the
Location: venues throughout downtown Grand Rapids Date/Time: April 10 April 25 More Info: Visit the DisArts Festival website.
No Outlet Improv Troupes Second Friday Summer Set
If you love to be entertained, check out No Outlet Improv Troupes (NOIT) monthly shows on the second Friday of each month from April - August. The 9-member improvisational acting troupe turns out all sorts of improv, from short- and long-form sketches, to creative twists and classic improv games. Every show will be uniquely themed to keep you coming back for more.
Shows take place in the beautiful new Ambrosia Theater, located on the second floor of the Blackport Building (corner of Lake and Diamond).
Location: Ambrosia Theater, 959 Lake Dr. SE. Blackport Building, 2nd FL, Grand Rapids, MI 49506 Date/Time: April 10, 2015 August 14, 2015 (second Friday of April, May, June, July & August), 8:00 PM Admission: $10 More Info: Visit the No Outlet Improv Troupes website, here.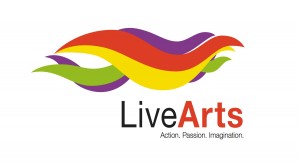 More than 1500 performers, including nearly 1000 area students, will take the stage for the upcoming multi-media sensation, LiveArts, a collaboration between the Grand Rapids Symphony, Symphony Chorus, Grand Rapids Symphony Youth Chorus, Grand Rapids Youth Symphony and Classical Orchestra, Grand Rapids Ballet, Opera Grand Rapids, and Broadway Grand Rapids. LiveArts tells the story of a young boy whose desire to master the cello is a metaphor for the role that the arts play in all of our lives.
If your'e imagining one very crowded stage, think again. For this performance, which takes place April 24 at 7 PM at Van Andel Arena, they've re-imagined the traditional stage and you can expect elevated platforms and performers mingling with the audience. In addition, the innovative use of technology will enhance the entire performance.
Our purpose in presenting LiveArts 2015 is to not only celebrate the accomplishments of the Grand Rapids Symphony, and all that the performing arts in Grand Rapids contribute to the vibrancy of our community, but to do this by celebrating the seed of creativity and need for self-expression that exists in all of us, says Claire Van Brandeghen, Director of Education, Grand Rapids Symphony. This is a must-see performance this spring!
Location: Van Andel Arena Date/Time: April 24, 7 PM More Info: Visit the LiveArts website.
Grand Rapids Public Museum: The Discovery of King Tut Exhibit
Can you imagine what it was like to be the explorer who uncovered King Tut's tomb? Now, you have a chance to find out what British archaeologist Howard Carter saw when discovered the tomb in 1922.
At the Grand Rapids Public Museums exhibit, The Discovery of King Tut, which opens May 16 and runs through January 2016, media will take you back in time to learn about the world that existed when King Tut ruled and find out how Carter made his remarkable discovery.
Then, in the second part of the exhibition, you'll walk through an incredibly accurate reproduction of the three burial chambers Carter discovered. The exhibit uses scientifically produced reconstructions of the chambers and their contents, so you'll essentially see what Howard Carter saw when he made the discovery.
No one knows how King Tut (short for Tutankhamen) died about 11 years after taking over the reigns as an 8-years old. Nor do we know why leaders who followed him erased his name from Egyptian monuments. But visitors to The Discovery of King Tut exhibit can dive into the past, revel in the replicates of the antiquities, and draw their own conclusions.
Location: Grand Rapids Public Museum Date/Time: May 16 January 2016 More Info: Visit the GRPM website.
For an extra special night out, celebrate the opening of The Discovery of King Tut exhibit at the Grand Rapids Public Museum's black-tie opening event, A Night on the Nile, on May 15 at 6 PM. You'll be among the first to experience The Discovery of King Tut exhibit paired with food, fun, and entertainment.
You'll also get to try the new brew Founders is premiering at the event, Untombed Ale, only available at this event and while supplies last.
Location: Grand Rapids Public Museum Date/Time: May 15, 6 PM 10 PM Admission: $75 per person or $1000.00 for a table of 10. More Info or Tickets: Visit the GRPM website.
The Grand Opening of The Richard and Helen DeVos Japanese Garden
The year-round beauty of Frederik Meijer Gardens calls not only to Michiganders, but people from around the world. That lure will deepen this spring with the addition of the 8-acre Richard and Helen DeVos Japanese Garden to the property.
The Richard and Helen DeVos Japanese Garden is filled with horticultural elements meant to inspire tranquility and simplicity, including authentic Japanese structures, scenic waterfalls, and a functioning teahouse.
The innovative garden will also include contemporary sculptures. While this is a departure from a traditional Japanese garden, the sculptures honor the essence of Japanese garden tradition and philosophy while upholding Meijer Gardens dual mission of horticulture and sculpture.
For more details on the grand opening of The Richard and Helen DeVos Japanese Garden, click here.
Location: Frederick Meijer Garden and Sculpture Park Date/Time:June 13, 9:00 AM More Info: Visit the Frederik Meijer Gardens website, here.