Earlier this month, Experience Grand Rapids announced the names of 5 artists whose works will be featured on billboards around the state this summer. A juried panel selected their artwork from over 25 submissions in response to a campaign to help inspire art enthusiasts to visit Grand Rapids by creating art for the their "Art Outdoor" project.
Over the next few weeks, we'll profile each of these artists so you can learn a little bit more about the artists behind the billboards. Meet our first artist:
Alex Gilford: "Modern Window Cleaners"
When Alex Gilford lived across the street from the Meijer Heart Center in downtown Grand Rapids, he could see the windows cleaners working, suspended down the side of the glass-covered building. He took a photo, then painted "Modern Window Cleaners," which he subsequently exhibited at Festival of the Arts and in the Holland Art Center. When he heard about Experience Grand Rapids' My Grand Rapids Art Outdoor project, he thought the painting would be a good fit and submitted it for consideration.
To get the image to fit the billboard specs, Gilford collaborated with graphic designer Jeremy Vandekerckhove, who helped crop it into the proper format. You'll see the results on the billboard along I-96 in Livingston County from June 29th – September.
The "Modern Window Cleaners" painting is part of a larger body of oil paintings that Gilford has been working on for a few years. The paintings focus on everyday people, everyday situations, and culture. "I'm more interested in relating to people that aren't immediately connected with the art world than impressing people that are already in it," he explains.
Gilford has always been drawn to the arts. During his high school years, he attended a technical school for graphic design for part of the day. He was introspective and his self-reflection inspired his visual artwork. "Now, I'm more inspired by the people, places, and situations around me," he says. Gilford also played in a band after hours during high school and, for a while, he even considered pursing music instead of painting, but painting won out in the end. "No matter what I've chased in life, my desire for aesthetics always seems to creep up and intertwine itself," he says.
Although he's put in time at non-art-related jobs, like working in an automotive factory, art has remained a constant. "Pursuing a particular pathway in life can just be in someone's blood," he says. "I think there comes a time for everyone where they have to decide what they're concentrating on pursuing in life and, for me, the arts are the only thing that have made sense."
Today, Gilford continues to sell his oil paintings and linoleum block prints while attending Eastern Michigan University to receive his Masters in Arts Administration. He anticipates enjoying a career where he's surrounded by art in addition to continuing to create artwork for his freelance practice.
You'll be able to see Gilford's artwork on a billboard along I-96 in Livingston county. Here's a map of where you'll find all 5 selected pieces displayed on billboards from June 29th through September: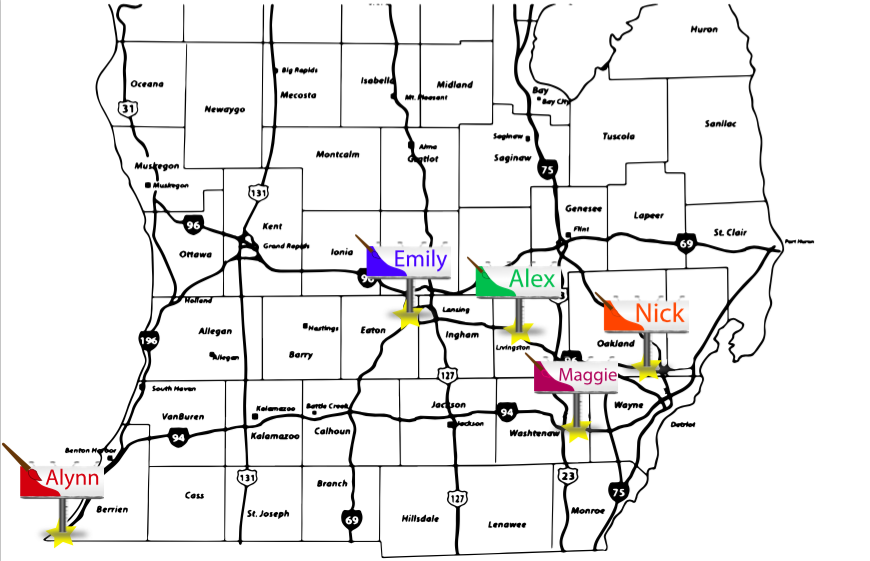 You can also see the selected pieces, and meet the artists, at the artists' reception at the Richard App Gallery on July 23, from 6PM – 8PM.