The five pieces of art selected by a juried committee for the Grand Rapids "Art Outdoor" Campaign are now on billboards throughout the state. You can see art along several highways through September, and you can also see it in person at the Richard App Gallery. On July 23 from 6PM- 8PM, the gallery is having a reception for the public, where you can meet the artists as well as see the original artwork.
To give you a peek at the people behind the art, we're profiling each of the artists whose work was selected. We've introduced you to Alex Gilford and Maggie Bandstra. This week, meet Alynn Guerra, whose piece you can see on I-96, near the lakeshore.

Alynn Guerra
Becoming a parent has helped artist Alynn Guerra treasure efficiency. "I have just a few moments now where I have to do as much as I can. Before, I could take forever. Now, there are no breaks, no coffee, no looking around. It's constant work; I'm very focused on what I'm doing," says Guerra.
Guerra shares her passion for art with her one-year old daughter. "We make things together and she draws with me. That's the best part of my experience being an artist," she says.
When Guerra was young, she thought she'd be anything but an artist. "The first thing I ever wanted to be was a doctor," she says. She liked the idea of being a chemist or a biologist and living in a remote town in the mountains. "I was debating whether I was going to do that when I had to take an art class in high school. That changed everything," says Guerra.
She initially studied graphic design after high school, then tried other mediums, and finally discovered printmaking. "I liked it," she says, "but was frustrated with what I was creating." She explains that it takes a while to develop technique, but that even if your technique is great, artists must still have something to say. "When I got involved with environmental issues, I finally had something that I was inspired by and passionate about," she says. Printmaking became the medium she used to express her frustrations and opinions regarding these issues.
Guerra's images often depict issues she's concerned about or have to do with a specific place. For her submission to Grand Rapids Art Outdoor, she chose a print that included an image of the river, which she feels is an important part of Grand Rapids. You can see her print on a billboard along the lakeshore. Here's a map that shows where you can find all 5 of the billboards featuring selected artwork: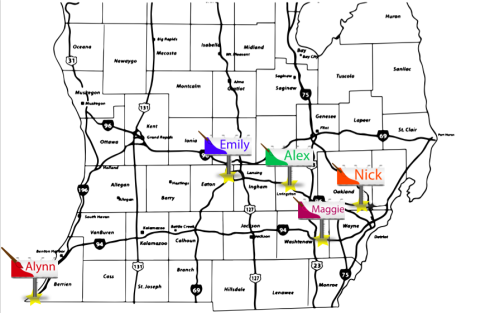 You can also find Guerra's work on her etsy site, or at art fairs several times a year. For the remainder of 2015, she'll be participating in:
Although Guerra is focused on her work, she thinks taking a break from the studio is important for artists. "I think that to be a good artist you have to do it every day, open your mind, and also leave. You can't be an artist if you're in your studio all the time, you have to go out there and get inspired," she says.
Read profiles of the other artists in this series: