This summer, you'll see billboards throughout Michigan featuring the artwork of five artists whose work was selected by a juried committee as part of Experience Grand Rapids' "Art Outdoor" campaign. We're profiling each of the five artists, so you can learn a little more about the people behind the creative works of art you see along the highway this summer.
This week, meet artist Emily Chilvers.
You can see artist Emily Chilvers' beautiful work on a billboard near Lansing from now through September. The picturesque original was created with watercolor and marker and it highlights a few of the things people love about Grand Rapids: the Grand River, craft beer, and music.

Artwork by Emily Chilvers.
As a child, Chilvers spent summers with her grandparents on their houseboat in Florida. "I was really close to my grandparents. They were like my second set of parents," she says. It was her grandfather who nurtured her interest in art and encouraged her. "He was a very talented woodcarver. He carved magnificent stuff for commissions," she says. "He's the one who taught me to be who I am, to be myself." Although her grandfather fostered her creativity, until the eighth grade Chilvers' primary focus was competitive swimming.
But when a broken leg sidelined her, she turned to art. "I'd always drawn," she explains. "But I didn't start focusing on it until then." Throughout high school, Chilvers developed her artistic skills and eventually earned a scholarship to Kendall college. She hoped to become a skateboard designer, illustrating images for skate decks and t-shirts. But two weeks before she was scheduled to enroll, her beloved grandfather died. She declined the scholarship, didn't enroll, and floundered for a while. "When I lost him, I lost the drive to do anything," she says.
With time, she began to heal and accepted an apprenticeship at a tattoo shop. Now, in addition to drawing with watercolor and marker, Chilvers is a professional tattoo artist. "I don't really differentiate it as two different things," she says. She explains that sometimes people will see her artwork and choose it for their tattoo, but other times she designs something specifically for them, especially if they want to depict a particular message. Whether she's designing a tattoo, a t-shirt, or a billboard, Chilvers always considers her audience. "What I design depends on who's viewing it," she explains. "I think about who will look at it and appreciate it."
Here's a map that shows where you can see each of the selected artists work on billboards, including Chilvers: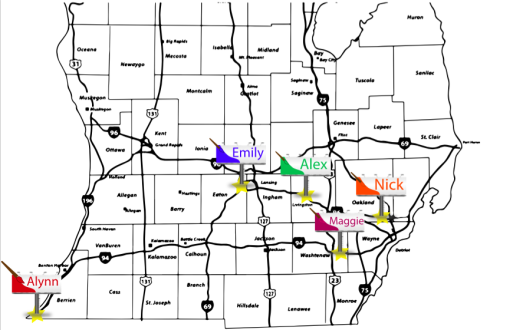 You an also see Chilvers' artwork and tattoo designs on her website.
If you'd like to meet her and the other selected artists, the Richard App Gallery is holding a reception on Thursday, July 23, from 6PM- 8PM, where you can both meet the artists and see the original pieces of work that were selected for the Art Outdoor campaign. If you're a fan of the music scene in Grand Rapids, you might also see Chilvers' work on t-shirts and promotional materials for several bands in Grand Rapids, including boyfriend's band, Michigamaa.
You can read about the other artists whose artwork was selected for billboards, here:
If you love them as much as we do, you can find posters and t-shirts with the billboard designs online at the Grand Rapids Store.