Maggie Bandstra is one of five artists whose work was recently selected by a juried panel to be featured on a Michigan billboard this summer. Twenty-seven artists submitted work in response to Experience Grand Rapids' request for artwork that promotes Grand Rapids as a travel destination.
You can see each of the 5 selected pieces of art on billboards throughout the state from now through September. Last week, we profiled Alex Gilford, whose artwork is on a billboard along I-96 in Livingston County. This week, meet Maggie Bandstra.
Maggie Bandstra: Rosa's Park
"I've always been really attracted to color and shapes, even when I was little," says Bandstra. "My mom has a picture of me when I was probably 2 or 3 standing in a diaper at an easel with the brush. I've always liked to push the paint around, play with it, and see what will happen. That's still my favorite part: playing with the paint and seeing what shapes and colors will do when you put them next to each other."
When Bandstra heard about Experience Grand Rapids' campaign, she decided to submit a sketch of a photograph she'd taken of some friends walking up Monroe Avenue on their way to a fundraising event.
On Monroe by Maggie Bandstra
After she submitted the sketch, she had to make the painting in slightly different dimensions, so she went back downtown and took more photographs of the Monroe area to the get panoramic perspective. When she finished taking photos of Monroe, she turned around and noticed all the ovals and shapes in Rosa Park's Circle. "I thought, maybe I'll go down that way and see if I can get a good picture of that," she says.
Bandstra attended Catholic Central High School and, although Rosa Park's Circle wasn't there at that time, she and her friends used to hang out in that area—there was an amphitheater there then. "There are really good memories around that space for me," she says. She took the photos and ended up doing a painting of the area, which she also sent to Experience Grand Rapids. That's the one you'll see on a billboard this summer.
Art has always attracted Bandstra, although for a time she leaned towards fashion—even designing her own prom dresses in high school. In college, she decided to major in elementary education. While she was teaching in the Chicago area, she began taking pottery classes in the evenings. Eventually, she spent weekends at the pottery studio teaching art classes to kids.
One turn led to another and, a few years later, Bandstra accepted a position to teach art and help start the elementary art program in Hudsonville.
In addition to painting, Bandstra also throws pottery in a studio at her home in Grand Haven. "I like to teach art but also feel like it's important for me to continue my practice," she explains. "The more I practice my own work, the more I can bring to the lessons that I'm creating for the kids."
You can see more of her paintings and pottery designs on Bandstra's website. She expects to be creating art for years to come. "At first, being an artist was just kind of a hobby but it doesn't feel like a choice anymore," Bandstra says. "There's always another painting waiting in my head!"
Bandstra's painting, Rosa's Park, is displayed on a billboard along I-94 in Washtenaw County. Check out this map to see where you'll find all 5 billboards featuring these artists' work: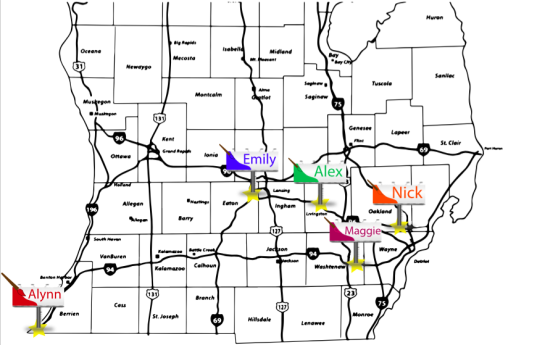 You can also meet the artists and see their work in person at a reception at the Richard App Gallery on July 23, from 6PM- 8PM.