A couple of years ago, artist Nick Nortier was living in a house and he began to think that the edifice looked like a face. "I like to personify things," he says. "There were a couple of windows upstairs for eyes and I thought the porch could be a giant mouth." To turn his idea into a reality, Nortier sketched ideas, then drew a mustache on corrugated plastic, painted it using house paint and spray paint, and, finally, using roofing nails, attached it to the roof of the house. He created several and photographed several other creations, that he calls "House Faces" or "House Monsters."
This spring, Nortier put three of those photos side-by-side to enter Experience Grand Rapids "Art Outdoor" campaign. A juried committee selected 5 works of art, from over 25 submitted, to appear on billboards throughout the state this summer.

Nick Nortier's winning billboard artwork.
These three houses are no longer sporting their faces, but you can still see one of Nortier's other creations in Grand Rapids near the intersection of Kalamazoo and Hall Streets. You can find the billboard with Nortier's work on the east side of the state, near Detroit. This map shows where you can see the billboards featuring all 5 of the selected pieces of artwork.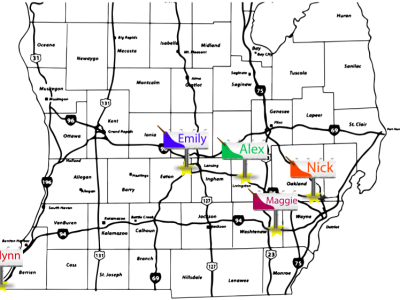 Although the "House Monsters" are fun, Nortier specializes in mural paintings and illustrations. He recently completed a Pabst Blue Ribbon mural for Mulligan's pub and currently has a mural installed at the UICA as part of their Exit Space Project. The mural has a fall-theme, with lots of falling leaves and fall colors. It's hanging inside the UICA but faces Fulton Street, so you can also see it from outside. Be sure to check it out if you're walking by!

Artist, Nick Nortier, on the far left. Photo credit: Stephani Fulks.
Ah-Nab-Awen Park in downtown Grand Rapids will soon be home to another of his murals. He's collaborating with artist Joe Parsaca on a piece that you'll see in the tunnel underneath Gillette Bridge. He also collaborated with Parsaca on the Pabst Blue Ribbon mural for Mulligan's. Nortier says they generate ideas together, then work on their own respective drawings before creating the final piece. "We encourage each other, criticize each other, and encourage one another to do our best," he says. "For the upcoming mural, we'll be working side by side and our drawings will be intertwined. Our styles blend well together."
As a kid, Nortier thought he might be a professional basketball player roller blader, or skateboarder. "None of those panned out," he laughs. "I took some art classes in college and that's when it hit me that I wanted to pursue art and make this happen."
"I draw a lot of inspiration from nature," he says, explaining that in his studio now, he has leaves hanging up and 3 or 4 drawings, all nature based, on the walls. But it's not just nature that piques his interest. "Art imitates life and life in general inspires me," he says, "whether it's a funny situation, a friend of mine I want to draw, or a series of houses."
You can see some of those houses on the billboard or stop by the Richard App Gallery to see the original piece he submitted to Art Outdoors. You can also see his work on his website or find him on Instagram: @Norteaa.
To read about the other 4 artists in the series, see these posts:
If you love their work, you can also find posters and t-shirts with the billboard designs online at the Grand Rapids Store.