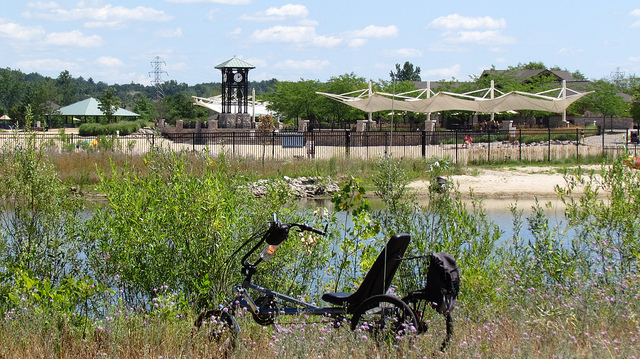 photo by John Eisenschenk (JohnE777) via flickr
Though Grand Rapids' downtown is often bustling, nature is never far away: green havens can be found throughout the city and all along the Grand River corridor. More than two dozen natural environs can be found within 10-minutes of Rosa Parks Circle in downtown Grand Rapids. Several are within easy walking distance, and the rest are close enough to visit on your lunch break or during a lull in your conference schedule or trip itinerary!
Heres a look at some of Grand Rapids best natural settings, all just a short trip from the city center:
Immediately downtown, amid the bustle, consider the Grand River Edges Trail, a pleasant walk along the Grand River. A popular stroll is from Fulton St. north to the Sixth St. Bridge, then cross the river and return along the west bank. Bring binoculars: spring is a great time to see birds in Kent County.
The route passes by Sixth Street Bridge Park and Canal Park - both small, but peaceful riverside areas where nature-lovers can enjoy a view of the Grand River. Fish Ladder Park, across the river and one block south, is a popular destination for watching spring steelhead and fall salmon runs. Ten or so minutes further downstream is the tranquil, grassy knoll overlooking the river at Ah-Nab-Awen Park, a fine place to enjoy a snack.
Anglers and visitors regularly stop by Fish Ladder park to see what is running, in this case spring steelhead. photo by Howard Meyerson
Upriver about a mile is the 2.5-mile paved trail through the trees along the Grand at Riverside Park. With its fishing lagoons, picnic tables, and ducks and geese, the 180-acre park offers a lot of space to commune with nature.
South of downtown is Kent County's Millennium Park, still a work-in-progress. The 1,500 acre expanse has 20 miles of trail, a six-acre beach, and an abundance of wildlife. Anglers catch panfish, bass and even northern pike in its lakes. Johnson Park, another county Kent County park further along the Grand River, is a Riverside Natural Area, a great place to walk, picnic or simply relax.
One of the best-bird watching areas is Hodenpyl Woods on the north side of Reeds Lake, in East Grand Rapids. The 43.9-acre nature preserve has a .9-mile loop trail that meanders through woods and wetlands. White-tail deer and Great Horned Owls are known to live there. Reeds Lake's northwest shoreline also is good for birds. More than 190 species have been identified there by the Grand Rapids Audubon Club. The accessible floating boardwalks at Waterfront Park go out through the marsh and offer a great platform for spotting birds, or for fishing. Pick up a Common Birds Found at Reeds Lake checklist brochure at the kiosk there.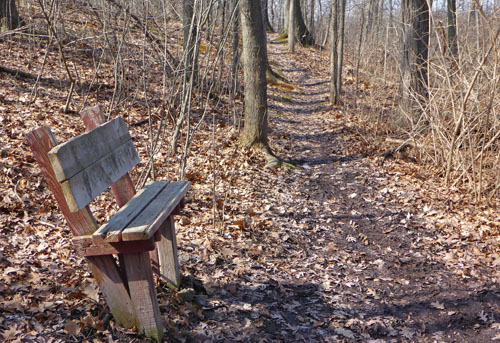 Stop and have a snack, or listen to the birds, along the Hodenpyl Woods trail. Photo by Howard Meyerson
Grand Rapids has 74 City Park and public spaces, but eight of them have designated Natural Areas, undeveloped places left to nature for people to enjoy. Six of those are within 10 minutes of the Amway Plaza Grand Hotel. They include Huff, Fourth St. Woods, Burton Woods, Richmond Hills, and Ball Perkins parks. More details on each can be found on the Friends of Grand Rapids Parks website.
Knapp Valley Forest Park, a yet undeveloped 104-acre Kent County park, offers scenic, wooded hiking trails. Linus Palmer Park is another with forested trails and streams. Both offer peaceful green spaces in spring.
Blandford Nature Center, one of Grand Rapids' best spots to experience and/or learn about nature, has 4 miles of walking trail on its rolling and wooded 104-acre landscape. All are open to the public. Dogs are allowed on all but the Wildlife Trail where several live animals can be seen including an Osprey and bobcat.
Wild animals and the eco-regions where they live are also the heart of Grand Rapids' John Ball Zoo. It can be crowded on weekends, and it is more developed, but its dynamic and informative displays provide a taste of what nature looks like in other parts of the world. The zoo is at John Ball Park, itself a nice place to watch ducks and geese.