If downtown is the heart of the city; neighborhoods are the soul. Grand Rapids' Uptown neighborhood features community-centric restaurants with a flair for innovative cuisine and cultural fusion. The restaurateurs to Uptown are passionate about reflecting their personal lived experiences and cultures in the soul of their cuisine.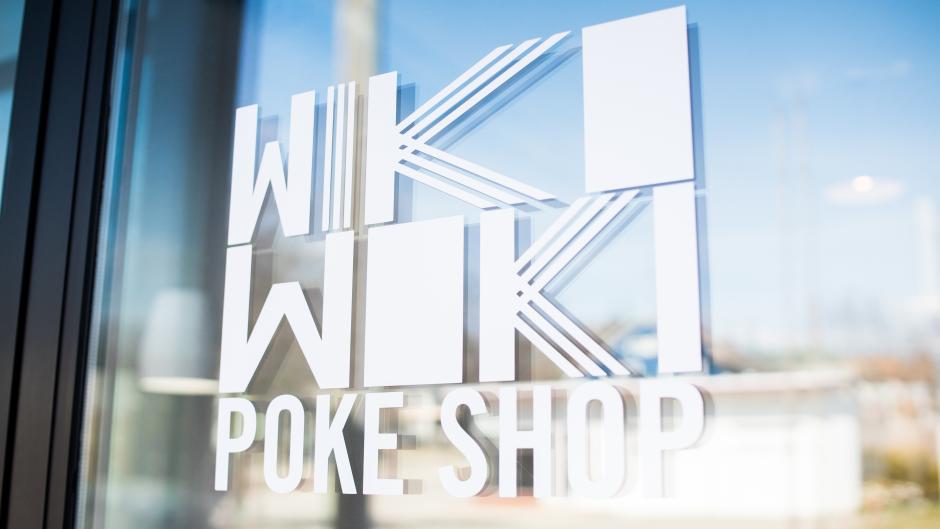 Keep in mind, Wikiwiki Poke's menu changes frequently and features daily specials that are not listed on the website.
Photo Credit: Experience Grand Rapids
---
Wikiwiki Poke
1146 Wealthy St. SE, Grand Rapids, MI 49506
Hours: Monday to Saturday: 11 AM - 8 PM, Sunday: Closed
How does a former politician turn restaurateur? Mix in a love for hip-hop culture, being rooted in community, and the growing trend of poke, and you'll understand a bit of the magic that is Wikiwiki Poke.
Simply described as "sushi in a bowl," poke is a culinary trend sweeping the nation. Seeing a void in the presence of poke in his hometown, owner Keith Allard decided to trade a life in state government for a chance to live his true dream.
New to poke? No worries, you're just the type of customer Wikiwiki Poke loves to serve! While Wikiwiki Poke merges quick food with curated service, if in doubt, try the favorited Gucci Sushi bowl. The Gucci Sushi bowl features: tuna, salmon, shrimp, crab salad, miso ranch, sriracha, edamame, mango, avocado, cucumber, wakame, and Fetty Wap rap snacks.
Never had a Fetty Wap rap snack? You will at Wikiwiki Poke.
Owner Allard has merged his passion for Asian cuisine with his love of hip-hop. "Rap music was my thing growing up. I like owning a restaurant and hearing music that I love and has impacted my generation. I was born and raised in the Boston Square neighborhood and now live in Uptown. I want everything about Wikiwiki Poke to reflect the community I live in and serve," said Allard.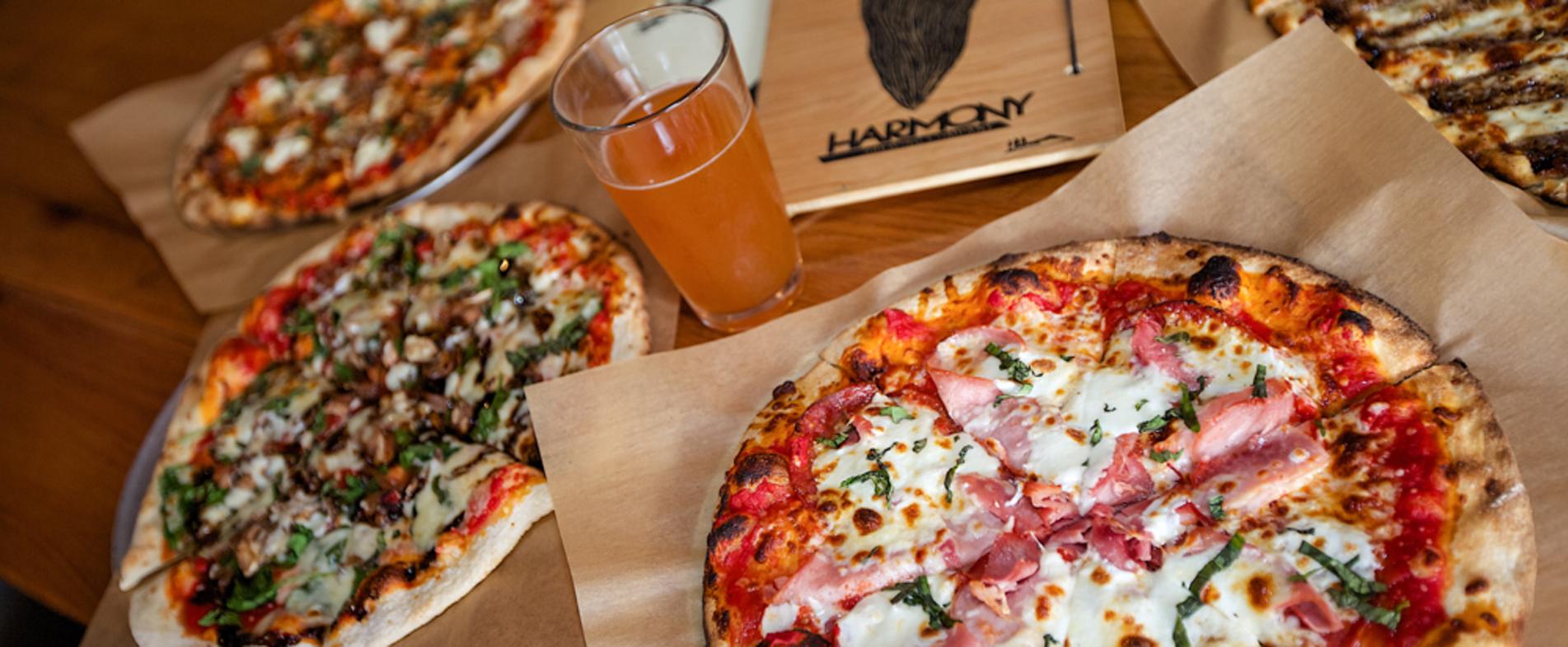 Harmony Brewing now offers delivery.
Photo Credit: Experience Grand Rapids
Harmony Brewing
Address: 1551 Lake Dr. SE, Grand Rapids, MI 49506
Hours: Sunday: Noon to 10 PM, Monday: 11 AM to 10 PM, Tuesday to Saturday: 11 AM to Midnight
Located at the historic intersection of Lake Drive and Wealthy Street, Harmony Brewing has tripled its seating capacity thanks to its outdoor patio and beer garden expansion.
This isn't the location's first remodel. Harmony Brewing's building was originally built in 1928 as a residential home and later transitioned to a post-prohibition liquor store. After years of abandonment, siblings Barry, Heather, and Jackson Van Dyke purchased the location and began offering unique craft beers and delicious wood-fired pizzas.
The expansion also includes the addition of a second kitchen to accommodate take-out and delivery options. 
Outside Coffee Company by Woosah
738 Wealthy St. SE, Grand Rapids, MI 49503
Hours: Sunday to Saturday: 7 AM - 7 PM
The Outside Coffee Company by Woosah is another new addition to the Uptown neighborhood. From the onset, Woosah owner Erica Lang knew she wanted to use the green garden space connected to the store's retail location to introduce a unique community gathering concept in the Uptown neighborhood. And thus, The Outside Coffee Co. by Woosah was born.
"This is our dream space. We were downtown for two years, and downtown has a corporate feel. Here, the green space connected to my store closes the gap between community, work, and home," said Lang.
In collaboration with Ferris Coffee & Nut, and Sommelier Kelly McPhee, the Outside Coffee Co. by Woosah is the first food truck to operate full-time on a commercial space.  
By design, Outside Coffee Co. is situated in a lush green space complete with hammocks, adirondack chairs, community work tables, and even a countertop bar at the food truck for get-to-know conversations with the barista. The space has free Wi-Fi and outlets placed throughout the garden to attract customers interested in working remotely.
Lang and her partners hope the space invites community members to embrace the moment and slow down. She believes that nothing says, "rest," like being in nature.
The menu features tea lattes, specialty coffee brews, kombucha, nitro coffee, and "fancy toast." Enjoy toast topped with your choice of salmon, avocado, goat cheese and jam or pastries from local partner, Rise Grand Rapids bakery.  
Follow Outside Coffee Co. on Instagram at @OutsideCoffeeCo for updates on the neighborhood's new hotspot.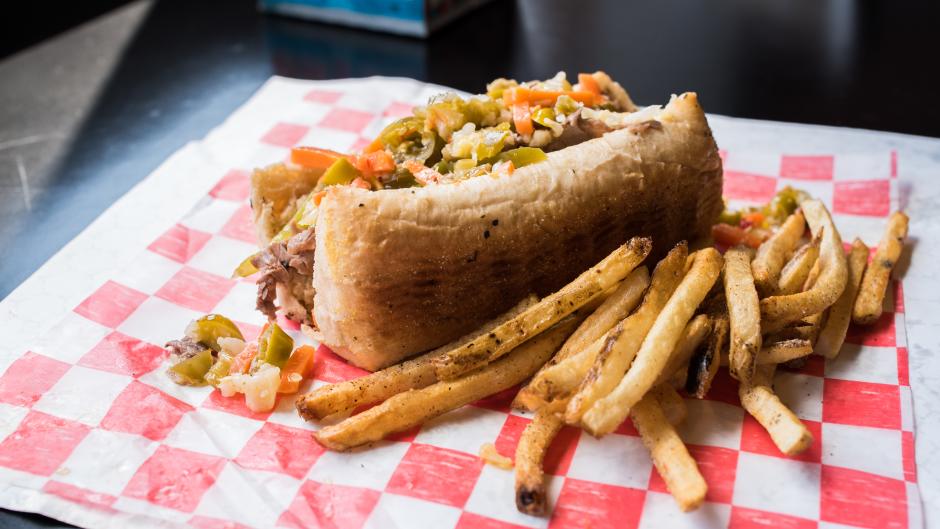 Everything at Big Willy's Italian Beef is fresh. The restaurant doesn't own a microwave or a freezer!
Photo Credit: Experience Grand Rapids
---
Big Willy's Italian Beef
1450 Wealthy St. SE, Grand Rapids, MI 49506
Hours: Monday to Tuesday: 11 AM - 8 PM, Wednesday: 11 AM - Midnight, Thursday to Saturday: 11 AM - 2:30 AM, Sunday: Noon - 8 PM
If you love a Chicago-style italian beef sandwich, you will love Big Willy's Italian Beef. Owned by Chicago transplant, Will Karadchy, wanted to create a culinary experience that allowed his 'Windy City' roots to merge with his now 'Beer City' home. With its signature hand cut fries and italian beef topped with mustard, onion, tomato, dill pickle, relish, sport peppers, and celery salt, Big Willy's is bringing Chicago-style street food to Grand Rapids' Uptown neighborhood.
The menu also features gluten-free and dairy-free Zeno's Italian Ice for dessert, in addition to select vegetarian and vegan offerings.
Out late? Big Willy's is open until 2:30 AM Thursday to Saturday.
"[Every day] we meet so many fellow Chicago transplants that now live in Uptown. We specialize in honest-to-goodness American cuisine with affordable prices in a neighborhood atmosphere".   
Be sure to pick up some branded Big Willy's swag to commemorate the experience!
Georgina's
724 Wealthy St. SE, Grand Rapids, MI 49503
Hours: Monday to Thursday: 11 AM - 9 PM, Friday to Saturday: 11 AM - 10 PM, Sunday: 9 AM - 9 PM
This Georgina's location is the second for the Traverse City-based restaurant. From menu to aesthetic design, Georgina's is a mixture of the owner's Cuban, Chinese, and Nicaraguan heritage. With signature stir fry, taco, plantain, and yucca dishes, Georgina's Asian fusion cuisine is perfect for the foodie interested in amazing food prepared and served with a family-feel. Georgina's can cater to a wide range of food needs and dietary restrictions. The customizable menu can be made-to-order for even the most delicate palates and food allergies.
Looking for more Uptown Restaurant ideas? Check out the newly-opened Forty Acres Soul Kitchen.
What are your favorite places to visit in the Uptown neighborhood? Check out Experience Grand Rapids' Uptown neighborhood page to learn more about the bustling area.
Don't ever miss a post!
Sign-up for the Insider Experience Blog