If, like most people, you can't wait for the start of ArtPrize Eight, here's a treat: it's the newest ArtPrize addition and it's called ArtPrize Preview Week.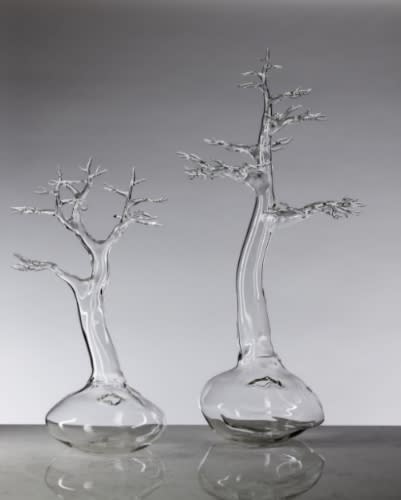 2013 ArtPrize Entry Simone Crestani (Molvena, Italy) – Bonsai Group, 2013. Borosilicate glass flameworked
If you're wondering what exactly ArtPrize Preview Week is, you're not alone! It's a brand-new feature this year, presented by Edward Jones, that allows you to take a sneak peak at installations in progress downtown from September 14 – September 21, the week before the radically open international art competition officially begins on September 21 (it runs through October 9).
If you live locally or are a visitor who's in town early, Preview Week is a chance to see what's coming as well as to support ArtPrize partners.
Preview Week Venues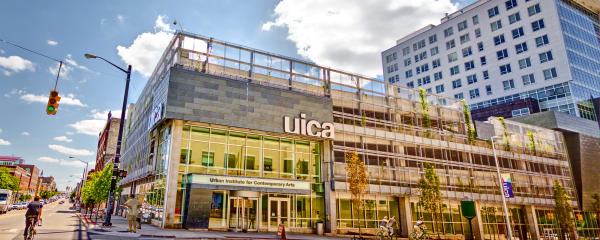 ArtPrize venue, UICA, a Preview Week
Select galleries, restaurants, cafes, and shops open their ArtPrize Eight exhibitions for Preview Week, including the Grand Rapids Art Museum, Urban Institute for Contemporary Arts, and Kendall College of Art and Design of Ferris State University. Although regular admissions fees are waived during ArtPrize, they may apply during Preview Week.
Click here for a complete list of the 30 ArtPrize Eight Preview Week venues.
ArtPrize Tonight: Events During ArtPrize Preview Week (and the rest of ArtPrize Eight)
Beginning Tuesday, September 13 and lasting through Sunday, October 9, ArtPrize Tonight presents ArtPrize-related events, receptions, exhibition openings, and more that you definitely won't want to miss. There are a wide-variety of events, which are free and open to the public.
On September 13, for example, Founders Brewing Co. will unveil the official ArtPrize Eight beer, which you can sample while ArtPrize staff gives tips for seeing the art and programming available throughout the art competition.
Critical Discourse
ArtPrize Tonight also includes the Critical Discourse series, a weeklong event that takes place nightly at the ArtPrize HUB/HQ theater from September 25 - October 4. Critical Discourse features different topics each night, where participants discuss different facets of ArtPrize and art generally, with topics that touch on the intersection of art, design, technology, urbanism, and identity. On September 29, for example, the ArtPrize Eight Grand Prize Jurors will discuss the current and future state of contemporary art exhibitions. Two fan favorites from prior years are also featured this year: the Jurors' Shortlist announcement (Sept. 6) and the two-part Why These Finalists? event (Oct 3 & 4).
Click here for the full schedule of Critical Discourse Events.
Some events, like the Founder's ArtPrize Eight beer unveiling, require an RSVP. Click here for a full calendar of ArtPrize events, including Preview Week events, as well as dates, times, and other event info.. You can also get all of the dates and event information on your mobile phone via the ArtPrize mobile app (for iOS or Android), which also makes voting during ArtPrize super easy.
ArtPrize Eight winners will be announced at the ArtPrize Awards, which takes place from 7:45 – 9PM on October 7. WOOD TV8 will live broadcast the awards and stream the event on the big screen for the Public Viewing Party at Rosa Parks Circle.