Summer in Grand Rapids is always a great time to enjoy new experiences. While this summer may look a little different than last, it can still be a great time with new businesses and opportunities throughout the city. So grab your summer checklist and let us help you plan some fun!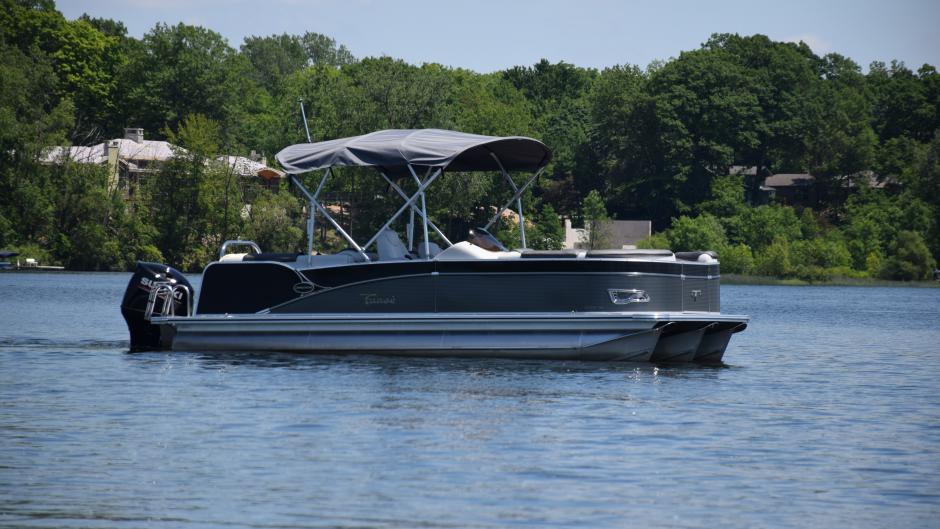 Plan to book your boat rental at Tommy's on Reeds Lake at least a week ahead of time.
Photo Credit: Tommy's Boat Rental
---
Tommy's Boat Rental
No boat? No problem! Renting a pontoon or a wake boat through Tommy's on Reed's Lake in East Grand Rapids is a great way to enjoy summer without the commitment of owning a boat. Tommy's books half days from 10 AM–2 PM or 2–6 PM or full days from 10 AM-6 PM, allowing you to choose how long you stay on the water. The occupancy limit for each boat varies, but most seat 10-14 comfortably. Tommy's follows a detailed cleaning procedure before and after every rental for the safety and health of their customers.
Your rental boat contains all necessary safety equipment including life jackets, a map of Reed's Lake, a Bluetooth connection, and USB ports to keep the music and Wi-Fi flowing. Pontoons also come with a picnic table for easy eating. Call to book at least a week in advance to secure your water time and enjoy all the boating lifestyle has to offer!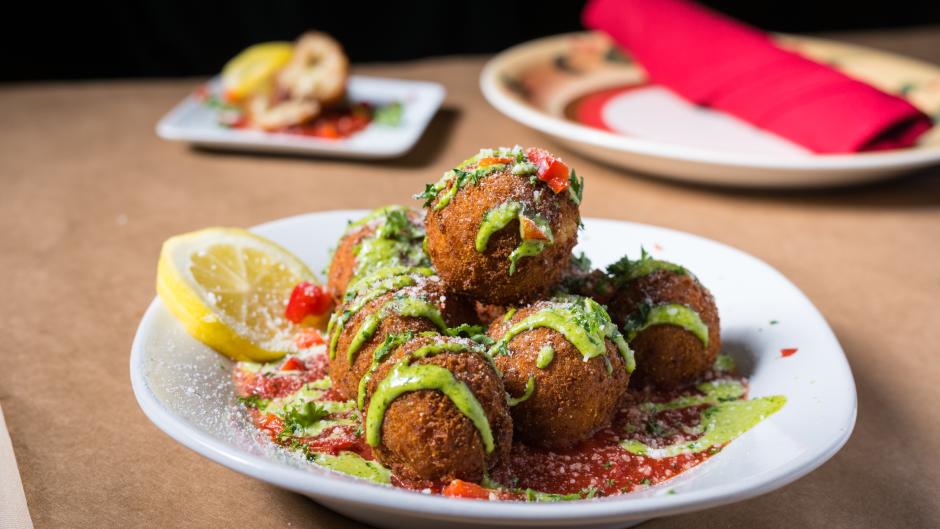 Restaurant Week is offering a digital pass and a chance to win a prize this year.
Photo Credit: Experience Grand Rapids
---
Restaurant Week GR
Support local restaurants and win a prize? Talk about a win/win! Simply check-in at four or more participating restaurants during Restaurant Week GR, August 5–16, through the Restaurant Week GR digital pass and win a foodie-themed prize. 
Checking in to restaurants will also earn you a coupon at each restaurant for your next visit. Return to your old favorites or try something new. Either way, you'll be supporting local business, enjoying a great meal, and winning a prize!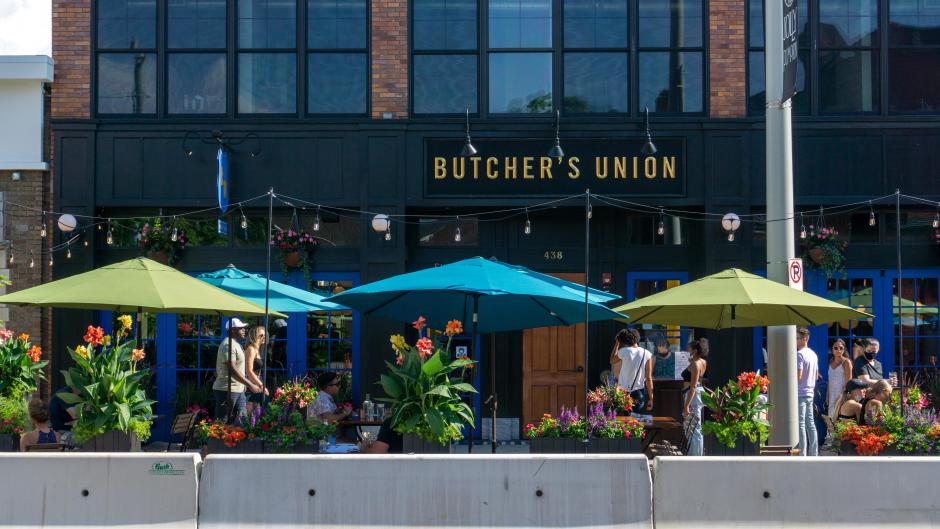 Downtown social zones provide extra outdoor space for restaurants to serve guests.
Photo Credit: Experience Grand Rapids
---
Social Zones
Grand Rapids businesses are opening their doors in more ways than one. Besides opening their doors to customers again, the city of Grand Rapids has created outdoor Social Zones allowing businesses to safely serve more customers. 
The four downtown social zones on Monroe North, Bridge Street, Center City, and Heartside may look slightly different, yet they all have the same goal - to help businesses open safely in downtown Grand Rapids. The Social Zones are set up on public property, including streets, sidewalks, and parks, and feature outdoor chairs and tables, placed six feet apart, where people can bring their food and beverages from nearby restaurants to enjoy. The zones also include outdoor space for retailers to sell their goods and open space for fitness classes and other events. Leashed furry friends are also welcome at many non-dining locations.
All locations are served by the Downtown Area Shuttle (DASH) making it even easier for you to come on down. Just don't forget to wear a mask, which is now required on all DASH buses.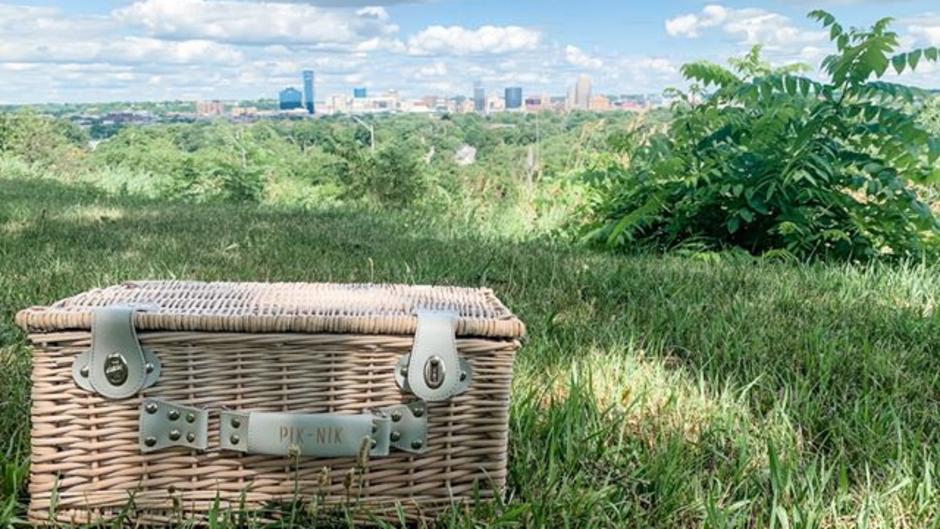 For only $30 per day, you can pack your premium wicker basket with goodies for two to enjoy time outside.
Photo Credit: Pik Nik GR
---
Pik Nik GR
What is more quintessential summer than enjoying a meal al fresco from a classic picnic basket? Locally owned and women-led Pik Nik GR is here to help you bring that perfect summer scene from idea to reality. Pik Nik GR offers dual-chamber baskets with a built-in cooler that comes equipped with compostable cups, cutlery, plates, and "Pik-Nik Ponders" conversation starter cards. For only $30/day, you can pack your premium wicker basket with goodies for two to enjoy time outside. Add a blanket in the a la carte option at checkout if you don't want to deal with the hassle yourself!  
Pik-Nik owner Jamie Bryan says her favorite place to spread a blanket out is along the riverbank. "Ah-nab-Awen and 6th St. Bridge are some of my favorites," she says. Keep an eye out for coupons as well as "We Pik" baskets stocked with fresh, delicious, and local food ready for you to enjoy in the near future. Order your basket online then pick up and return your basket at Bridge Street Market.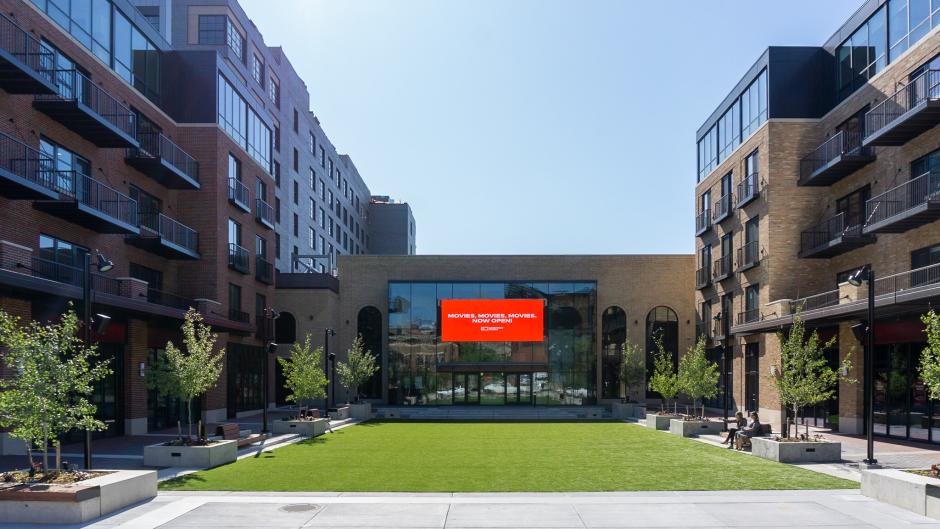 Enjoy socially distanced movies and concerts at Studio Park's outdoor piazza.
Photo Credit: Brian Craig for Experience Grand Rapids
---
Movies and Concerts at Studio Park 
Studio Park is taking the fun outdoors this summer with two weekly events featuring live music and movies. With social distancing and safety top of mind, groups are required to pre-purchase a minimum of four tickets online to reserve their section of the lawn and wear masks while outside of their reserved space for both movies and concerts. Guests are also asked to space out 6 ft from others.
Sunset Cinemas will occur every Wednesday starting July 15 and the Listening Lawn concerts will be on Thursdays starting July 23. Movie tickets are $5 each while concert tickets will vary based upon the musician.
Enjoy drinks from an outdoor cash bar as well as food available for purchase at One Twenty Three Tavern and other onsite restaurants including Leo's Coney Island, Malamiah Juice Bar & Eatery, and soon-to-open Pumphouse Frozen Yogurt. 
Lawn chairs are encouraged while blankets are not. Find more details including movies and musicians on Studio Park's website.
Check out their schedule and pick a date for a fun, socially distanced night outside! 
Grand Rapids Small Business Crawl
Save money, win prizes, and support local businesses when you purchase a $10 Grand Rapids Small Business Crawl passport. Collect 10 stamps from participating businesses and win a limited edition T-shirt designed by local artists. After 15 or more stamps you will be entered to win prizes. Collect 20 stamps for an entry to win the grand prize, an overnight stay at the Downtown Embassy Suites Hotel, dinner at Big E's Sports Grill, and a private distillery tour. Purchase your passports and start collecting! 
Put a new spin on summer this year and try something different. It's hard to go wrong when you're enjoying the great outdoor spaces, restaurants, and local businesses in Grand Rapids.
Please check our travel updates for visitor tips and safety guidelines. Together, we can ensure that you can travel confidently.
Never miss a post!
Subscribe to the Insider Experience blog.