It may be cold outside, but that doesn't mean you need to stay cooped up! Here are a few local favorite things to do in the winter with kids.
1. Go Sledding. Many Grand Rapids parks offer great sledding hills. A few local favorites are hills at Manhattan Park in East Grand Rapids (3180 Cascade Road) and Belknap Park, which is located near Division and Coldbrook.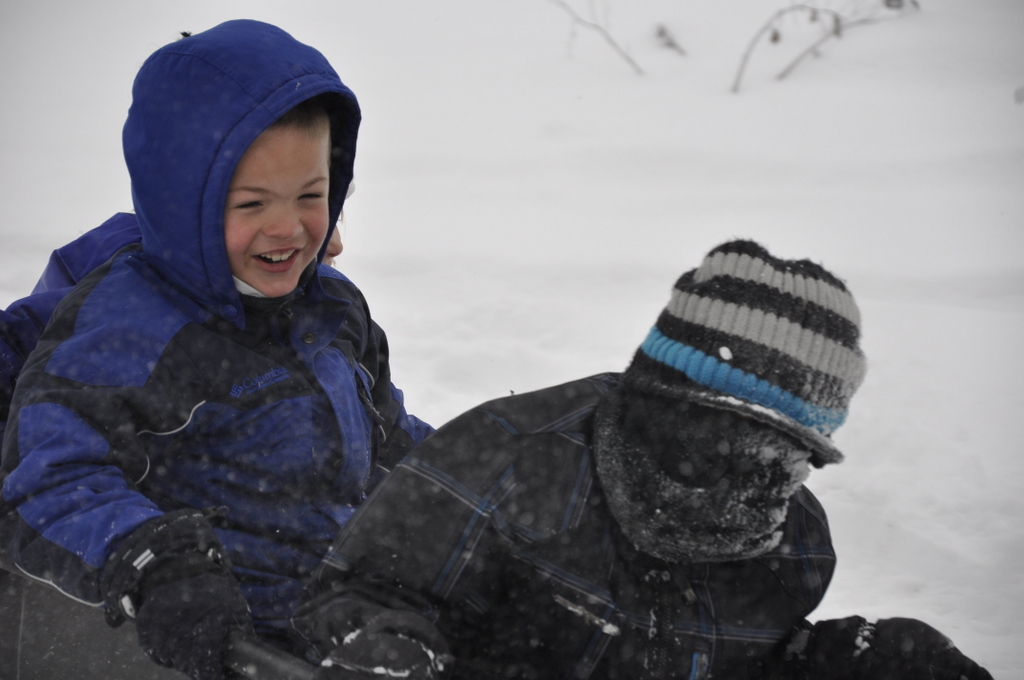 2. Ice Skate at Rosa Parks Circle. Experience pure magic when you skate under the stars at the Rosa Parks Circle downtown ice rink. It's open December 6, 2013 through March 9, 2014, weather permitting and is only $2 to skate skate rental is free with an ID.) Open skating is daily from noon-10pm. Closed Christmas Eve, Christmas Day, and New Years Day. 135 Monroe Center St SW, Grand Rapids MI 49503. Rink Closure Information: Call 616-456-3699
3. Go Tubing! Not only does Pando Winter Sports Park offer downhill skiing, cross-country skiing and snowboarding, but they also have an excellent setup for tubing. They are open Monday-Friday from 1-10pm, Saturdays from 10am-10pm, and Sundays from 10am-8pm. Tubing rates range from $11-$20 for three hours of tubing and vary by day of the week and age. More info and rates here. 8076 Belding Rd NE, Rockford, MI 49341. (616) 874-8343.
4.Explore Blandford Nature Center. This local nature center is home to several heritage buildings. There's a one-room school house, a log cabin, a homestead barn, blacksmith shop, carriage barn and more (buildings are open during select events.) Hiking trails are open every day from dawn to dusk. Admission is $3 and includes use of the interpretive center, which is open from Monday-Friday from 9am-5pm and Saturday from noon-5pm. 1715 Hillburn Ave. NW Grand Rapids, MI 49504. (616) 735-6240
5. Indoor Scavenger Hunt at Cabela's. Located in Grandville, MI, Cabelas offers visitors a free scavenger hunt. Just visit the customer service desk during store hours and you'll be given a free scavenger hunt that will take you past live fish and the many mounts throughout the store. 3000 44th St SW, Grandville, MI 49418. (616) 682-6700.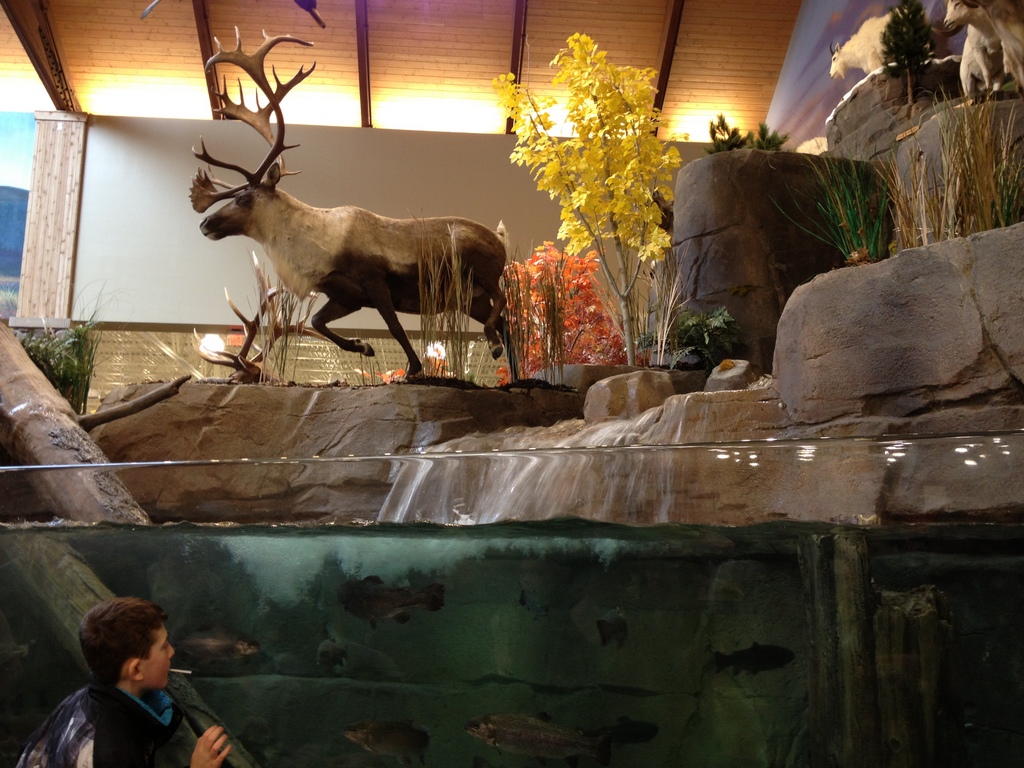 6. Go Retro and Roller Skate! There are a few roller rinks around Grand Rapids. Tarry Hall Roller Rink is a local favorite going back for years. Parents can push kids in strollers while they skate. It's good family fun for all! Open hours and rates vary by event and theme, but you can count on the rink being open on weekend days and evenings. Rollerskate or rollberblade rentals available. 3330 Fairlanes Ave, Grandville MI 49418. (616) 534-8285.
7. Cross Country Ski, Snowshoe or Sled at Pigeon Creek Park. This Ottawa County Park is a hidden gem. Offering cross-country ski and snow shoe rentals, visitors can enjoy the outdoors on lighted trails for just a few dollars if you need to rent skis. There are no entry or trail fees. Ski rental is $8 for adults for two hours ($5 for youth). Skis and snowshoes may be rented whenever snow conditions are satisfactory and the lodge is open. Call (616) 738-9531 for updates. Typical open hours are weekday evenings from 4-8pm, Fridays from 1-10pm, Saturdays from 9am-10pm, and Sundays from 9am-8pm. Check their website for holiday hours. 12524 Stanton Street, West Olive MI 49460.
8. Play the Day Away at the GR Children's Museum. This place is serious fun for kids - and adults - of all ages. Newer exhibits include a Kidstruction Zone and Imagination Playground. And don't forget the classics that entertain for hours, like the Bubbles, Giant Lite Brite, Spin Table, and Puppet Stage. The museum is open every day from 9:30am-5:00pm except for Mondays. The museum stays open late on Thursdays for Family night, when admission is just $1.50 from 5-8pm. Regular admission is $8 per person for ages 1-65. Kids 12 months and under are free. Those over 65 years old are $7 each. 11 Sheldon Ave NW, Grand Rapids MI 49503. (616) 235-4726.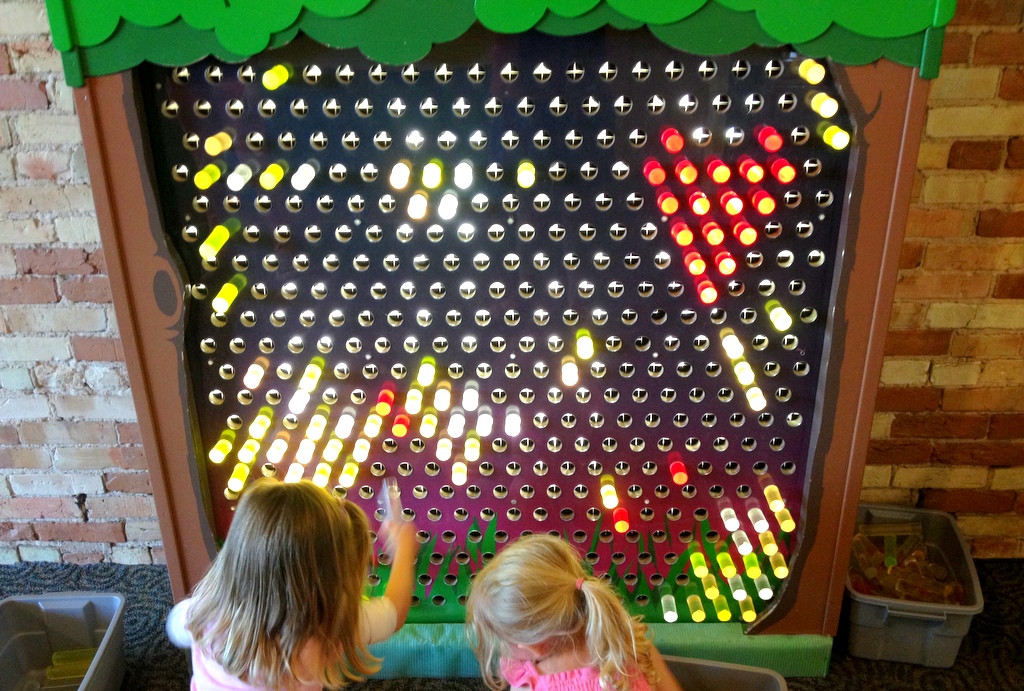 9. Drop-In for Art at the GRAM. Every Saturday from 1-4pm, the Grand Rapids Art Museum education center offers hands-on art-making activities for children and families, as well as kid-friendly tours and sketching in the galleries. Stop at the Guest Services desk on your way in to get a free Family Activity Guide and clipboard to sketch with. You'll use clues to solve riddles, puzzles and haikus to find works of art throughout the museum and get a prize when completed. Admission is $8 for adults, $5 for kids ages 6-17, and free for kids 5 and under. 101 Monroe Center NW, Grand Rapids MI 49503. (616) 831-2927.
10. Bounce Like Crazy at SkyZone. Burn serious energy as you bounce your session away at this indoor trampoline park. SkyZone connects hundreds of trampolines into one massive trampoline surface and features exciting games like 3-D dodgeball. To participate you will be required to sign a waiver and wear their special shoes or socks. Socks are $2/pair. Jump time is sold in 30 minute chunks. 60 minutes of jumping is $13 and it is suggested that you buy your tickets online before going for best time selection. 3640 29th St, Kentwood MI 49512. (616) 214-4221.