Being in Beer City, USA, it's understandable that local breweries, bars, and restaurants focus on craft beer and cocktail options. However, there are quite a few establishments in Grand Rapids that also cater to patrons who might want to enjoy a night out without such a heavy focus on alcohol.
The sober culture in Grand Rapids is growing, and several of my friends have taken to this lifestyle recently for one reason or another. There are countless health and wellness benefits of embracing sobriety, but sticking to this lifestyle can be daunting when you are constantly surrounded by mostly alcoholic options. 
My good friend Li Kaplan is one year sober and has offered up some tips and advice for folks looking to enjoy a night out, nonalcoholic (NA) style. It can be hard to find a bar or restaurant that offers more than just soda or tea, so together we came up with the following list of bars and restaurants (many serve alcohol too) that go above and beyond in their beverage offerings. 
Li says she has gratitude for establishments that clearly have put thought into providing actual mocktail menus and highlighting their NA options.
The list below is by no means comprehensive but is just the tip of the iceberg as it comes to locations offering alcohol alternatives on their menus.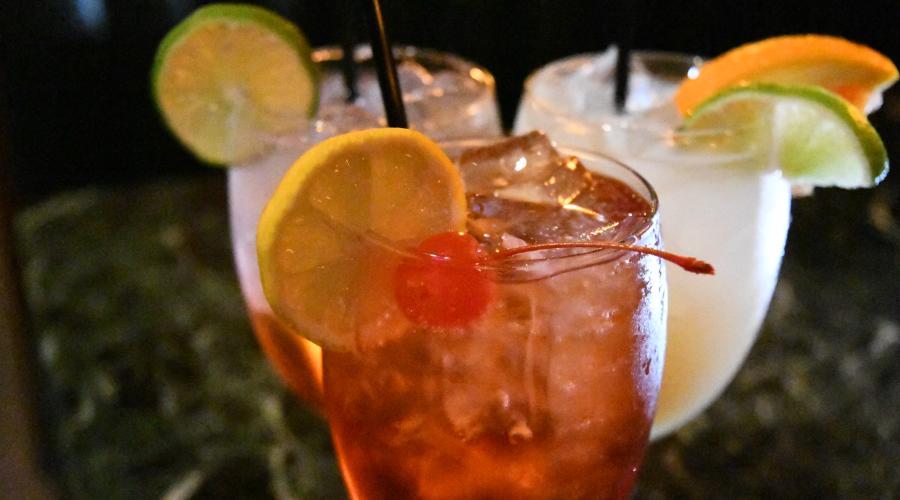 The Apartment Lounge recently created a Mocktail Menu with all drinks priced at $3.
Photo by Eric Zuniga for Experience Grand Rapids
The Apartment Lounge
The Apartment Lounge is the oldest LGBTQ+ bar in West Michigan and caters to a diverse clientele. The bar is well-appointed with drink options for those looking for beer, wine, handcrafted cocktails, and more. Most recently The Apartment created a Mocktail Menu to better serve the NA crowd, with all drinks priced at just $3.
The drinks have creative names like The Calder or The McCoy that connect back to local history, and all come with wonderful flavor descriptions. For example, The Campau features lemonade infused with watermelon, simple syrup, and a salted rim – offering up both a sweet and salty sip. 
"The blanket of inclusion that we strive to champion at The Apartment should also include our sober friends," said Eric Zuniga, general manager of The Apartment Lounge. "The safe space we work hard to achieve welcomes all walks of life and should not deter anyone from stopping in." 
Butcher's Union
Butcher's Union focuses on whiskey and handcrafted cocktails, but the bar staff makes it their mission to also create drinks for patrons who wish to skip the booze. Just ask and any server will provide you with alternative options or show you drinks on the menu that can be created without alcohol and taste just as good. 
If it's food that you're in the mood for, Butcher's Union is well-known for top-notch service and outstanding food all around. It's one of my favorite spots to visit on the hustling and bustling West Side for a snack after work or a dinner date. The Sunday Brunch menu is completely off the charts, including favorites like biscuits and gravy or steak and eggs, but it also includes some creative options like ham and cheese strata, shrimp and grits, or salmon lox tartine.  Brunch is accompanied with a special cocktail menu that can be customized without alcohol.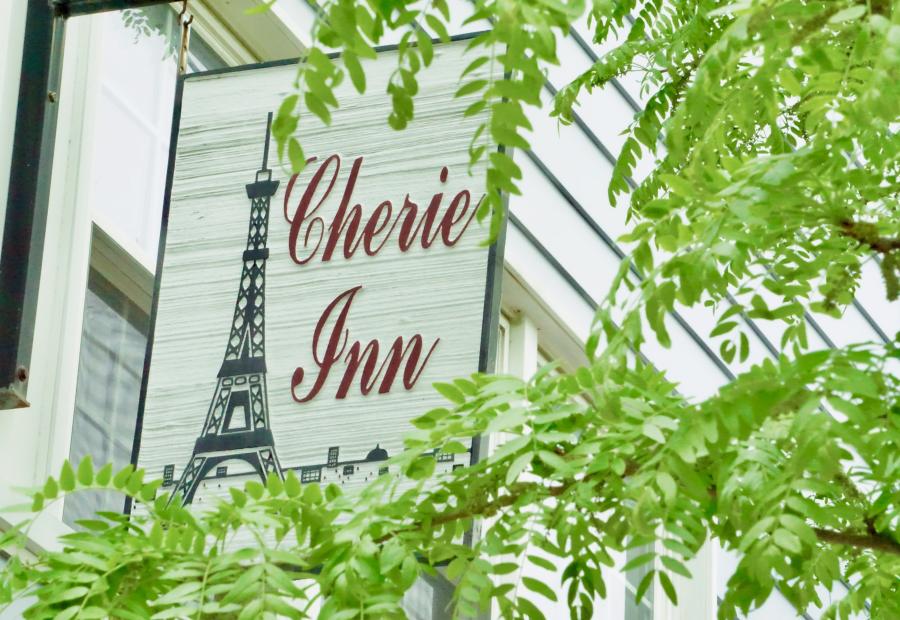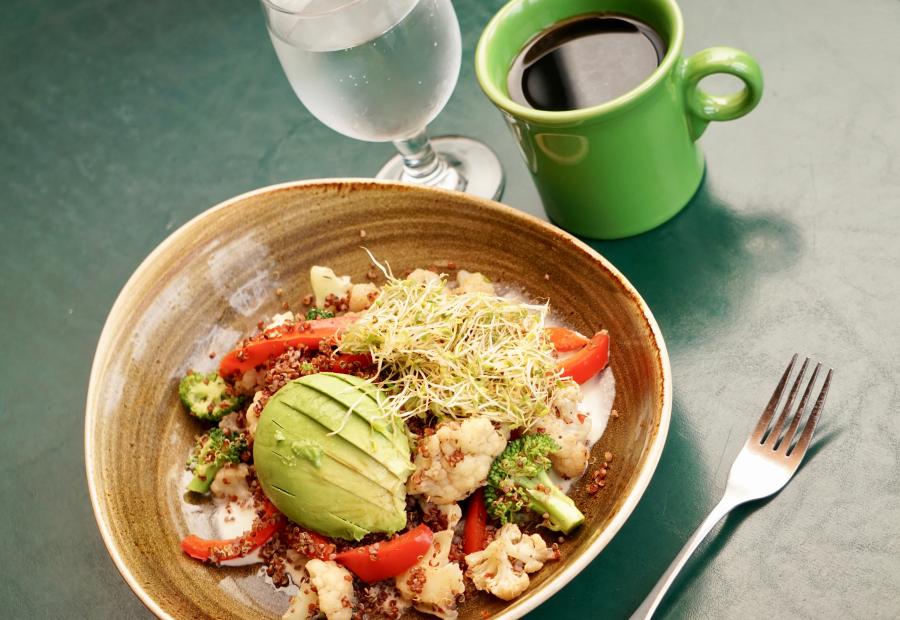 Cherie Inn features a specialty nonalcoholic mimosa on the menu, as well as other brunch beverages like coffee.
Photo by Brian Craig for Experience Grand Rapids
Cherie Inn
Cherie Inn is Grand Rapids' longest-running restaurant, open since 1924. It serves mostly breakfast and lunch favorites and offers a specialty mimosa featured on the menu that is made without champagne. 
"We live within a culture where Sunday Funday is such a huge fad," Li said. "Having a great brunch spot where you don't have to worry about a mimosa or bloody mary bar tempting you is so great!"
Li and her friends enjoy going to brunch at Cherie Inn and used it for the site of their inaugural "Second Sundays" Brunch, which is an event for alcohol-free and sober curious folks to wrap up their weekends. They noted the hazelnut coffee, Mocha Choca Latte, and fresh juice options as being a cut above the rest.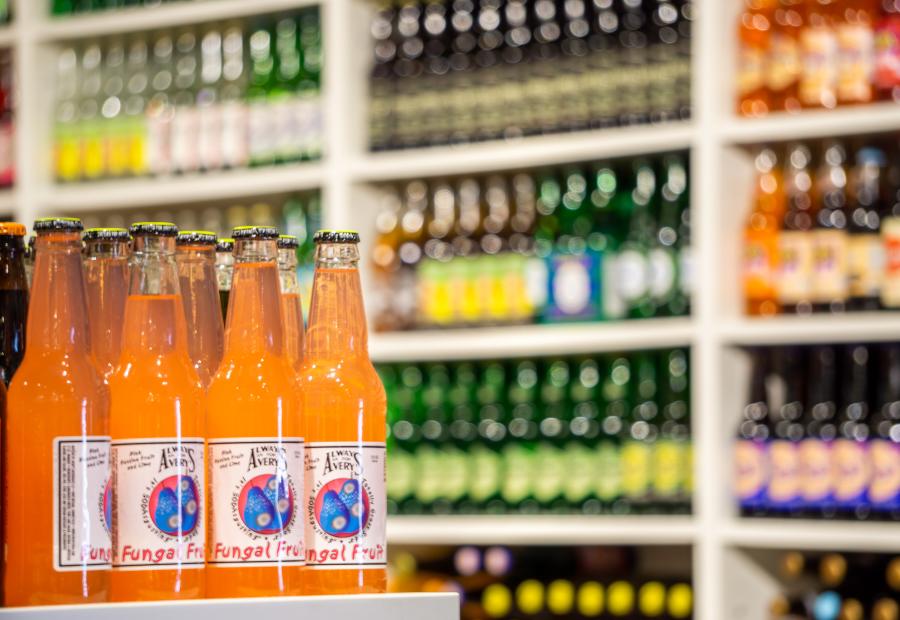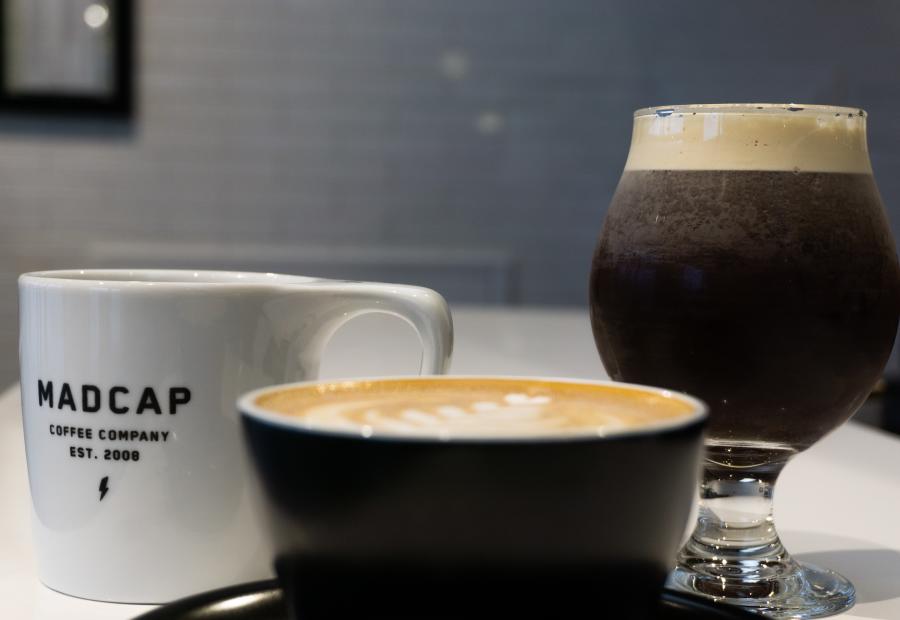 The Downtown Market is full of nonalcoholic options, like High Tide Soda, Madcap coffee, and bubble tea.
Photo by Brian Craig for Experience Grand Rapids
Downtown Market
The Downtown Market is an amazing sober date option if you're looking for an experience, some great food, and nonalcoholic drink options while you shop. 
When it comes to drinks, the Downtown Market abounds with NA options for customers. MadCap Coffee has a stand in the market that offering hot and cold options for the coffee connoisseur; the Sushi Market has a variety of flavored teas and unique Asian inspired beverages; and High Tide Soda, a recent addition to the Market, offers more than 900 different varieties of bottled bliss. 
Many of the food stands and restaurants don't offer beer or wine, minimizing the temptation or option to drink. Consider Tacos El Cunado if you're in the mood for some of the best Mexican food in town, Juju Bird for some life-changing chicken tenders and drool-worthy sides, or Fish Lads for fresh fish and chips.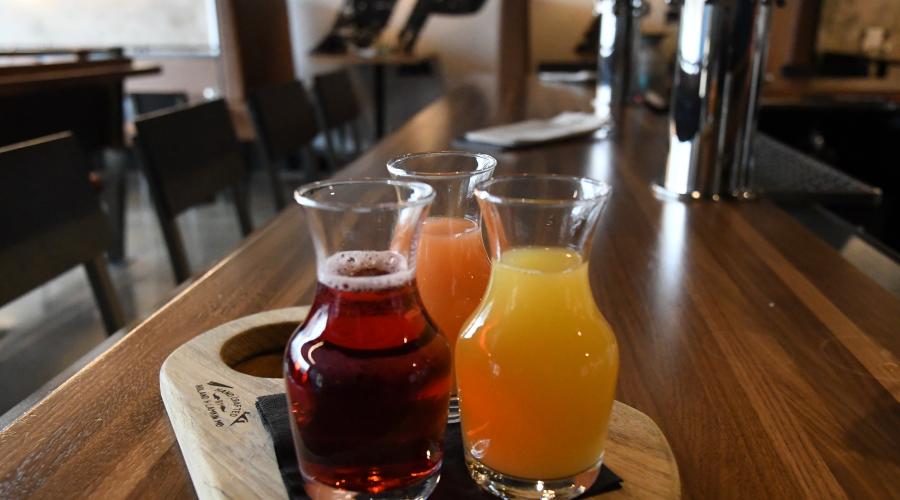 Pair your mimosa flight The Friesian with tonic or soda next time you are there for brunch.
Photo by Eric Zuniga for Experience Grand Rapids
Friesian Gastro Pub
The Friesian Gastro Pub is one of the newest restaurants along Michigan Street and offers many drinks that come in both alcoholic and nonalcoholic form. One of Li's biggest pieces of advice for those looking for alcohol-free options while dining out is to not be afraid to ask your server or bartender if they can change a menu item. 
The Friesian's menu boasts an impressive mimosa juice flight, and Li absolutely loves ordering it with a carafe of either tonic or soda water. Bonus: it's dressed up with three different house-made juices and fresh garnishes so you really feel like you're indulging in something special and not just a soda. The bar also has other options such as French press coffee, mocktails on-demand, and specialty Detroit Soda. If you ask a server, they will also happily oblige and offer alternative options to any beverage item.
My partner and I visit Friesian regularly as we live nearby in the Midtown neighborhood. It's become one of our favorite spots because of the chill vibe, great local fare, and diverse menu. In the summer months, Friesian has one of the area's only rooftop patios, making it a destination for an elevated setting.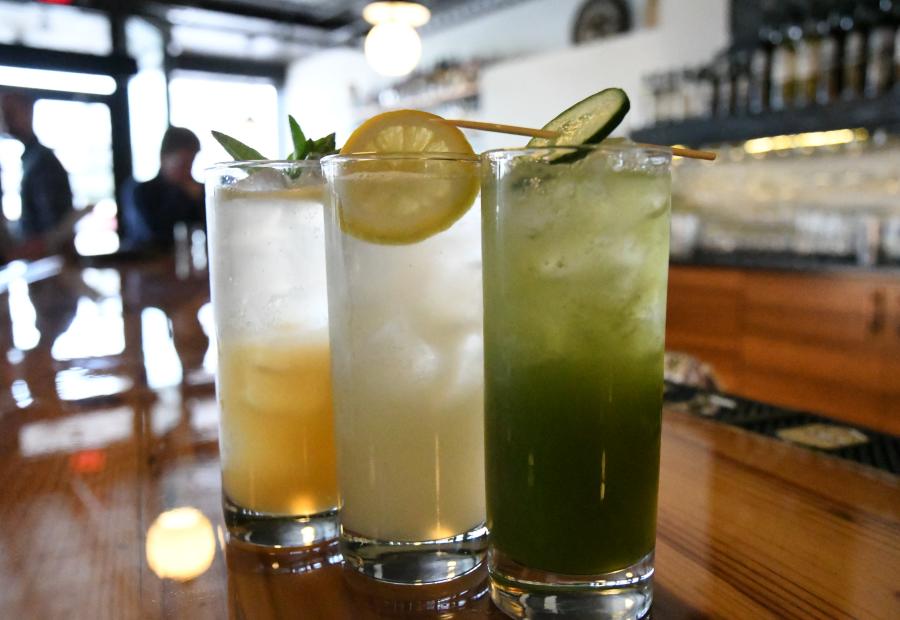 Long Road features a few specialty nonalcoholic mocktails on its drink menu.
Photo by Eric Zuniga for Experience Grand Rapids
Long Road Distillers
Long Road Distillers is best known for its locally crafted spirits and handcrafted cocktails, but it deserves kudos for making space on the menu for nonalcoholic options as well.
While there's an extensive cocktail menu, you'll find NA options available too. Long Road proudly serves Madcap coffee and also has a handful of hand-crafted cocktails with no booze and crafty names to boot. The Green Heron and The Depot both sound delicious - one featuring grapefruit, orange, and cinnamon, and the other peach, basil, and lemon respectively. 
And if you haven't tried Long Road's brunch or dinner, you're missing out. The soups, salads, and small plates include things like smoked whitefish dip, chicken wings, hush puppies, or potato salad deviled eggs.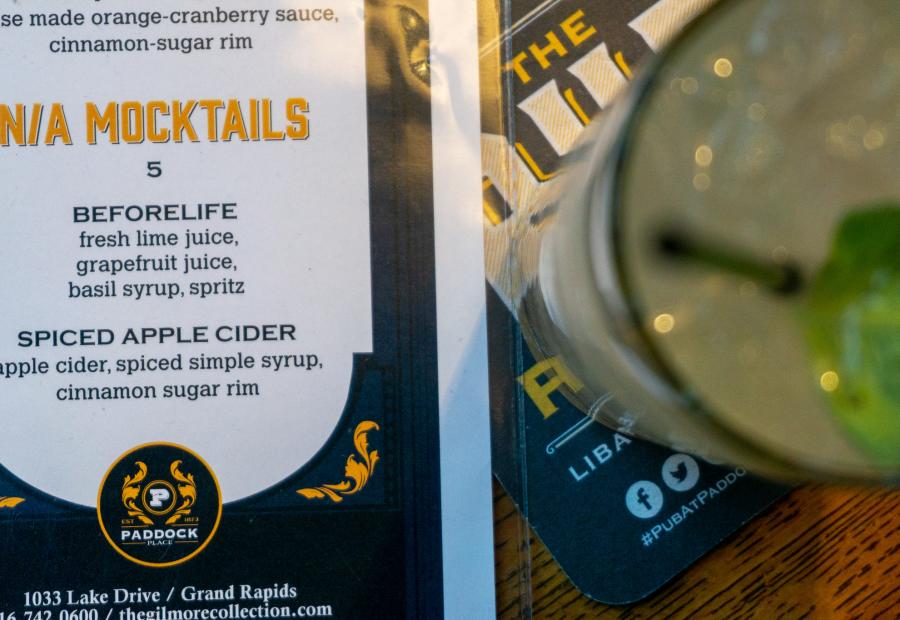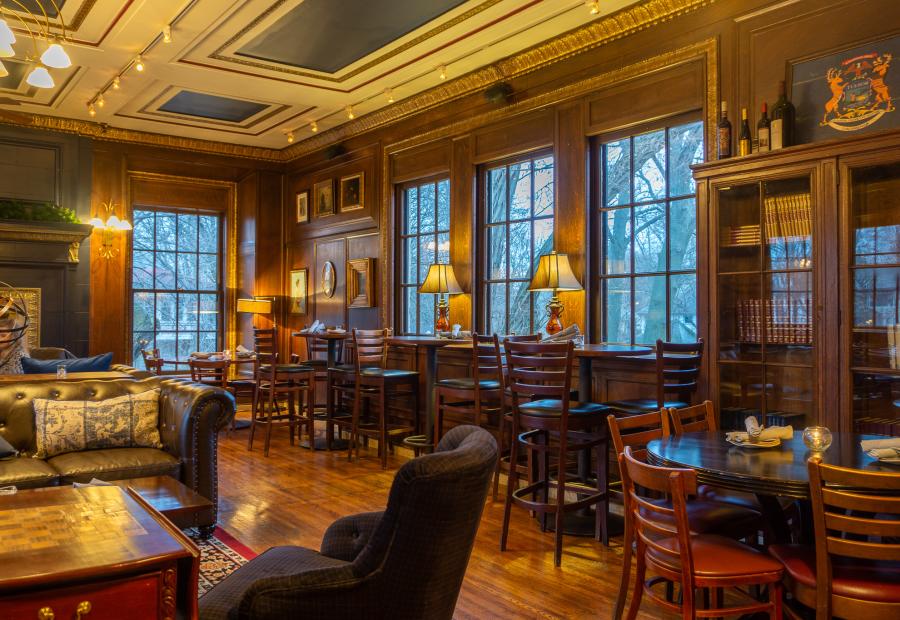 Enjoy specialty N/A cocktails in a cozy atmosphere at Paddock Place.
Photo by Brian Craig for Experience Grand Rapids
Paddock Place
Paddock Place is a cozy spot nestled in the historic Augustus Paddock Mansion on Lake Drive. A couple of the bartenders do not drink and will be the first to offer alcohol-free options to guests. A section of the drink menu is even devoted to nonalcoholic options and includes a couple of unique cocktails such as Before Life - fresh lime juice, grapefruit juice, basil syrup and spritz; and Spiced Apple Cider - apple cider spiced with simple syrup and a cinnamon sugar rim. 
The ambiance alone is reason to visit Paddock Place. It's comfortable with relaxed seating surrounding a massive fireplace in what was once a formal dining room. There's also a great happy hour for some late afternoon food and drinks, or later in the evening after dinner.
ROAM by San Chez Bistro
ROAM by San Chez Bistro has by far one of the most extensive menus in Grand Rapids for someone looking for an alcohol-free experience. ROAM offers a nonalcoholic drink menu with several different varieties of beverages, including warm and cozy favorites like hot teas and house drip coffees, as well as more exotic drinks like kombucha, root beer floats, virgin mojitos, or even nonalcoholic house-made sangria.
Li and her friends admit they have not visited ROAM for a brunch date yet, but I have been and can vouch for the impressive fare. This spot is conveniently located across from DeVos Place and the food menu is unique and expansive, offering anything from early dishes with a brunch style to proteins, vegetables, or smaller shareable plates to enjoy as a group.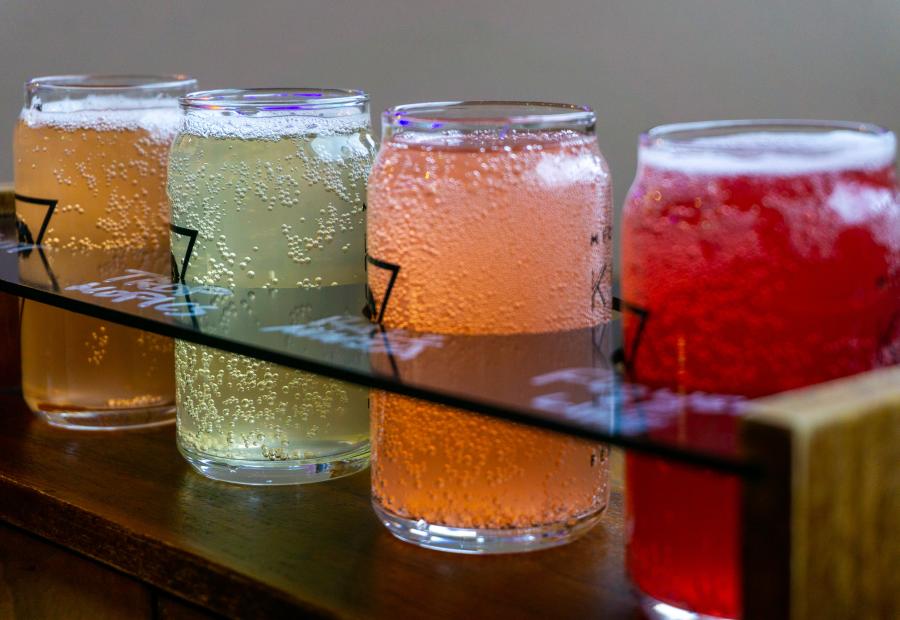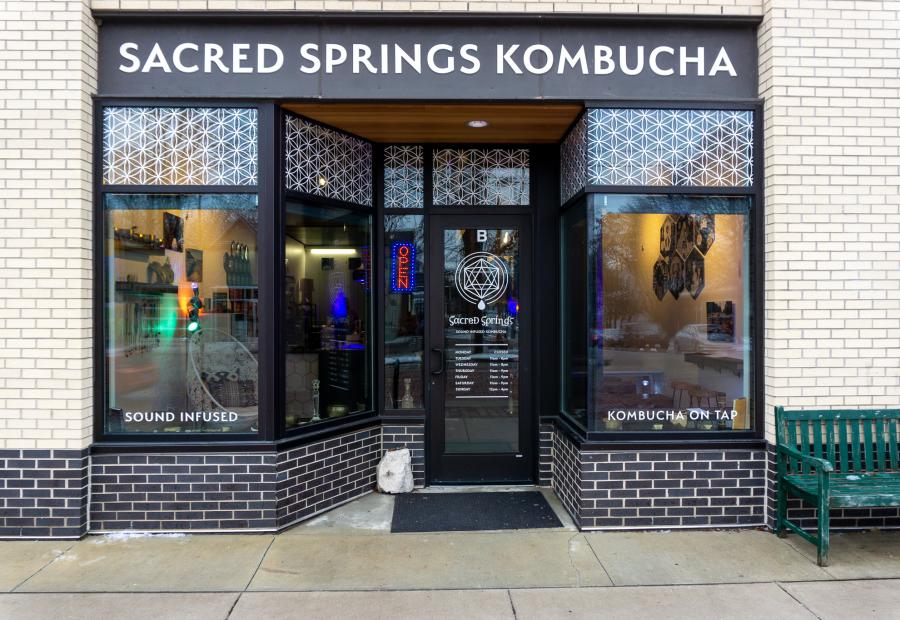 Try a flight of sound-infused kombucha from Sacred Springs (contains trace amounts of alcohol).
Photo by Brian Craig for Experience Grand Rapids
Sacred Springs Kombucha
Sacred Springs Kombucha is a little different from the rest of the businesses on this list as it focuses solely on kombucha and other nonalcoholic beverages. Kombucha is a fermented, effervescent sweetened tea beverage that comes in many different flavors. It includes trace amounts of alcohol from the fermenting process, but not enough for it to be considered an alcoholic beverage. 
The kombucha is available in cans and on-tap in the Sacred Springs taproom with approximately 15-20 varieties typically available for purchase. A few of their flavors include jasmine, chamomile, raspberry, vanilla mushroom or grapefruit cardamom.
The tasting room provides a fun way to be social with friends while not being in an actual bar or brewery. A feature Li loves is the Kombucha flights, which allow you to taste a variety of the different brews available. 
I must admit, I never thought I would love kombucha until I stopped in and tasted some of these flavors. Many people assume kombuchas taste vinegary or punchy, but that's not the case. A lot of the flavors at Sacred Springs are lighter and more delicate as they are green tea-based. They're made from all organic fruits and vegetables, and you can get a flight of four flavors for just $7. You can also bring your own jugs in to refill or purchase one to go.
Sacred Springs' kombucha brewing process is unique and even includes musical instruments. I highly recommend stopping in to check out all Sacred Springs has to offer. The staff is wonderfully helpful and will tell you all about how kombucha is made while you sit and sip.
For those recovering from recent alcoholism, this may not be a suitable drink choice, as trace amounts of alcohol may trigger cravings.
Stella's Lounge
Although Stella's Lounge has a reputation for its selection of whiskeys, the staff is also very well-versed in nonalcoholic options as many of them aren't regular drinkers. Li says that she has had numerous comfortable conversations with staff about their recommendations for nonalcoholic beverages and that they will be happy to accommodate upon request. Stella's also carries a nonalcoholic PBR bottle that can be hard to find around town - it's Li's favorite.  
When it comes to food, Stella's owns the local scene for the best burger in town. Its stuffed burgers have received national recognition in the past and are talked about far and wide. It also offers many vegan and vegetarian options and an impressive brunch menu and Bloody Mary bar on weekends that could be enjoyed alcohol-free on request.  
Looking to connect with others in the local sober scene?
Li and her sober friends keep in touch via Mitten Mocktails, a group founded by one of her friends who is hoping to bring awareness of alcohol-free options at local establishments to everyone across the mitten. If you're looking to connect with like-minded folks, check out "Mitten Mocktails" on Instagram.
Did we miss something? Feel free to leave a comment calling out your favorite bar or restaurant that is doing something special for the sober community.