Following the East bank of the Grand River, the North Monroe Area, once a bustling industrial hub of Grand Rapids, is a now thriving business district offering much for visitors to see and do. The neighborhood is home to many locally-owned restaurants, shops, and businesses.  
North Monroe is a beautiful space to take a stroll or stop for some local cuisine. There are several local breweries and bars to check out if you're looking to experience the local nightlife in Grand Rapids too. The area is also home to a few of the city's finest parks and walking paths.
The following is by no means an exhaustive list of options, but offers a taste of what is available and a few highlighted recommendations to check out: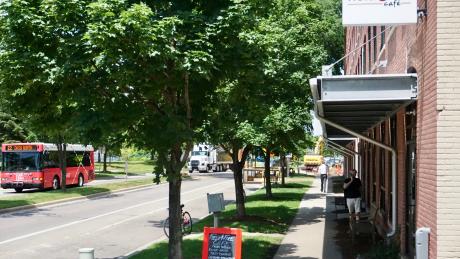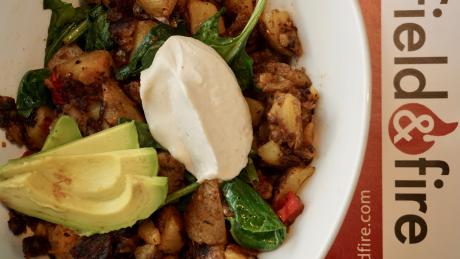 Field & Fire offers a variety of food, including baked goods, brunch, and lunch. It's one of many great options along Monroe Avenue.
Photo Credit: Brian Craig for Experience Grand Rapids
---
Food & Cafes 
A variety of local options abound in the North Monroe area when it comes to food and drink. Check out a few of these spots if you find yourself in the neighborhood: 
Atwater Brewery
Atwater Brewery is an open-air beer garden in a restored building in downtown Grand Rapids.  The Grand Rapids tap house is an expansion of Atwater's original location in Detroit. Food offerings include shared plates, sandwiches, a variety of different brats, salads, specialty tacos, tap house pizzas, and more.  
Big E's Sports Grill 
Big E's offers a unique bar and grill experience within the new Embassy Suites by Hilton. It features homemade food, an abundance of television screens for sports lovers, and domestic and craft beers on tap, as well as local Michigan ciders, meads, and more.
City Built Brewing Co.
City Built Brewing is a local brewery offering non-traditional brewhouse fare, highlighting a new and exciting menu deeply influenced by the flavors and character of Puerto Rico. 
Field & Fire Café
Field & Fire Café is a locally-operated bakery specializing in artisan bread and croissants, made with organic flours and grains. The café also boasts an impressive brunch menu, lunch menu, and coffee bar. 
Grey Skies Distillery 
Grey Skies Distillery is a whiskey distillery with an industrial-chic tasting room turning out crafted cocktails. A seasonal cocktail menu is available, to highlight the spirits made onsite, as well as simple bar snacks.  
Linear 
Linear is a cool, industrial-style hot spot with outdoor seats for seasonal American cuisine and craft cocktails.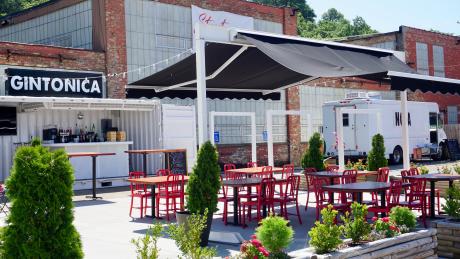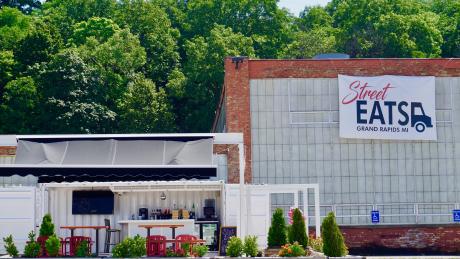 Stop by Street Eats GR on Fridays and Saturdays for mouth-watering food truck fare.
Photo Credit: Brian Craig for Experience Grand Rapids
---
Street Eats GR
Street Eats GR is a food truck court with a full-service bar at a parking lot adjacent to Zoko 822. The concept is open most Friday and Saturdays and features a rotating lineup of three to four food trucks for lunch and dinner.
Sweetwaters Coffee and Tea 
Sweetwaters Coffee and Tea is one of the newest cafes to open its doors in the North Monroe neighborhood. The cafe is real-ingredient-focused and serves a variety of globally-influenced beverages. It offers a full coffee menu, an extensive selection of premium teas, unique signature drinks and desserts and pastries to snack on. 
Zoko 822
Zoko 822 is a tapas restaurant with Northern Spanish and Southern French flavors paired with creative gin cocktails in cozy digs. The restaurant has a great patio space during the summer months with lawn games, an outdoor bar, and comfy seating options.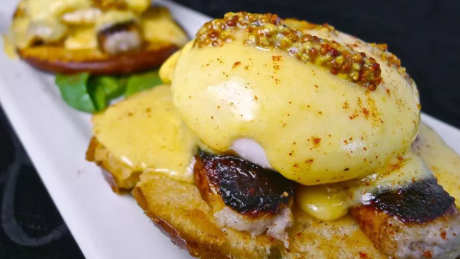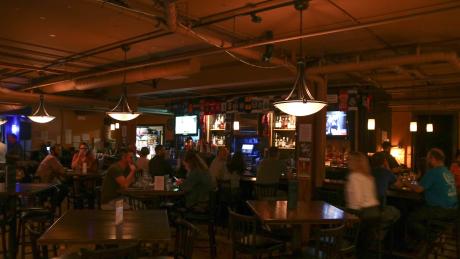 Whether you're looking for burgers, brunch, drinks, or live music, the Monroe North area has multiple options to choose from, including Speak EZ Lounge.
Photo Credit: Experience Grand Rapids
---
Neighborhood Bars & Nightlife  
If you're looking to experience the local nightlife scene, grab a quick drink, or even catch some live music, look no further. The Monroe North neighborhood is full of options – this is by no means an exhaustive list, but check out a few of the area's great spots:
BrickYard Tavern
Located inside the historic Boardwalk Building, BrickYard Tavern is a newer addition to the neighborhood. The restaurant offers a varied menu including burgers, sandwiches, salads, great cocktails, and 24 beers on tap.
Garage Bar and Grill 
Garage Bar and Grill is a pub-like restaurant serving American grub, craft beer, and cocktails. The venue regularly offers live music in its easygoing surroundings with a long bar, pool table, and outdoor seating in the summertime.
Rocky's Bar & Grill 
Rocky's Bar & Grill is a local pub serving burgers and snacks with a full bar and draft beer. It also has a second floor for dancing, live music, and events.
SpeakEZ Lounge 
SpeakEZ Lounge is a speakeasy-inspired lounge offering live music and New American eats, plus modern and old-time cocktails. You'll often find live music taking place here as well.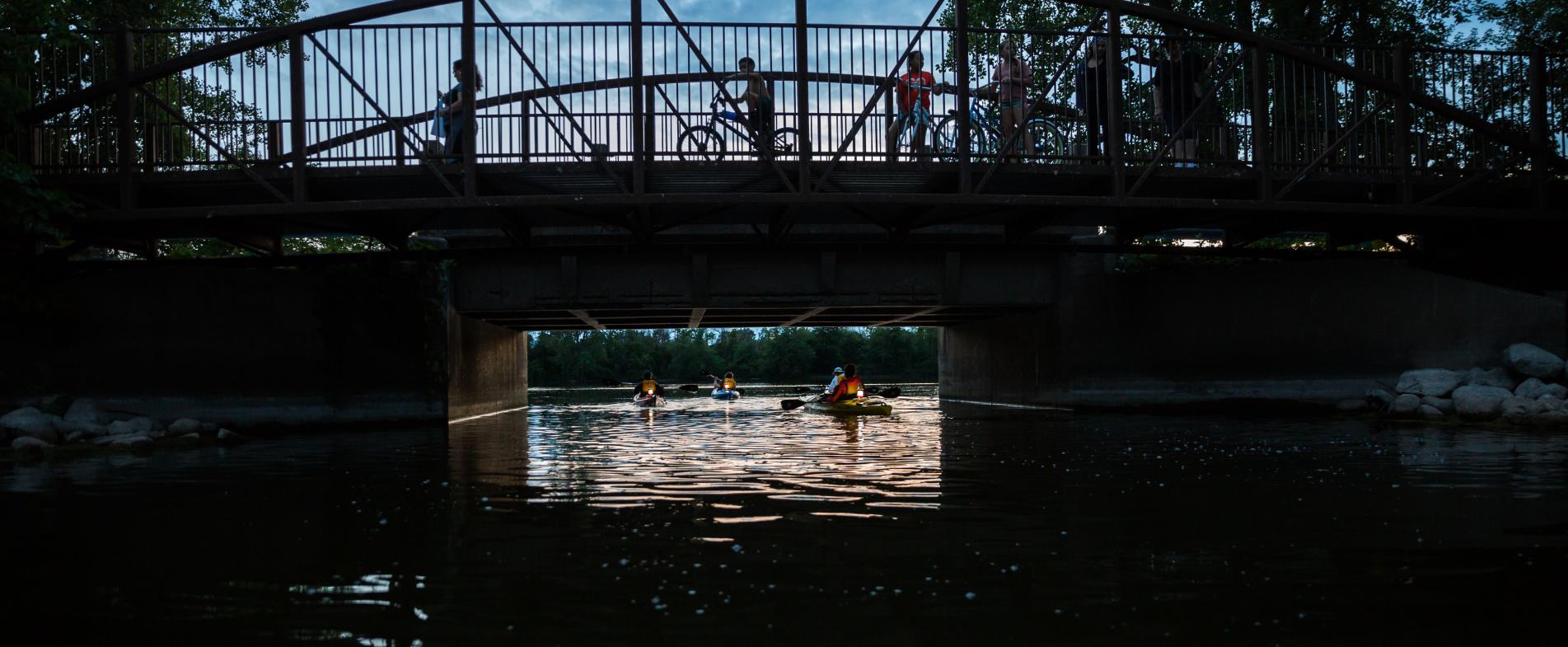 Kayakers enjoying an evening paddle at Riverside Park.
Photo Credit: Emily Sierra Photography
Parks & Outdoor Recreation  
Some of the city's best parks are located right inside the North Monroe area. You'll find great options for walking, running, biking, kayaking, and much more. 
Canal Street Park 
Canal Street Park runs along the eastern shore of the Grand River and serves as a recreational and social focus for the city. The park offers picnic spaces, paved trails, playground equipment that lines the riverside, picnic tables, and restrooms.
Fish Ladder Park
Located on the west bank of the Grand River, this functional piece of artwork provides a practical application as well as fun sights and sounds. 
Fish Ladder Park is designed to allow migrating fish to navigate the powerful water flow at the man-made rapids in the Grand River, allowing visitors to watch fish jump up the "ladder" in a seasonal migration in the spring and late summer.
Riverside Park 
The largest park in the Grand Rapids parks system, Riverside Park is a popular tree-lined park along the Grand River just north of downtown. It offers a boat launch site, disc golf courses, baseball/soccer fields, and outdoor shelters. 
All ages can enjoy the disc golf course, ball fields, large pond with barrier-free fishing dock, and more than 1,000 feet of grassy picnic area equipped with tables and grills.
Kayak rental 
Seasonal kayak rentals are now available at the Riverside Park Lagoon on Fridays, Saturdays, and Sundays. Rentals are $8 for the first hour and $6 for each additional hour. 
Trails
Paved bike and walking trails stretch the length of Riverside Park from north to south and are popular with hikers, runners, and bikers.  
Disc golf
There are two nine-hole courses at Riverside Park that line the riverbank and weave in and out of the tree-lined park.  
Sixth Street Bridge Park
The Sixth Street Bridge Park provides access to the historic Sixth Street Bridge and Riverwalk that spans the East side of the Grand River. The bridge is one of the city's oldest and was built in 1886.
The park offers a paved bike and walking trail, picnic tables, picnic shelters, and restrooms. It is also home to a portion of the Grand River trail, where new outdoor fitness stations were recently installed by Downtown Grand Rapids, Inc.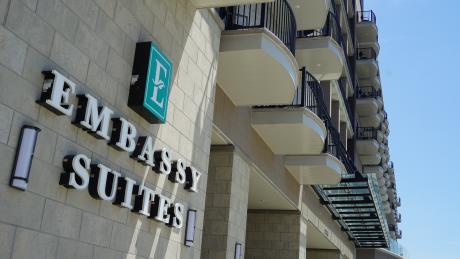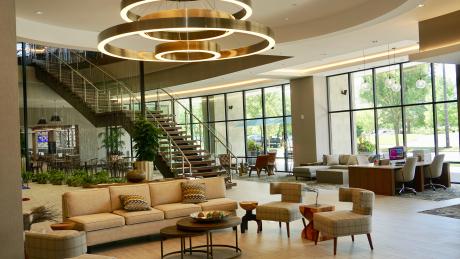 Guests will find a relaxed, upscale atmosphere at Embassy Suites by Hilton on Monroe Avenue.
Photo Credit: Brian Craig for Experience Grand Rapids
---
Places to Stay
The Monroe North area is home to a couple of hotel options, located just outside of the city's center:
Embassy Suites by Hilton 
This brand new hotel provides spacious two-room suites, free cooked-to-order breakfast, and a nightly Evening Reception with complimentary light appetizers and beverages. Staving off hunger is easy at the hotel, which features a Big E's Sports Grill and the Whitewater Cafe and Lounge.
Both business and leisure guests looking for a relaxed, upscale experience will feel right at home at Embassy Suites by Hilton.
The Grand River Hotel 
Guests will find comfortable, contemporary accommodations at this boutique hotel along the Grand River. The full-service hotel offers free WiFi, an onsite restaurant and lounge, and complimentary shuttle service to the downtown area.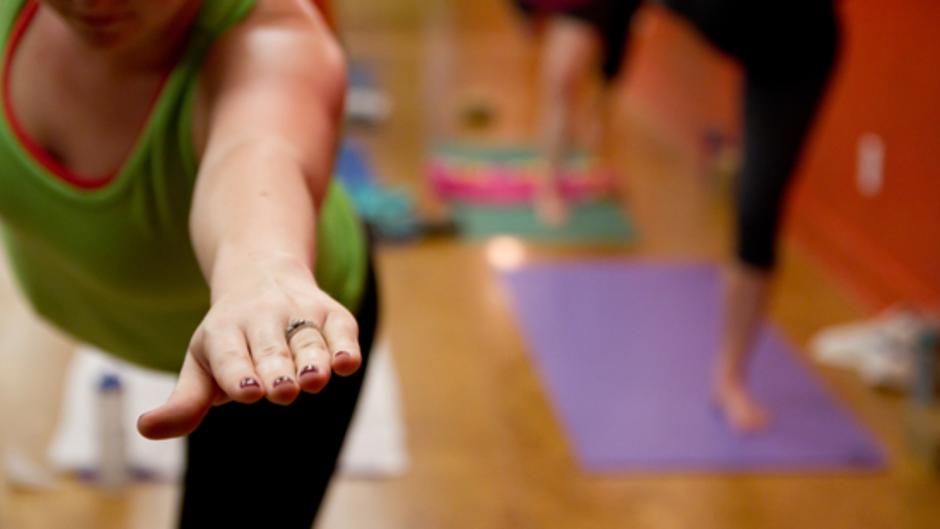 When it comes to fitness, Monroe North just about has it all: barre classes, kickboxing, personal training, rock climbing, biking, and more.
Photo Credit: Experience Grand Rapids
---
Fitness
The Monroe North area is jam-packed with options for fitness enthusiasts. Whether you're just looking for a quick workout, something more intense like rock climbing or kickboxing, or a bike rental to take you around town – this neighborhood has something in store for everyone. 
Check out what the area has to offer for all things fitness:
Beer City Barre 
Beer City Barre offers a total body workout that incorporates elements of yoga, pilates, and dance into a fast-paced 60-minute class set to upbeat music. Drop-ins are welcome, but reserving a spot is highly recommended.
Grand Rapids City Gym 
Grand Rapids City Gym is a gym for the community that breaks down the barriers for people to work out. It focuses on being affordable, educational, and open 24/7. 
With membership, you are taught the basics of fitness so that you can maximize your effort. There is a free three-day gym pass available for first-time visitors. 
Higher Ground Rock Climbing Centre
Higher Ground Rock Climbing Centre is a space for adults, families, and groups to learn about rock climbing, participate in lessons, or simply look on as a spectator. Guests can drop in for a day pass or purchase monthly or yearly memberships.
CKO Kickboxing Grand Rapids 
CKO Kickboxing Grand Rapids' cardio kickboxing workout is a fat-burning, high-energy exercise, that, according to their website, can burn up to 1,200 calories during a one-hour class. The group fitness classes are for both beginner and advanced levels, so each member can work out at their own pace. Drop-ins are welcome.
Grand Rapids Bike Rentals
Grand Rapids Bike Rentals is a small bike rental that currently offers five comfortable cruiser bikes at great prices. It's located at the Embassy Suites Hotel.
Next Level Personal Training 
Next Level Personal Training offers a personalized approach to fitness, including nutrition guides, healthy lifestyle coaching, customized workout plans, and more. 
Enjoy the benefits of world-class, private, one-on-one training or two-person sessions in the studio. Guests can book free consultations to discuss a personalized plan.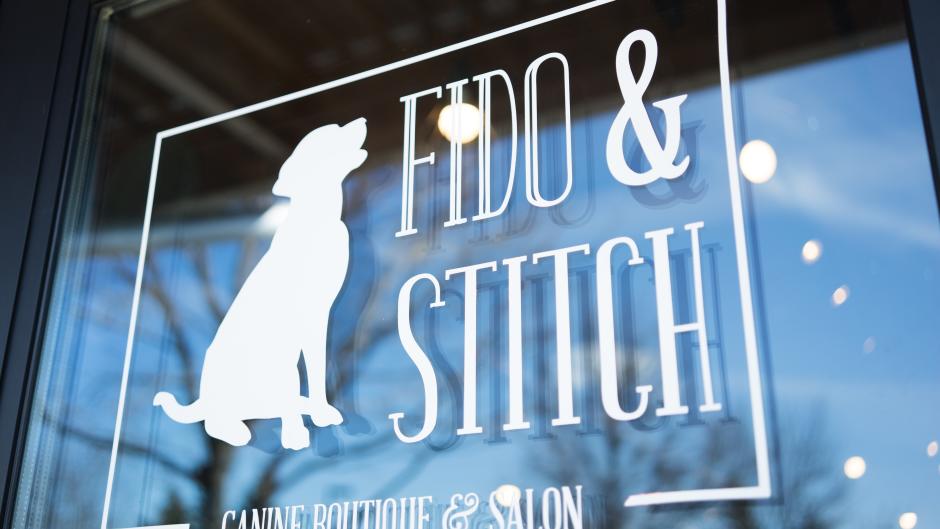 Get all your four-legged friends' needs at Fido & Stitch. The boutique and salon sells dog toys, clothing, treats, food, and accessories.
Photo Credit: Experience Grand Rapids
---
Shopping 
The North Monroe area has a couple of different shopping options, with new stores opening up their doors all the time. Keep your eyes peeled for additional options, but here are a couple of local gems to visit:
Pure Salon
Pure Salon is a modern, boutique salon nestled within the Boardwalk Condos. A chic, minimal environment hosts the talented creative team and premium product collections. The team offers a full menu of salon services, including cut, color, treatments, and extensions.
Fido & Stitch
Fido & Stitch is a dog store for those who see their dog as not just a pet, but a loved member of the family. Owners can find pet essentials, toys, and treats here.
The shop offers natural and healthy products that fit a wide variety of breeds and special needs, as well as grooming services.
If you're interested in more detail on the Monroe North neighborhood, check out the Monroe North Business Association. New businesses are popping up left and right, and the neighborhood continues to grow and change. 
What are some of your favorite North Monroe area businesses? Feel free to leave tips in the comments section below.
Never miss a post!
Subscribe to the Insider Experience blog.