Grand Rapids is a walker's paradise, full of parks where an hour or more can be spent outdoors walking. But for those who seek an entire day on the trail, an excellent opportunity is found just 30 minutes from downtown, in nearby Lowell, where the North Country National Scenic Trail passes through town.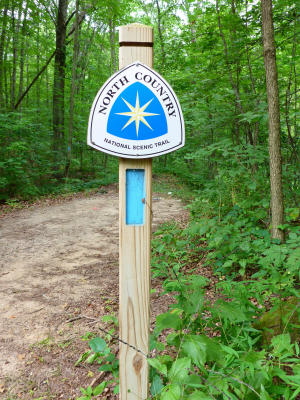 The North Country Trail is one of 11 National Scenic Trails. Above: A hiker follows the blue blazes that mark the trail. Photos by Howard Meyerson
The 4,600-mile, seven-state trail is the longest hiking path in America. Head north and you can walk to Lake Sakakawea, in North Dakota. Go south and you can hike to Crown Point, in eastern New York. Lowell is home to the North Country Trail Association (NCTA), the non-profit group that is building the trail, as well as the National Park Service office that administers it.  
 "We have a lot of day hikers using it for exercise and walking their pets, but we also have (outdoor leadership training) organizations using it, notes Chuck Hayden, a volunteer trail builder and former board member for the West Michigan Chapter of NCTA.
Hayden's chapter maintains 90 miles of the NCT in Kent and Newaygo counties, a commitment that includes clearing, marking and building trail along with maintaining bridges for stream crossings.
The NCT was approved in 1980 by the U.S. Congress. It is one of 11 National Scenic Trails in the National Trail System that includes the 2,200 mile Appalachian Trail and 2,663 mile Pacific Crest Trail.
In Michigan, the NCT stretches 1,150 miles from the Ohio border to the Mackinac Straits and across the Upper Peninsula. The route runs through national and state forests and parks, federal wilderness areas, and through farmland and along roads.         
"The numbers of thru-hikers (those who hike its entirety) are small, but we have large-section hikers who walk from the (Ohio) border up to U.S. Route 10," Hayden says.
Matt Rowbotham, NCTA's cartographer, says you don't have to walk that far to enjoy the wild flavor of the trail. He recommends a six-mile section just north of Lowell. The trail passes through the Lowell State Game Area. It begins at a Boy Scout Cabin found on North Washington St. and ends at Kent County's Fallasburg Park, where parking is found on McPherson St., and where another .9 mile section can also be hiked. The trip out and back is about 12 miles. Pack a lunch and plan to picnic along the route.  
A free map of the Lowell trail section is available online. Additional information and maps can be found on NCTA's found website, or at the NCTA office, 229 E Main St, Lowell.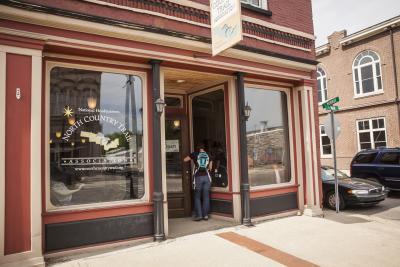 The North Country Trail Association office is located in Lowell. Photo by Brandon Mulnix.
 A shorter family hike is also found along the same stretch. A scenic 2.6 mile round-trip trek runs from Flat River Drive to Montcalm Road and back. The narrow, single-track trail passes through hilly terrain, red pines and upland hardwoods that overlook the Flat River.
"It's highly scenic," declares Rowbotham, an avid hiker. "You are up on a ridge line.  It is one of the most scenic sections of primitive footpath found in Lower Michigan."
 The northern end of the Lowell segment is due to get longer soon, according to Roger Sabine, director for Kent County Parks. His agency is working with NCTA to extend the trail from Fallasburg Park to other area properties like Ada Township Trails and Seidman Park. From there it will run north to Townsend Park and the Cannon Township Trail. In time it will extend from Fallasburg to Luton Park and Rockford, connecting with the White Pine Trail.
 "We've approved the concept, but you won't find NCT markings in the parks other than Fallasburg," Sabine said. "They (NCTA volunteers) are working on the route right now in Seidman and the route in Townsend is the existing paved route. The connection with Luton Park will be another year or two yet."