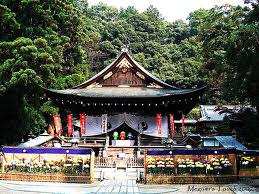 Omihachiman, Japan
Photo courtesy of GR Sister Cities website
As Harper Lee wrote in To Kill a Mockingbird, You can choose your friends but you sho' can't choose your family. Luckily, however, you can pick your sister city. And Grand Rapids has selected five, its oldest sisterhood being with Omihachiman, Japan, established in July of 1986.
Sister Cities International was founded in 1956 by Dwight Eisenhower after World War II as a way to increase bonds between people in cities around the world. Sister city relationships are cooperative relationships through which cultural, educational, business, and technical exchanges take place. When cities are looking for a sister city, they typically look for commonalities.
Omihachiman, Japan is a farming community known for its furniture building and roof tiles. It is located in Shiga Prefecture on the east side of Lake Biwa, the largest inland freshwater lake in Japan. Sound familiar?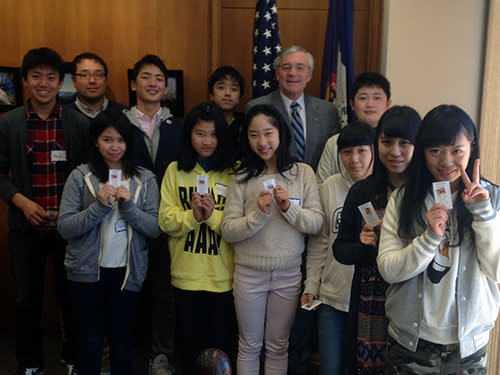 Omi Brotherhood students meeting Grand Rapids Mayor.
Photo courtesy of GRSC website
The main philosophy of the Sister Cities International program is getting to understand and know people of different cultures, Don Bultman, Omihachiman Committee Member and Chairman of the Grand Rapids Sister Cities, International (GRSCI) Board, said. It's wonderful to get to know people, their culture, their ways, and build relationships one on one through the sister city connection.
The Omihachiman/Grand Rapids exchange program is the largest of the Grand Rapids sister city's relationships and currently has a group of students from the Omi Brotherhood School, a sister school of Grand Rapids Christian School (GRSC), staying with GRSC host families. Next year, Grand Rapids Christian School students will make the trip to Japan.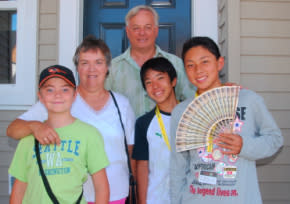 Host family with exchange students
Photo courtesy of GRSC website
Besides students, Grand Rapids also hosts Omihachiman government officials. Last year an official visited to learn how Grand Rapids works with monolingual residents. This June, another Omihachiman official will stay with a Grand Rapids host family for two weeks to learn about the services Grand Rapids offers to disabled residents. He will meet with people in the field and take those learnings back to Omihachiman to help make Omihachiman more accessible for all.
The sister city relationship with Omihachiman also includes cultural exchanges. Omihachiman is a renowned quilting town and regularly sends quilts for display at the American Quilters Society Quilt Week held annually in Grand Rapids. Omihachiman artists and their works have also participated in ArtPrize. The JW Marriott Grand Rapids also pays homage to Omihachiman and the other four sister cities in the hotel by displaying photographs that capture the essence of each city's culture. Commissioned by the JW, photographer Dan Watts spent weeks photographing in each city. Thousands of images later, the JW is home to a truly remarkable and insightful collection. Select photographs are on permanent display in both the public and private areas of the hotel.
Most recently, in preparation for the opening of the Richard and Helen DeVos Japanese Garden at Frederik Meijer Gardens, Omihachiman hosted Frederik Meijer Garden personnel facilitating visits to gardens in Kyoto, Japan.
Chomeiji Temple to be featured at Meijer Gardens Railway Exhibit this winter
Photo courtesy of GRSC website
Omihachiman residents are involved with the Japanese Tea House found in the Japanese Garden, said Bultman. Also, look for a contribution from Omihachiman in the Railway Garden exhibit this winter at Meijer Gardens.
If you are interested in visiting Omihachiman, the Michigan-Shiga Sister State Program can help get you there. Would you like to get involved but prefer to stay stateside? Grand Rapids Sister Cities is always looking for volunteers with opportunities ranging from hosting a family to joining a Sister City committee. Cultural learnings await!