My dad, who grew up in the South, likes to say that "we eat to avoid getting hungry." While it's clear that this isn't the healthiest advice, I can wholeheartedly advocate that Grand Rapids is a great place to (over)indulge your wildest foodie dreams.
In February of this year, the food scene in GR became a lot more navigable when Experience GR published the Food Trail Map, a great tool for both locals and visitors.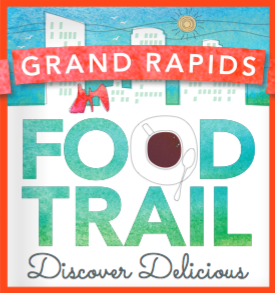 Photo Courtesy of Experience GR
To clarify, the food trail isn't simply about eating in restaurants. Grand Rapids' culinary talent has been recognized consistently with popular annual events like Cool Brews. Hot Eats. and GR Restaurant Week, but the food trail is designed to show off the GR food experience that dedicated foodies can have while in town!
Eaters can find farm-to-fork dining, breakfast, burgers, vegan options, farmer's markets, gluten-free offerings, desserts, and local farms within just a few miles. Grand Rapids was recognized in 2014 as America's #2 Most Affordable Foodie City by Wallet Hub, so eating well here doesn't break the bank like it might in some cities.

The GR Downtown Market, which opened in 2013, is a great place to start any food tour. This piazza contains greenhouses, learning kitchens with a full schedule of cooking/canning/crafting classes, places to sit and grab coffee, wine, or ice cream, meals you can take home or enjoy onsite, and an outdoor farmer's market twice a week. April 16th marks the introduction of a brand new hotspot in the market, so make sure to stop by and welcome Blue Spoon Soup and Spuds.
If you've recently moved into town or plan on visiting soon, check out the stops in your area of Grand Rapids; the trail map does a convenient neighborhood list so you don't go out of your way to get to mentionable culinary spots...or take an afternoon and check something out on the opposite side of town!
What's your favorite place to eat, shop, prepare, or marvel at the food culture of GR? Eat well!