Thanks to Grand Rapids' burgeoning music scene, you can make your way to clubs, venues, listening rooms and epic album release parties to hear cover songs performed to their fullest potential in front of a crowd. But if you want to be ahead of the pack, or just get a sneak peek at the songwriter's process, then you may want to pay a visit to one of the various open mic or songwriter's nights hosted here in Grand Rapids. Most artists need a place to try new material in front of an audience, and for some just making their way into the music world, this is a no judgment and nurturing environment that connects musicians with potential new fans.
To start off I would follow the Open Mic Fam Facebook page. The page offers a full list of the open mics around town, and there is one every night.
Some of the most popular are:
Mondays
Rockford Brewing 7 PM – 10:30 PM (12E Bridge St., NE, Rockford, MI)
Head upstairs at Rockford Brewing for a beer and listen or perform on a great sound system in a cozy lodge style atmosphere.
Stella's Lounge  8:30 PM (53 Commerce Ave., SW)
Order their famous burger and choose from a vast selection of bourbon, while listening in this hip downtown spot.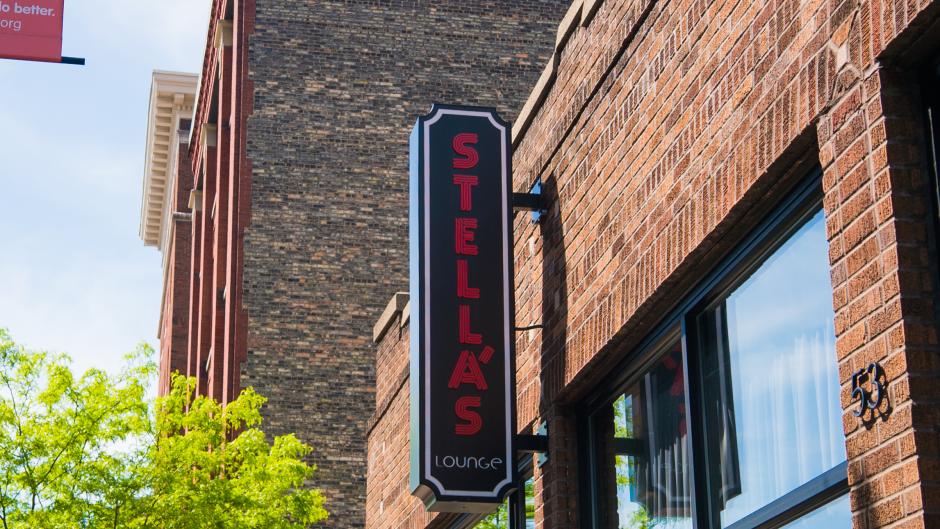 Stella's Lounge
Photo Credit: Experience Grand Rapids
---
Tuesdays
Founders Brewing Co. 8 PM (235 Grandville Ave., SW)
Hosted by local musician Nicholas James Thomasma, this is a popular night. In addition to the treat that is playing on the Founder's stage, listeners also get to drink Founders beer. Win win.
Wednesdays
Tip Top Deluxe 9:30 PM (760 Butterworth St., SW)
With its retro style, loyal local patronage and fantastic food and drink prices, you're sure to have a great night out on the West Side.
Thursdays
The Old Goat 9 PM (2434 Eastern Ave., SE)
This Alger Heights spot is new to the singer-songwriter open mic night scene. The Old Goat features a late night menu and 25% off your bill while listening to local talent.
Fridays
Quinn & Tuites 10 PM –12 AM (1535 Plainfield Ave NE)
The Creston neighborhood is blowing up, and this staple is still going strong.
To learn more about the music scene in Grand Rapids, visit one of Grand Rapids' listening rooms, check out the Grand Rapids Music Trail, or attend a WYCE 88.1FM live broadcast of "GR LIVE" at H.O.M.E. inside The B.O.B. in downtown Grand Rapids! Enjoy the radio show is every Thursday at noon while you come watch and have lunch or a beer!
Never miss a post!
Subscribe to the Insider Experience blog.