This is part 2 of a post about my family's experience heading to Grand Rapids for a 36-hour quickie beach-city vacation. Check out Part 1 to see how we spent our day at the beach...and then read on for our city adventure!
The drive from Grand Haven to Grand Rapids was a little less than 40 minutes, with very light traffic, and everyone got excited as the skyline came into view. Just a couple of minutes after taking our downtown exit, we were already at the Amway Grand Plaza Hotel.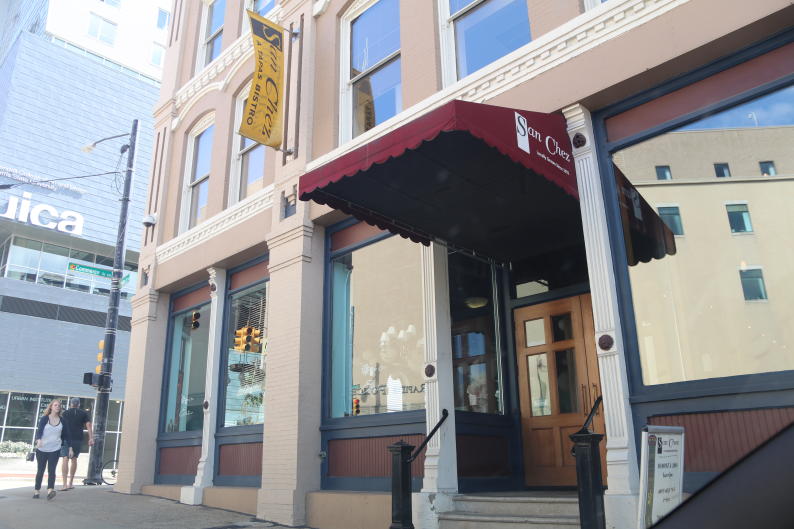 San Chez Bistro
Photo Credit: Experience Grand Rapids
---
When we checked into our luxe suite, the kids were excited to find that turndown service had already come and left chocolates on the pillows. We got them settled into bed for the evening, and then leaving our teenager in charge for a little while, Mom and Dad slipped out to dinner at the fabulous San Chez Tapas Bistro, an popular restaurant in downtown Grand Rapids with a casual, upscale Spanish flair less than a ten-minute walk from the hotel. Try the fritos de queso azul - blue cheese fritters. In a word? Yum.
After dinner and a quick check-in on the kids (still in bed, phew!) we headed downstairs to the classy, cozy Lumber Baron bar in the historic Pantlind lobby and enjoyed an adult beverage in its luxurious surroundings. It was tempting to stay late, but we knew we had a long day ahead of us with a full itinerary of city attractions.
The next morning we woke up bright and early, and after grabbing an on-the-go breakfast at Cornucopia in the Amway Grand, we headed out just across the street to the Grand Rapids Art Museum. Our younger kids were entertained by the scavenger hunt in the Free Family Activity Guide, while the older two stood amazed by the 2010 ArtPrize winner. The family education center in the basement of the GRAM offers more hands-on learning opportunities for kids of all ages.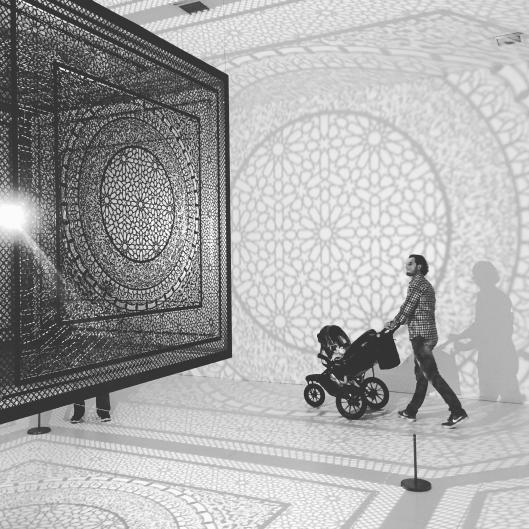 ArtPrize "Intersections" Grand Rapids Art Museum
Photo Credit: Nichole Kladder
---
After the GRAM, it was time to head to our favorite place of all, the internationally-acclaimed Frederik Meijer Gardens and Sculpture Park. The Lena Meijer Children's Garden was a hit for all seven of us: our two-year-old enjoyed getting personal with nature in the please touch Kid-Sense Garden, while our five- and seven-year-olds splashed in the water play area.
My older boys were most impressed by the indoor collection of carnivorous plants and the enormous sculpture of a bronze horse. My husband and I? Well, we appreciated the chance to enjoy the gardens from the many benches along the pathways. After a very full and fun 24 hours, we were happily tired out and ready to plan our next trip to the West Michigan shore.