Jeff Neumann likes to take the guesswork out of paddling by eliminating complications that can muddy waters for some, particularly if they are new to the sport. Finding still-water bays full of turtles and ducks, or swift-water riffles for a little excitement, are just part and parcel of what he does for a living.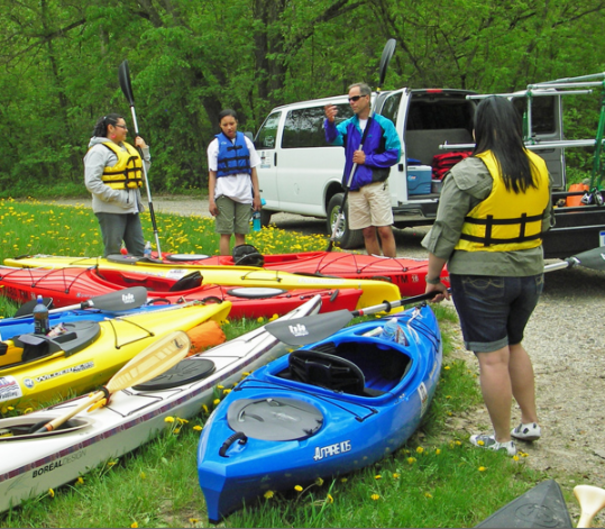 Jeff Neumann explains the basics of kayak equipment to a group of new paddlers he guided down the Grand River.
Photo Credit: Howard Meyerson
---
Neumanns new venture, GR Paddling, is a unique, full-service canoe and kayak rental with door to door service and guided trips. Neumann picks up his customers at their home, workplace, or hotel. He then shuttles them to a lake or rivers edge where he accompanies them on a guided float, showing them the best that Grand Rapids area waters have to offer.
A GR Paddling trip can be a quiet, scenic float down a river or an intimate paddle on the relaxed waters of area lakes. The trips may be short or long, easy or modestly challenging. The company offers float trips on the Rogue, Thornapple, Grand, Flat, and Coldwater rivers along with five lakes.
"We've met some really interesting people," said Neumann, who launched his venture this spring after retiring from a 25-year teaching position at Grand Rapids Community College. "People like knowing we are picking them up and dropping them off at their door."
Neumann is proud of the service he offers. Most canoe liveries transport customers to rivers edge and then pick them up at a prescribed time downstream. Neumann prefers to tailor the outing to meet the demands of busy people on the go.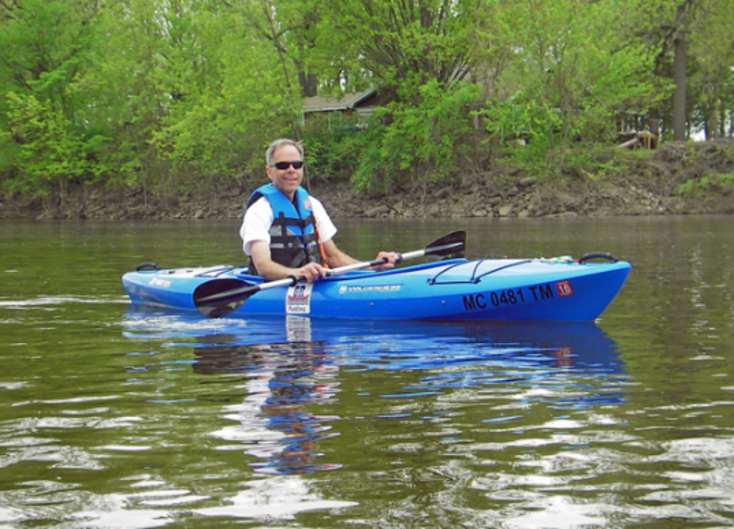 Jeff Neumann is enjoying a float on the Grand River.
Photo Credit: Howard Meyerson
---
"I've spent hours on rivers waiting for the livery van to pick us up and take us back to the car," Neumann said. "When we are done paddling, we pack up and take our customers home. They like that. It's huge."
Paddling GR is a family business. Neumann's wife Rita, a physical therapist, keeps the books. Mark, their son, maintains the website.
Neumann set out to establish a customer-friendly business that eliminates the grunt-work of shuttling cars and arranging boats. In time he hopes to work with local companies on team-building outings. He already is arranging trips for tourists staying at local hotels.
Neumann's own love of paddling developed early, he said. As a child growing up in Quincy, Illinois, he spent many glorious summer days floating with his cousin on protected bays of the Mississippi River. When the Neumann family relocated to Grand Rapids, its weekends were filled with exciting forays down other west Michigan waterways like the Pere Marquette and White rivers.
"We paddled all the time," said Neumann. "We'd load the canoes on the car and head north every weekend."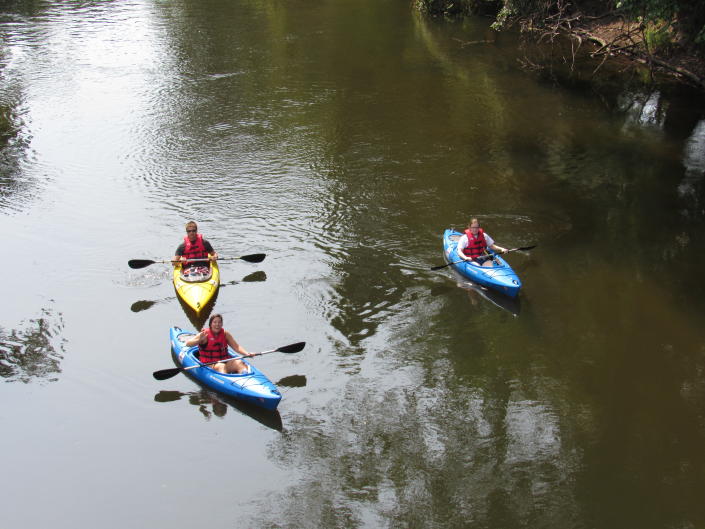 GR Paddling customers enjoy a run through the Childsdale rapids at the on the Rouge River.
Photo Credit: Jeff Neumann
---
Neumann's business is one of many across the U.S. that have built on the booming popularity of the paddlesports over the last decade. A 2009 special report on paddlesports by the Outdoor Industry Association, a national trade-organization, shows nearly 18 million Americans enjoyed getting out in canoes, kayaks or rafts in 2008. It said paddlesports offer some of the most diverse outdoor experiences of any nature-based activity giving participants the freedom to explore the rivers, lakes, streams and other waterways in their local communities and across the country. More than 6 percent of Americans participated in paddling in 2008.
In the Grand Rapids area there are a number of ways to get out on the water without owning a canoe or kayak. Canoe liveries have canoes and kayaks for rent and provide transportation while other outlets rent them to those who plan to arrange their own transportation.
Here's a quick look at the choices.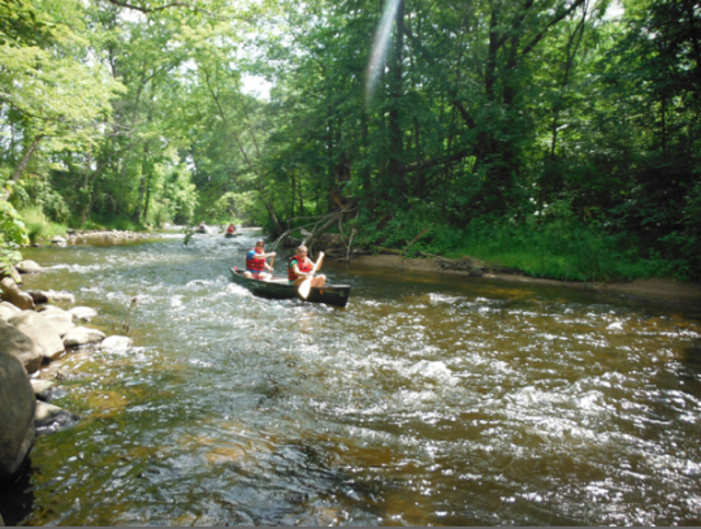 GR Paddling customers enjoy a trip down the Rogue River in canoes.
Photo Credit: Jeff Neumann
---
Canoe/Kayak Liveries
AAA Rogue River Canoe Rental, Rockford: The livery rents canoes, kayaks and tubes for floats down the Rogue River. It has been shuttling paddlers for 37 years. Paddlers can choose from 2-hour and 4-hour trips. For more information call 616-866-9264 or see them online at: aaacanoerental.com
Indian Valley Campground and Canoe Livery, Middleville: This full-service campground on the Thornapple River rents canoes, kayaks, rafts and tubes. It also provides shuttle service. Paddlers can enjoy trips from 2.5- to 6-hours long. Raft and tube trips vary in length. For more information call 616-891-8579 or see: indianvalleycampgroundandcanoe.com
Wisner Rents Canoes, Newaygo: The popular 44-year-old livery on the Muskegon River rents canoes, kayaks, rafts and tubes. It provides shuttle services and caters to large groups. The company organizes a monthly full-moon paddle down the river at night just for fun. For more information call 231-652-6743 or see: wisnercanoes.com
Canoe/Kayak Rentals
Lakeshore Kayak Rental, Grand Haven: Located on the lower Grand River in bayou country where wildlife and water lilies abound, the shop rents one and two-person kayaks, canoes and stand-up paddleboards. It offers a shuttle upriver for those wanting to explore the Crockery Creek Natural Area managed by Ottawa County Parks. For information call: 616-566-1325 or see: lakeshorekayakrental.com
Bill & Pauls Sporthaus, Grand Rapids: The store rents solo and tandem kayaks for the day, weekend, or week. It has a limited inventory that is available on a first-come, first-serve basis. Renters need to be able to transport the boats themselves. For information call: 616-458-1684 or see: billandpauls.com
Outdoors writer and photographer Howard Meyerson can be found online at howardmeyerson.com.
Never miss a post!
Subscribe to the Insider Experience blog.